World Stroke Day, 29 October 2019
October 29, 2019
Posted by: Premier Hospitals
2238 Views
RSS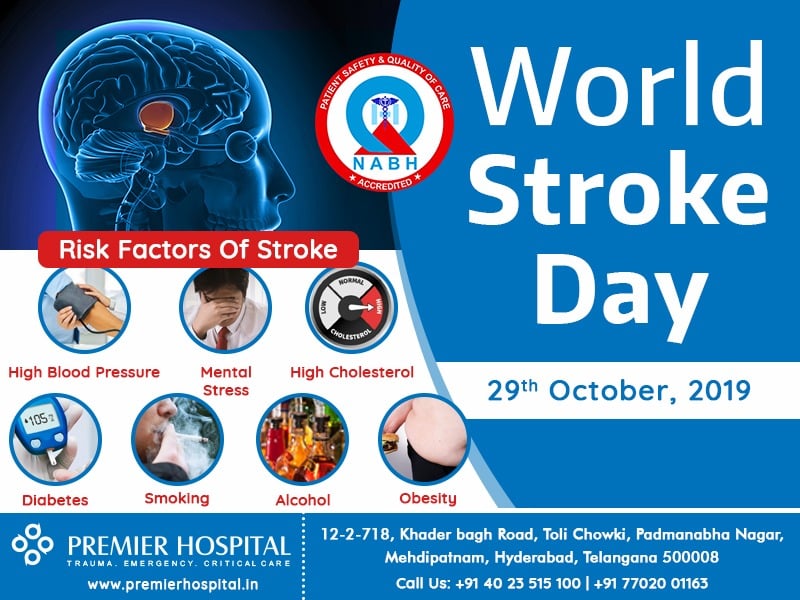 We might have heard the phrase: "Don't stress yourself so much; you might get your nerves damaged." In fact, most people use these sentences way too often and too casual. However, Brain Stroke is one such kind of problem. The truth is the risk of brain stroke associated with many health factors.
 A stroke occurs due to lack of blood supply in your brain. Blood carries the requires nutrients and oxygen to every part of your body. Therefore, when your brain suffers from insufficient blood flow it stops functioning. Gradually your brain cells start dying when you get a stroke and stops functioning of other body organs as well.
A Brain Stroke is a severe and emergency medical condition where even a minute delay in getting medical help can lead to severe health damage. So it is a very serious health condition which needs immediate and proper medical care. When someone gets a stroke, Don't get panic and think that the person might be going to die. Call for help immediately.
So every year on October 29 World Stroke Day is observed to point the serious health issues resulting due to stroke and also to raise awareness about the preventive measures and treatment. 
This year's world organizations came with the theme "Life After Stroke" the theme focuses on to ensure better medical assistance, care & support from families for the survivors. Not only that they aimed to focus on stroke risk and it's prevention as well. We premier Hospital as part of social responsibility educating people and conducting health awareness camps to save people.
The Author :
Premier Hospital
Since the inception of Premier Hospital in 1991 till today, we have grown to unprecedented levels, due to our excellence in medical sciences and healthcare. Premier Hospital is the creation of Dr Mahesh Marda and when it was first established, was only a small, 30-bed hospital facility. Back then, we provided only secondary care to patients, but that certainly has changed in the present landscape.
YOU MIGHT ALSO LIKE
May 17, 2022

May 16, 2022

May 15, 2022

May 12, 2022

May 08, 2022

May 03, 2022

April 25, 2022

April 16, 2022

April 10, 2022
TESTIMONIALS
Hospital is in good condition in a very established area well maintained and in hygienic conditions Staff is friendly and polite very good cooperation Doctor Ayub is very good best
Awsome service by entire hospital staff. Special thanks to Abhinand Sir, Surya Kiran Sir, Chitra Madam. 1.Quick response. 2.Good Hygiene 3.Faster Services 4. Polite Attitude by a
Dr. Rokhsana s/b first trained on attention to detail... first listen the problem clearly and then suggest solution... and mind your voice while talking with patient and their compan
Categories