World Polio Day, October 24, 2019
October 24, 2019
Posted by: Premier Hospitals
1878 Views
RSS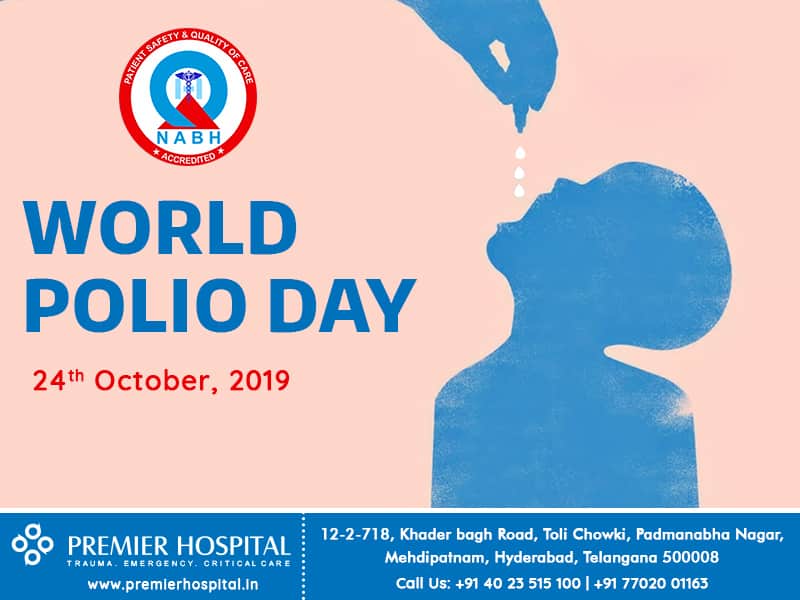 Poliomyelitis, popularly known as Polio, a highly infectious viral disease mostly affects children under the age of 5 years. The virus can transmit from person-to-person spread mainly through orofecal route or less frequently through contaminated water or food. Once the virus enters into our intestine, it multiplies and enters into the nervous system which can cause paralysis permanently.
There is no cure for polio. The only way to prevent polio is prior vaccination.
Polio free India: Along with the entire South-East Asia Region India also received a polio-free certification on 27th March 2014 by WHO. For many years there is no single case of polio registered in India.
This milestone achieved by India in eradicating polio is remarkable. Even though the disease is eradicated, we must still remain vigilant. That's why every on 24th October World Polio Day is observed to create awareness about the importance of vaccination for children across the country to maintain high levels of immunity in childhood.
Rotary International organisation established this World Polio Day to honour the birth of Jonas Salk, the first man to lead a team for developing a polio vaccine. Today, in the world there are only three countries – Afghanistan, Nigeria and Pakistan where transmission of wild poliovirus is occurring. In the rest of the world, polio cases have reduced by 99.9% since 1988. We, Premier Hospital as a part of Social accountability educating and creating awareness among people about the need to maintain high immunity until global polio eradication happens.
The Author :
Premier Hospital
Since the inception of Premier Hospital in 1991 till today, we have grown to unprecedented levels, due to our excellence in medical sciences and healthcare. Premier Hospital is the creation of Dr Mahesh Marda and when it was first established, was only a small, 30-bed hospital facility. Back then, we provided only secondary care to patients, but that certainly has changed in the present landscape.
YOU MIGHT ALSO LIKE
May 17, 2022

May 16, 2022

May 15, 2022

May 12, 2022

May 08, 2022

May 03, 2022

April 25, 2022

April 16, 2022

April 10, 2022
TESTIMONIALS
Hospital is in good condition in a very established area well maintained and in hygienic conditions Staff is friendly and polite very good cooperation Doctor Ayub is very good best
Awsome service by entire hospital staff. Special thanks to Abhinand Sir, Surya Kiran Sir, Chitra Madam. 1.Quick response. 2.Good Hygiene 3.Faster Services 4. Polite Attitude by a
Dr. Rokhsana s/b first trained on attention to detail... first listen the problem clearly and then suggest solution... and mind your voice while talking with patient and their compan
Categories