World Parkinson's Day 2021
April 11, 2021
Posted by: Premier Hospitals
675 Views
RSS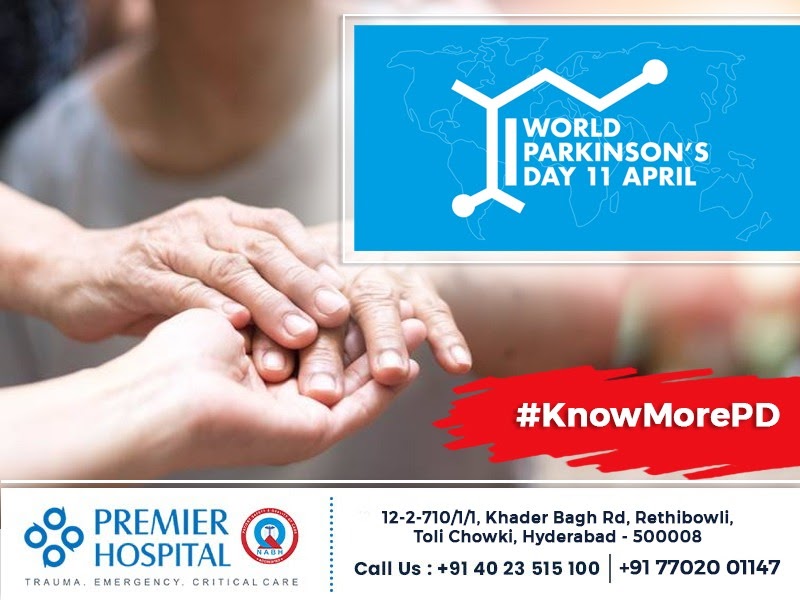 World Parkinson's Day is commemorated on April 11, and the whole month is considered Parkinson's Awareness Month. Every year many communities around the world come together and create various awareness programmes about this neurodegenerative disorder.
James Parkinson, a neurologist, geologist, scientist, and activist who was born April 11, 1755, in his name, to honour him and his discoveries towards Parkinson's disease, every year on his birthday, we celebrate World Parkinson's Day. This day's main focus is creating awareness and saying that people with Parkinson's disease are not alone.
We Premier Hospital as part of this awareness programme and social responsibility, our doctors want you to know more about this Parkinson's disease. According to this year's theme, #KnowMorePD, our doctors busted some myths about Parkison's disease.
What is Parkinson's disease?
Parkinson's disease is a degenerative disorder that hampers the cells producing dopamine in the brain. "Dopamine is an essential chemical responsible for carrying messages throughout the brain. In this condition, the cells producing dopamine break down or decay, resulting in the decrease of dopamine levels. Then the patients start to develop symptoms of Parkinson's disease (PD) such as hand tremors, memory problem, slowness in activities and stiffness in certain body parts.
#Myth
Parkinson's is a movement-related(motor condition) disorder
Fact
Well, Parkinson's disease has symptoms associated with movements like shaking and tremor, frozen or rigid body muscles and slowness in movement. But Parkinson's is a lot more than movement disorders.
There are non-motor symptoms such as cognitive impairment, anxiety, feeling stressed, fatigue, sleep disorders and many more. In fact, nonmotor symptoms affect more in some patients.
#Myth
"Tremors" is the most dominant Parkinson's symptom, and every with PD has it.
Fact
Every patient with PD displays various symptoms, and "Tremors" is one of Parkinson's symptoms. It is thought to be dominant because it is a prominent and recognizable PD symptom. But the fact is that some people with PD never experience tremor and may not have tremor at the initial stages but experience in later stages.
#Myth
Parkinson's leads to uncontrolled, spontaneous movements
Fact
In the advanced stage of Parkinson's disease, uncontrolled movements are developed due to levodopa's side-effect. However, these movements can be controlled with the help of high dose medication or through deep brain stimulation (DBS) surgery.
#Myth
Medications also can improve the symptoms of Parkinson's disease 
Fact
Meditation is a part of PD management. There is much more to improve the condition along with medication, such as lifestyle modifications, following a healthy diet, exercising regularly, yoga, and some other therapies. All these together help live a better quality of life even with PD for a long time. Along with medical therapy, advanced Parkinson's disease can be treated surgically through deep brain stimulation (DBS).
#Myth
Parkinson's is curable
Fact
It is a sad fact that experts are still working hard to find a permanent cure for Parkinson's disease. But the good thing is that its symptoms can be managed through medications, lifestyle modification, physiotherapy, and in advance cases, surgery (DBS). Our expert doctors at Premier Hospital also treated thousands of patients with PD and helped to lead a good quality of life.
#Myth
Parkinson's is an older people condition 
Fact
This is partially true because the majority of patients with PD are above 60 years of age. However, early-onset is being detected even in young people. In India, nearly 25% of patients below 40 years developing symptoms indicating PD.
#Myth
Parkinson's can be cured by Stem Cell Therapy
Fact
There is no clinical evidence at present that PD can be either treated or cured with the help of stem cell therapy. Scientists are still experimenting to find a cure.
#Myth 
Parkinson's is fatal
Fact
Parkinson's disease doesn't lead to fatal conditions directly, unlike a heart attack or a stroke. The quality of care taken decides the lifespan of a PD patient. It is highly recommended to be more cautious because as the disease progresses, patients likely to fall, which can be dangerous sometimes.
If you are in search of ways to manage PD, our experienced Parkinson's doctors at Premier Hospital advises you to follow the below remedies:
The Author :
Premier Hospital
Since the inception of Premier Hospital in 1991 till today, we have grown to unprecedented levels, due to our excellence in medical sciences and healthcare. Premier Hospital is the creation of Dr Mahesh Marda and when it was first established, was only a small, 30-bed hospital facility. Back then, we provided only secondary care to patients, but that certainly has changed in the present landscape.
YOU MIGHT ALSO LIKE
May 17, 2022

May 16, 2022

May 15, 2022

May 12, 2022

May 08, 2022

May 03, 2022

April 25, 2022

April 16, 2022

April 10, 2022
TESTIMONIALS
Hospital is in good condition in a very established area well maintained and in hygienic conditions Staff is friendly and polite very good cooperation Doctor Ayub is very good best
Awsome service by entire hospital staff. Special thanks to Abhinand Sir, Surya Kiran Sir, Chitra Madam. 1.Quick response. 2.Good Hygiene 3.Faster Services 4. Polite Attitude by a
Dr. Rokhsana s/b first trained on attention to detail... first listen the problem clearly and then suggest solution... and mind your voice while talking with patient and their compan
Categories