World No Tobacco Day: Protect The Youth From Tobacco & Nicotine Use
May 31, 2020
Posted by: Premier Hospitals
1124 Views
RSS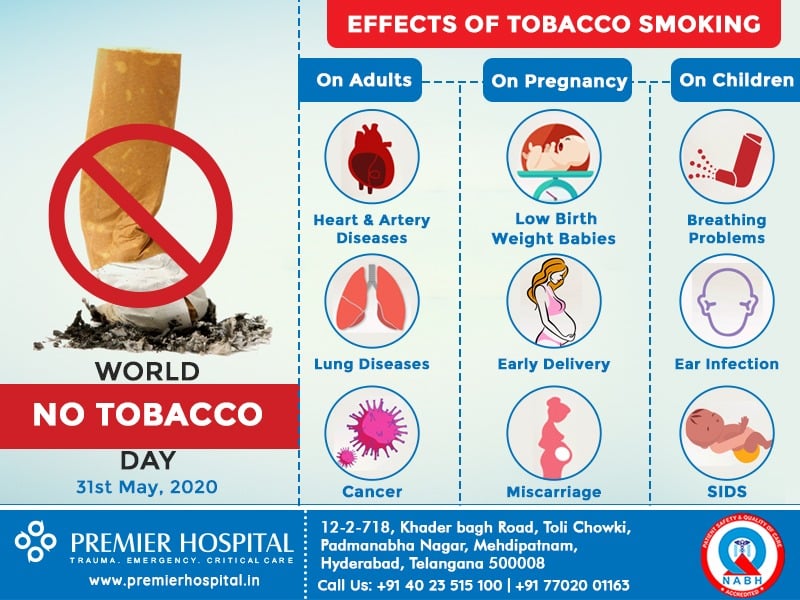 World No Tobacco Day is observed on May 31 every year, an awareness programme organised by the World Health Organization (WHO) since 1987. The purpose and aim of the event are to explore the health risks caused by tobacco consumption and its products. It even encourages govt. officials to imply effective policies to reduce consumption of tobacco and other related products.
Expert says that nearly 7M people around the world are dying every year due to smoking and consumption of tobacco products. It leads to various types of diseases like cancer, heart problems, lung diseases, and creates many other health issues.
This year's, on World No Tobacco Day, 2020, all the health organisations came up with the "Protect the youth from industry manipulation and prevent them from tobacco and nicotine use."
Many surveys revealed that in recent decades, the tobacco industries have been adopting innovative tactics to attract youth to consume tobacco and nicotine products. In response to aggressive and sustained tactics to attract youth, let's raise our voice against tobacco and related industries. On this World No Tobacco Day, 2020, let's start a counter-marketing campaign and encourage young people to fight against Tobacco consumption.
The World No Tobacco Day 2020 global campaign will serve to:
Expose myths tactics employing by the tobacco industries, mainly marketing to target and manipulate youth.
Educate young people about the tobacco industries and their intentions and tactics to attract current and future generations to consume their tobacco and nicotine products.
We, Premier Hospital as part of social accountability we are educating people even in this COVID19 pandemic. Not only your life, but it's your family future in stake because of smoking.
Quit smoking now, Don't let your future go vein in smoke.
The Author :
Premier Hospital
Since the inception of Premier Hospital in 1991 till today, we have grown to unprecedented levels, due to our excellence in medical sciences and healthcare. Premier Hospital is the creation of Dr Mahesh Marda and when it was first established, was only a small, 30-bed hospital facility. Back then, we provided only secondary care to patients, but that certainly has changed in the present landscape.
YOU MIGHT ALSO LIKE
May 17, 2022

May 16, 2022

May 15, 2022

May 12, 2022

May 08, 2022

May 03, 2022

April 25, 2022

April 16, 2022

April 10, 2022
TESTIMONIALS
Hospital is in good condition in a very established area well maintained and in hygienic conditions Staff is friendly and polite very good cooperation Doctor Ayub is very good best
Awsome service by entire hospital staff. Special thanks to Abhinand Sir, Surya Kiran Sir, Chitra Madam. 1.Quick response. 2.Good Hygiene 3.Faster Services 4. Polite Attitude by a
Dr. Rokhsana s/b first trained on attention to detail... first listen the problem clearly and then suggest solution... and mind your voice while talking with patient and their compan
Categories