World Immunisation Week 2021
May 1, 2021
Posted by: Premier Hospitals
617 Views
RSS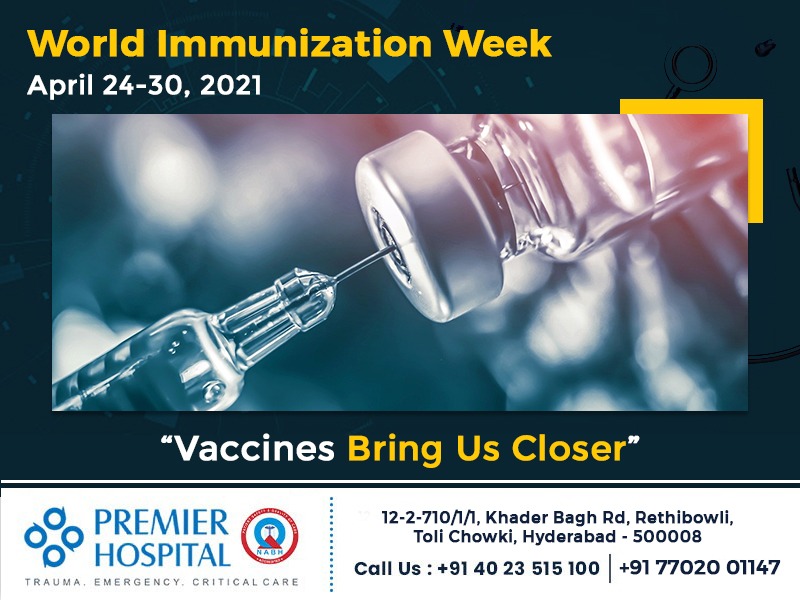 Every year the last week of April is celebrated as World Immunization Week. The main aim of this week is to promote the benefits of vaccines and how they are safeguarding people's health of all ages against dangerous diseases. 
Immunization saves millions of lives all over the world every year, and it is internationally recognized as the most successful health intervention in the world. Yet, there are millions of children around the world missing out on the vaccination they need due to lack of awareness, and many adults and old-age people are also missing out on some vital vaccines.
The COVID-19 pandemic is a devastating reminder of the chaos of vaccines. The coronavirus ends hundreds of lives daily around the world. The virus results in severe complications among people with a weak immunity system. However, experts are building vaccines to boost our immunity system and fight against these viruses. 
The only way to be safe from the pandemic is to maintain distance from each other. However, we have found vaccines to fight against COVID19. So to spread awareness and the importance of vaccination, this year, the World Health Organisation (WHO) came up with the theme "Vaccines bring us closer". Thanks to vaccines, now we found a way to end this pandemic and reconstruct our lives. 
On this World Immunization Week of 2021, we Premier Hospital, as part of social responsibility, promoting the importance of vaccination and bringing people together. We urge everyone around the globe to immunize with vaccines and improve your health & wellbeing.
As part of our 2021 campaign, we urge all health care workers, health organizations, and individuals to unite all over the world to:
Aware people and build trust in vaccines in a way to increase vaccine acceptance by people.

Increase investment to develop more effective vaccines, which include routine immunization vaccines.
As the world is paying attention to new COVID19 vaccines that are vital to prevent the pandemic, it is also very important to ensure that people are not missing out on the traditional vaccines. Many children are not vaccinated during the global pandemic, putting their health at risk of serious diseases such as measles and polio. The rapid spread of misinformation about vaccination has exacerbated this threat.
In this case, this year's immunization weeks campaign is to build awareness and trust over vaccination by making them know the benefits and use of vaccines. Vaccination is a public good that saves lives, promotes health, and can give people quality lives. Together let us support the life-saving cause.
Vaccines kept us closer for decades and will bring us closer again
For more than 200 years, vaccines have been protecting us from various life-threatening diseases that restrain our development. With the help of vaccination, we can grow without the fear of dangerous diseases such as smallpox, Measles, Tetanus, and polio, which took millions of lives over the decades.
Although vaccines are not a silver weapon, they are progressing on the way to a world where all of us can be together again.
The vaccines are constantly evolving, bringing us closer to the world free from diseases like tuberculosis and cervical cancer, and preventing the pain of suffering from childhood ailments such as measles.
New investments in medical research provide innovative methods for vaccine development that will forever change the science of immunization and bring us closer to a healthier future.
As of April 2021, due to COVID-19, nearly 70 world campaigns for preventive vaccination have been postponed in more than 60 countries/regions, and the global coverage of routine vaccination is totally down. As health care professionals, we tend to fill in the gaps by providing access to all vaccines required by a child for a disease free future.
Don't miss out on vaccination for your children in fear of COVID19. Consult our health care professionals at Premier Hospital in Hyderabad. We can help you out with safe vaccination for your children. 
The Author :
Premier Hospital
Since the inception of Premier Hospital in 1991 till today, we have grown to unprecedented levels, due to our excellence in medical sciences and healthcare. Premier Hospital is the creation of Dr Mahesh Marda and when it was first established, was only a small, 30-bed hospital facility. Back then, we provided only secondary care to patients, but that certainly has changed in the present landscape.
YOU MIGHT ALSO LIKE
May 17, 2022

May 16, 2022

May 15, 2022

May 12, 2022

May 08, 2022

May 03, 2022

April 25, 2022

April 16, 2022

April 10, 2022
TESTIMONIALS
Hospital is in good condition in a very established area well maintained and in hygienic conditions Staff is friendly and polite very good cooperation Doctor Ayub is very good best
Awsome service by entire hospital staff. Special thanks to Abhinand Sir, Surya Kiran Sir, Chitra Madam. 1.Quick response. 2.Good Hygiene 3.Faster Services 4. Polite Attitude by a
Dr. Rokhsana s/b first trained on attention to detail... first listen the problem clearly and then suggest solution... and mind your voice while talking with patient and their compan
Categories