World Hepatitis Day – July 28th at Premier Hospital
July 28, 2020
Posted by: Premier Hospitals
1189 Views
RSS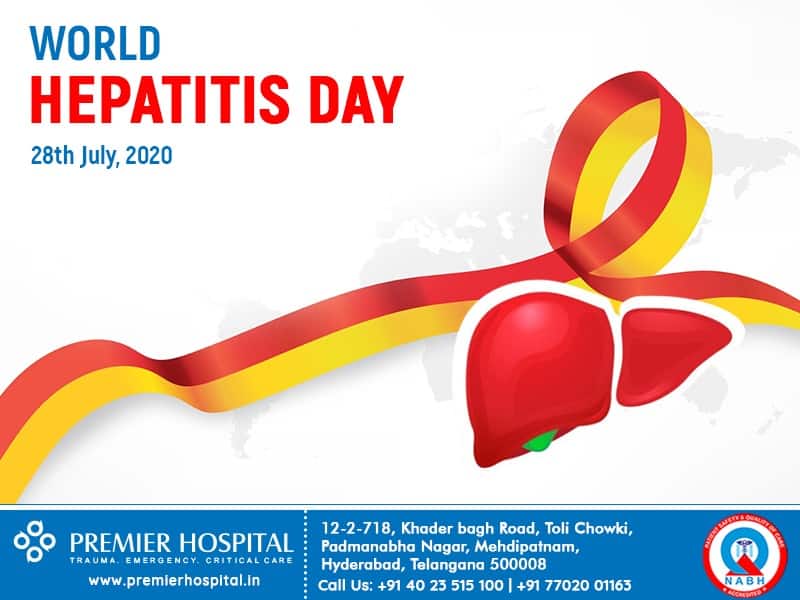 The World Health Organisation WHO initiated World Hepatitis Day on July 28th. The aim is to increase awareness of this disease to reduce the number of hepatitis patients worldwide. According to WHO, this disease causes around 1.4 million deaths every year. WHO also states that hepatitis is the second-largest deadly infectious disease after tuberculosis. According to WHO, in 2017, approximately 40 million people got hepatitis B, and about six to twelve million people got hepatitis C, in India. As per the World Hepatitis Alliance, we globally 290 million men, women and children currently live with unrecognised hepatitis virus.
Hepatitis is a disease that affects the liver and causes inflammation of the liver. There are five main types of hepatitis virus, i.e., A, B, C, D and E, that cause both acute and chronic liver diseases. These five types are essential to know because of the severity of the illness and death, which also causes potential epidemic spread. Types B and C in particular cause chronic diseases in hundreds of millions of people, and together they are the most common causes of cirrhosis and cancer.
 The objective for 2020:
Provide information to help those at risk. To help people with hepatitis B or hepatitis C get the best care to maintain or improve their health. Other objectives are:
Involve people from all walks of life to focus on this topic together.

Spread awareness about various types of hepatitis and how it is transmitted.

Educate people about the prevention, diagnosis and control of hepatitis.

Increase awareness of hepatitis A and B vaccines.

Educate the public about opportunities for comprehensive care and treatment for various forms of hepatitis.

Tell people about the risk of infection and how to access diagnostic tests for hepatitis B and hepatitis C.

Tell people about the importance of a liver health check to monitor the health effects of hepatitis B or C and reduce the risk of developing severe liver disease and liver cancer

Remove the social stigma associated with this disease.

Increase the number of qualified doctors to improve the quality of treatment.

Encourage doctors to take an active part in the event.

Encourage doctors to inform and be involved in all aspects of diagnosis, treatment of hepatitis C.

Encourage doctors to inform about all issues of hepatitis B and to communicate clearly to the patients about diagnosis and treatment.
The Author :
Premier Hospital
Since the inception of Premier Hospital in 1991 till today, we have grown to unprecedented levels, due to our excellence in medical sciences and healthcare. Premier Hospital is the creation of Dr Mahesh Marda and when it was first established, was only a small, 30-bed hospital facility. Back then, we provided only secondary care to patients, but that certainly has changed in the present landscape.
YOU MIGHT ALSO LIKE
May 17, 2022

May 16, 2022

May 15, 2022

May 12, 2022

May 08, 2022

May 03, 2022

April 25, 2022

April 16, 2022

April 10, 2022
TESTIMONIALS
Hospital is in good condition in a very established area well maintained and in hygienic conditions Staff is friendly and polite very good cooperation Doctor Ayub is very good best
Awsome service by entire hospital staff. Special thanks to Abhinand Sir, Surya Kiran Sir, Chitra Madam. 1.Quick response. 2.Good Hygiene 3.Faster Services 4. Polite Attitude by a
Dr. Rokhsana s/b first trained on attention to detail... first listen the problem clearly and then suggest solution... and mind your voice while talking with patient and their compan
Categories