World Hand Hygiene Day – May 5th, 2020
May 5, 2020
Posted by: Premier Hospitals
1435 Views
RSS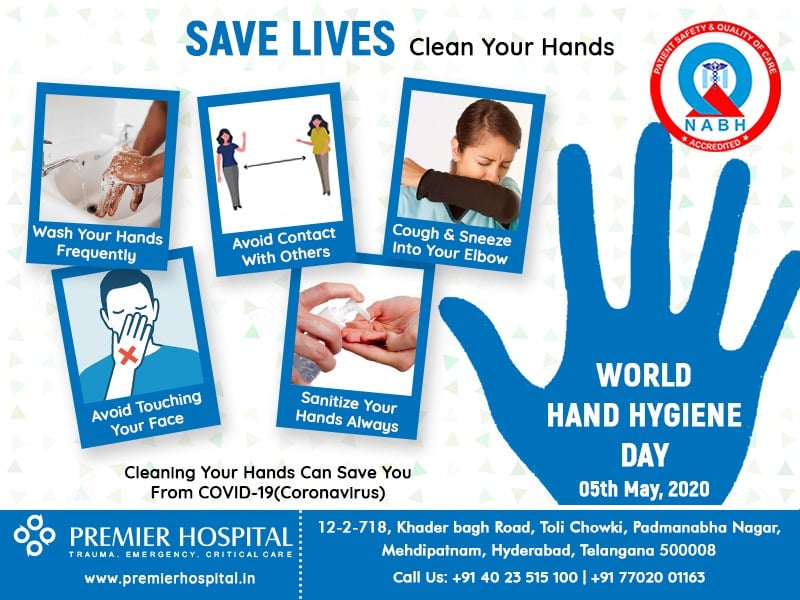 Every year hand hygiene day is celebrated on May 5th to mobilize people all over the world to increase awareness about the importance of hand hygiene in health care facilities. This helps to protect the health care workers, patients and others who come to the hospital from various infections.
We all are aware of the present situation of COVID-19 pandemic. Coronavirus is an infectious and dangerous disease that doesn't have a definite cure yet. The main way it's transferring too fast from one person to others because of not maintaining proper hand hygiene. Maintaining hand hygiene and following some other precautions like social distancing, keeping your surroundings clean, self-isolation can save you and your family from coronavirus pandemic.
This year, the World Health Organisation(WHO) theme for "SAVE LIVES: Clean your hands" is associated with the Nurses and Midwives, and aims to recognize them as front-line heroes. "Nurses and midwives, clean care is in your hands!". They deserve recognition and appreciation towards the critical roles they are in preventing the infection.
Premier Hospital Campaign Objectives For 2020
Our main aim towards the Global Hand, Hygiene Day campaign, is to highlight how effective is handwashing to reduce the spread of virus or bacteria and prevent infections which include the ongoing COVID-19 virus. Not only health care workers and other community people alike, but every individual can play a role in preventing this infection by practising regular & frequent handwashing.
In this 2020 Hand hygiene campaign, Premier Hospital and its partners aim to:
Educating our patients about hand hygiene and bringing behaviour change
Make hand hygiene a global priority
Engage with other health care workers around us in clean care and helps to prevent infectious diseases.
Do your part, wash your hands regularly and educate people around you about the significance of handwashing and save lives.
Graphic Content
World Hand Hygiene Day, 5th May 2020
Save Lives
Clean Your Hands
Wash your hands frequently
Avoid contact with others
Cough and sneeze into your elbow
Avoid touching your face
Sanitize your hands always
Cleaning Your Hands Can Save You From COVID-19(Coronavirus)
The Author :
Premier Hospital
Since the inception of Premier Hospital in 1991 till today, we have grown to unprecedented levels, due to our excellence in medical sciences and healthcare. Premier Hospital is the creation of Dr Mahesh Marda and when it was first established, was only a small, 30-bed hospital facility. Back then, we provided only secondary care to patients, but that certainly has changed in the present landscape.
YOU MIGHT ALSO LIKE
May 17, 2022

May 16, 2022

May 15, 2022

May 12, 2022

May 08, 2022

May 03, 2022

April 25, 2022

April 16, 2022

April 10, 2022
TESTIMONIALS
Hospital is in good condition in a very established area well maintained and in hygienic conditions Staff is friendly and polite very good cooperation Doctor Ayub is very good best
Awsome service by entire hospital staff. Special thanks to Abhinand Sir, Surya Kiran Sir, Chitra Madam. 1.Quick response. 2.Good Hygiene 3.Faster Services 4. Polite Attitude by a
Dr. Rokhsana s/b first trained on attention to detail... first listen the problem clearly and then suggest solution... and mind your voice while talking with patient and their compan
Categories