World Down Syndrome Day, 21 March 2020
March 21, 2020
Posted by: Premier Hospitals
1124 Views
RSS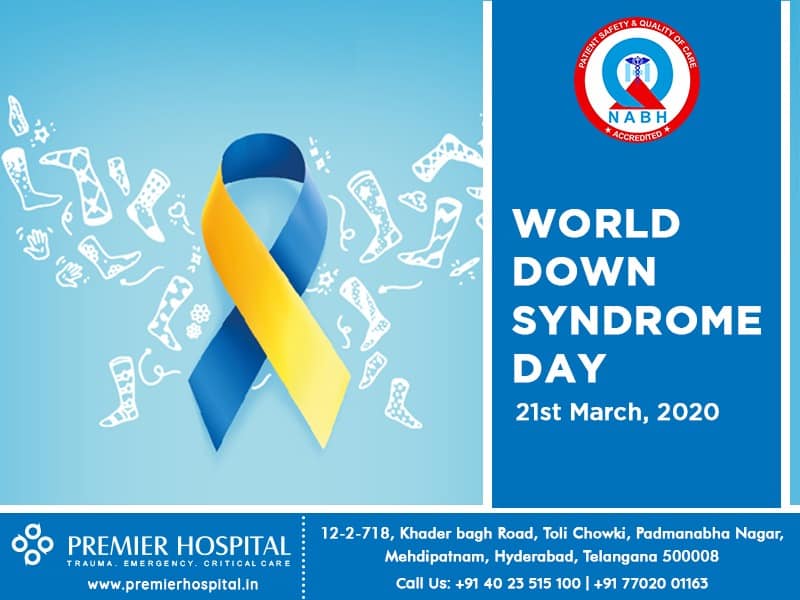 Down syndrome, also known as trisomy 21. It is a genetic disorder caused due to abnormal cell division that results in an extra copy of chromosome 21. This leads to developmental disorders, distinct facial appearance and intellectual disability. There are more than 4 Million People around the world are suffering from Down syndrome.
The severity of down syndrome varies among individuals. It is one of the most common genetic chromosomal diseases that cause learning disabilities in children. It might also cause some other medical abnormalities, including heart disease, thyroid problems and gastrointestinal disorders.
Anyone of the three genetic variations mentioned below can cause Down syndrome.
Trisomy 21
Mosaic Down syndrome
Translocation Down syndrome
Symptoms Of Down Syndrome
Each person with down syndrome has distinct symptoms. Some people with down syndrome found to be healthy while others might suffer some significant health problems such as Leukemia, Dementia, Sleep apnea, Immune disorders etc. The signs and symptoms of the Down syndrome include:
Flat face
Small head and short neck
Protruding tongue
Upward tilting eyelids
Improper ear-shapes or small ears
Poor muscle tone
Broad and shorthands
Short fingers, small hands and feet
Excessive flexibility
Tiny white spots on the iris of the eye called Brushfield's spots
The present medical technology increased the life span of people with this condition. People can live a healthy and happy life even with down syndrome. For more information, contact our specialist doctors at Premier Hospital.
The Author :
Premier Hospital
Since the inception of Premier Hospital in 1991 till today, we have grown to unprecedented levels, due to our excellence in medical sciences and healthcare. Premier Hospital is the creation of Dr Mahesh Marda and when it was first established, was only a small, 30-bed hospital facility. Back then, we provided only secondary care to patients, but that certainly has changed in the present landscape.
YOU MIGHT ALSO LIKE
May 17, 2022

May 16, 2022

May 15, 2022

May 12, 2022

May 08, 2022

May 03, 2022

April 25, 2022

April 16, 2022

April 10, 2022
TESTIMONIALS
Hospital is in good condition in a very established area well maintained and in hygienic conditions Staff is friendly and polite very good cooperation Doctor Ayub is very good best
Awsome service by entire hospital staff. Special thanks to Abhinand Sir, Surya Kiran Sir, Chitra Madam. 1.Quick response. 2.Good Hygiene 3.Faster Services 4. Polite Attitude by a
Dr. Rokhsana s/b first trained on attention to detail... first listen the problem clearly and then suggest solution... and mind your voice while talking with patient and their compan
Categories