World Day For Safety And Health At Work, 28 April 2020
April 28, 2020
Posted by: Premier Hospitals
1391 Views
RSS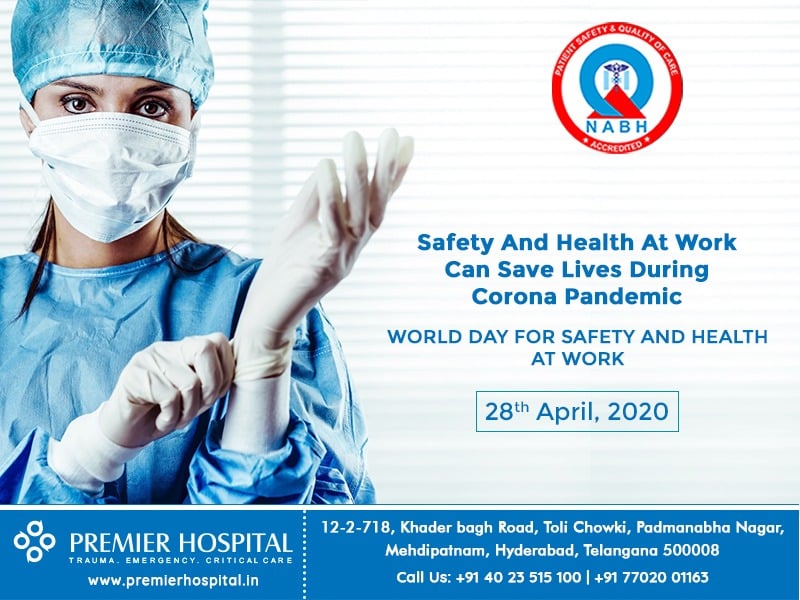 Premier Hospital always support Safety and Health at Work because our main aim is to focus on maintaining a safe, healthy and comfortable working environment at all levels. We always support World Day for Safety and Health at Work, and we encourage all the doctors, nurses, and other technical and non-technical staff to maintain a safe, healthy and pleasant work atmosphere.
"World Day for Safety and Health at Work" is organized on 28th April every year to raisie awareness about the importance of safety and health at your work. The day motivates to think about the actions that can prevent work-related deaths, injuries and illnesses in future, and it's the day to memorize those who have died due to injury or illness at work. By raising awareness over health & safety at work and taking preventive action, we can help prevent further injuries and death.
This 2020 the world is severely suffering from Coronavirus pandemic. So the theme for 2020 is "Stop COVID-19: Safety & Health At Work Can Save Lives."
COVID-19 has brought the need to adapt to rapid change in workplace practices. So under the standard laws of work health and safety, every organization has the responsibility to care for the safety & health of every employee and other workers at the workplace. It's our sole duty to control the risk of vulnerability to COVID-19.
Follow these preventive measures at workplaces to reduce the risk of exposure to COVID-19:
Ensure proper hygiene and sanitation in the workplace
Implement social distancing, and
Motivate your employees to use personal protective accessories like masks, sanitizer and gloves etc.
Don't gather in crowded areas.
These measures are not only for health care organizations, every working organization and industries including building and construction, retail and childcare etc. need to follow these measures to be safe and healthy.
Educate your fellow neighbours about the importance of safety during this pandemic. Let's do your part and pledge yourself to be safe and healthy from the pandemic.
The Author :
Premier Hospital
Since the inception of Premier Hospital in 1991 till today, we have grown to unprecedented levels, due to our excellence in medical sciences and healthcare. Premier Hospital is the creation of Dr Mahesh Marda and when it was first established, was only a small, 30-bed hospital facility. Back then, we provided only secondary care to patients, but that certainly has changed in the present landscape.
YOU MIGHT ALSO LIKE
May 17, 2022

May 16, 2022

May 15, 2022

May 12, 2022

May 08, 2022

May 03, 2022

April 25, 2022

April 16, 2022

April 10, 2022
TESTIMONIALS
Hospital is in good condition in a very established area well maintained and in hygienic conditions Staff is friendly and polite very good cooperation Doctor Ayub is very good best
Awsome service by entire hospital staff. Special thanks to Abhinand Sir, Surya Kiran Sir, Chitra Madam. 1.Quick response. 2.Good Hygiene 3.Faster Services 4. Polite Attitude by a
Dr. Rokhsana s/b first trained on attention to detail... first listen the problem clearly and then suggest solution... and mind your voice while talking with patient and their compan
Categories