World COPD Day, 20 November 2019
November 20, 2019
Posted by: Premier Hospitals
1981 Views
RSS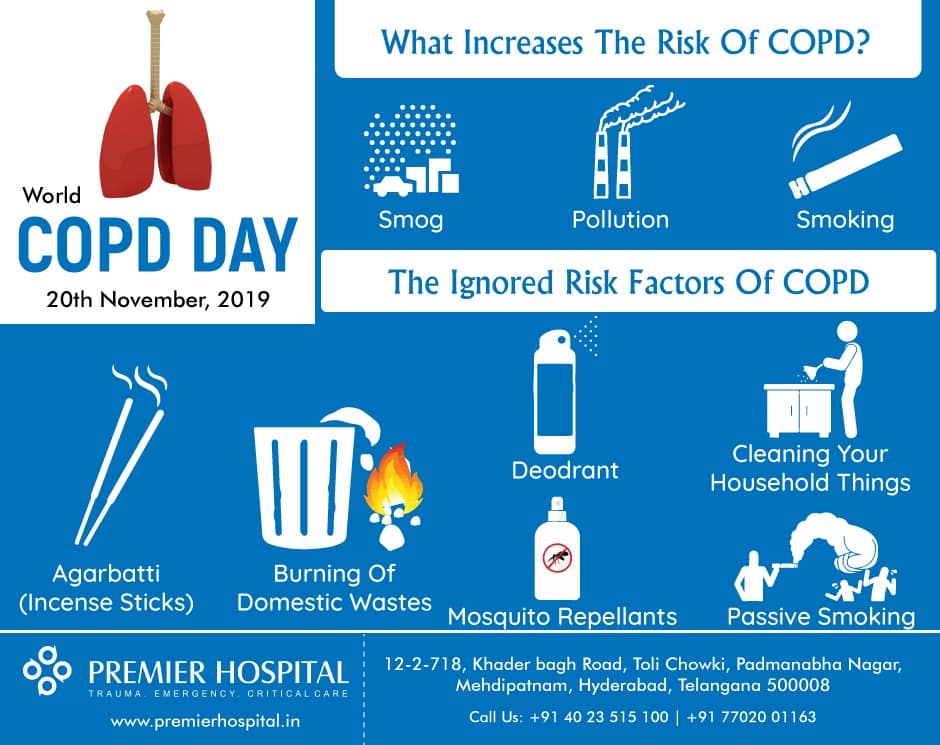 Every year World COPD Day (Chronic Obstructive Pulmonary Disease) is commemorated on the third Wednesday of November. It is being organized by the renowned Global Initiative for Chronic Obstructive Lung Disease (GOLD) in association with health experts and COPD patient groups all around the world.
COPD condition is not a single disease; it is an umbrella term to describe multiple chronic lung diseases. It is an under-diagnosed lung disease and even becomes life-threatening in advanced cases. Let's get to know some facts about this chronic condition.
Facts About COPD
It is the fourth leading cause of death at present in the world.
Experts say that by 2030 COPD might become the 3rd leading cause of death.
It is estimated that the prevalence of 251 million COPD cases globally in 2017.
Nearly 3.17 million people died due to COPD in 2015.
In developing countries, more than 90% of deaths occur due to COPD.
It is estimated that the COPD burden will increase in future because of continued exposure smoking, air pollution and the aging of the population.
COPD may not be curable, but proper treatment can help you to relieve from the symptoms and substantially improves the quality of your life and even reduces the risk of death.
COPD is defined by persistent respiratory conditions and airflow limitation due to airway abnormalities caused due to exposing to poisonous particles or gases. COPD can be preventable by avoiding the risk factors causing it mentioned in the infographic.
The most common symptoms of respiratory problems include:
Breathlessness
Cough
Sputum production
Wheezing and chest tightness
Fatigue, weight loss, depression, anxiety
We, Premier Hospital, is always concerned about public health and wanted you to know how dangerous COPD is growing. "It's Never Too Early Nor Too Late" to address about airway diseases. Let's join together and create awareness by educating people around you.
If you are having any respiratory, never hesitate to consult our expert doctors at Premier Hospital.
The Author :
Premier Hospital
Since the inception of Premier Hospital in 1991 till today, we have grown to unprecedented levels, due to our excellence in medical sciences and healthcare. Premier Hospital is the creation of Dr Mahesh Marda and when it was first established, was only a small, 30-bed hospital facility. Back then, we provided only secondary care to patients, but that certainly has changed in the present landscape.
YOU MIGHT ALSO LIKE
May 17, 2022

May 16, 2022

May 15, 2022

May 12, 2022

May 08, 2022

May 03, 2022

April 25, 2022

April 16, 2022

April 10, 2022
TESTIMONIALS
Hospital is in good condition in a very established area well maintained and in hygienic conditions Staff is friendly and polite very good cooperation Doctor Ayub is very good best
Awsome service by entire hospital staff. Special thanks to Abhinand Sir, Surya Kiran Sir, Chitra Madam. 1.Quick response. 2.Good Hygiene 3.Faster Services 4. Polite Attitude by a
Dr. Rokhsana s/b first trained on attention to detail... first listen the problem clearly and then suggest solution... and mind your voice while talking with patient and their compan
Categories