World Chronic Fatigue Syndrome Awareness Day, May 12th, 2020
May 12, 2020
Posted by: Premier Hospitals
1511 Views
RSS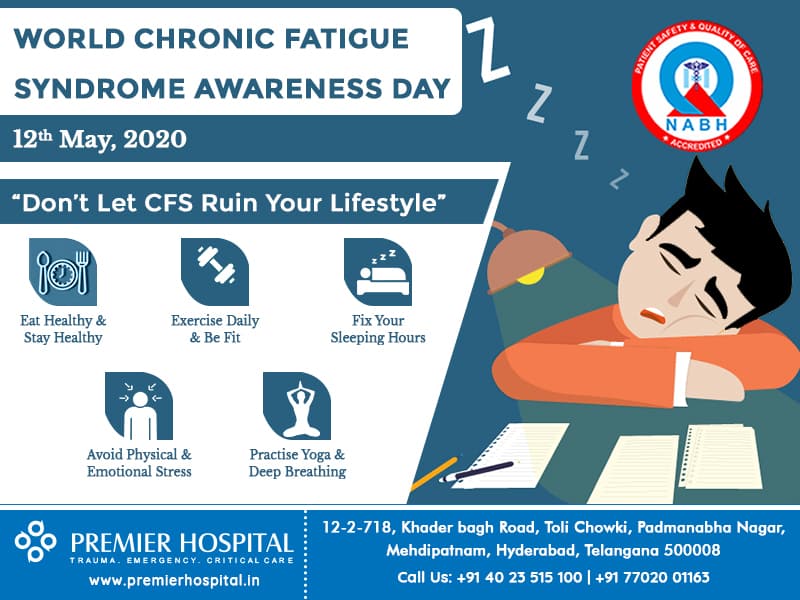 Every year on May 12th, World Chronic Fatigue Syndrome Awareness Day is organized in the memory of Florence Nightingale on her birth anniversary. From 1857 till her death in 1910, she suffered from a fatigue-related illness similar to Chronic Fatigue Syndrome (CFS) or Fibromyalgia. The modern-day goal of this day is to create awareness among people about the causes, symptoms and preventive measures related to this chronic medical condition.
What is Chronic Fatigue Syndrome(CFS)?
Chronic Fatigue Syndrome (CFS) is a chronic medical condition characterized by extreme fatigue or tiredness that doesn't go even after taking rest and may last for more than six months. It limits the person's ability from doing day to day activities. CFS is also called Myalgic Encephalomyelitis (ME), and the exact cause of the fatigue condition is not yet known.
The quality of life of a person suffering from CFS can be compromised. The World Chronic Fatigue Syndrome Awareness Day aims to improve the quality of life of the affected people and to ensure facilities to treat this chronic illness at various healthcare organizations.
Symptoms Of Chronic Fatigue Syndrome
The signs and symptoms which indicate a person is suffering from CFS include:
Memory Loss
Lack of Concentration
Headaches & Irritability
Fatigue (extreme tiredness) and Dizziness
Sleep Problems
Depression, Stress and Anxiety
Nausea
Flu-like symptoms
Weakness & Muscle aches
Chronic Fatigue Syndrome commonly affects middle-aged people. Women are more likely to be affected than men. Overweight and inactive people are also at risk of developing CFS. It is also seen in individuals who are under extreme stress, have a sedentary lifestyle and odd working hours. On this world CFS day, let's take the responsibility of creating awareness among our people and help them take a step towards a better quality of life.
Graphic Content:
"Don't Let CFS Ruin Your Lifestyle."
Eat Healthy & Stay Healthy
Exercise Daily & Be Fit
Fix Your Sleeping Hours
Avoid Physical & Emotional Stress
Practise Yoga & Deep Breathing
The Author :
Premier Hospital
Since the inception of Premier Hospital in 1991 till today, we have grown to unprecedented levels, due to our excellence in medical sciences and healthcare. Premier Hospital is the creation of Dr Mahesh Marda and when it was first established, was only a small, 30-bed hospital facility. Back then, we provided only secondary care to patients, but that certainly has changed in the present landscape.
YOU MIGHT ALSO LIKE
May 17, 2022

May 16, 2022

May 15, 2022

May 12, 2022

May 08, 2022

May 03, 2022

April 25, 2022

April 16, 2022

April 10, 2022
TESTIMONIALS
Hospital is in good condition in a very established area well maintained and in hygienic conditions Staff is friendly and polite very good cooperation Doctor Ayub is very good best
Awsome service by entire hospital staff. Special thanks to Abhinand Sir, Surya Kiran Sir, Chitra Madam. 1.Quick response. 2.Good Hygiene 3.Faster Services 4. Polite Attitude by a
Dr. Rokhsana s/b first trained on attention to detail... first listen the problem clearly and then suggest solution... and mind your voice while talking with patient and their compan
Categories