World Cancer Day 2020
February 4, 2021
Posted by: Premier Hospitals
973 Views
RSS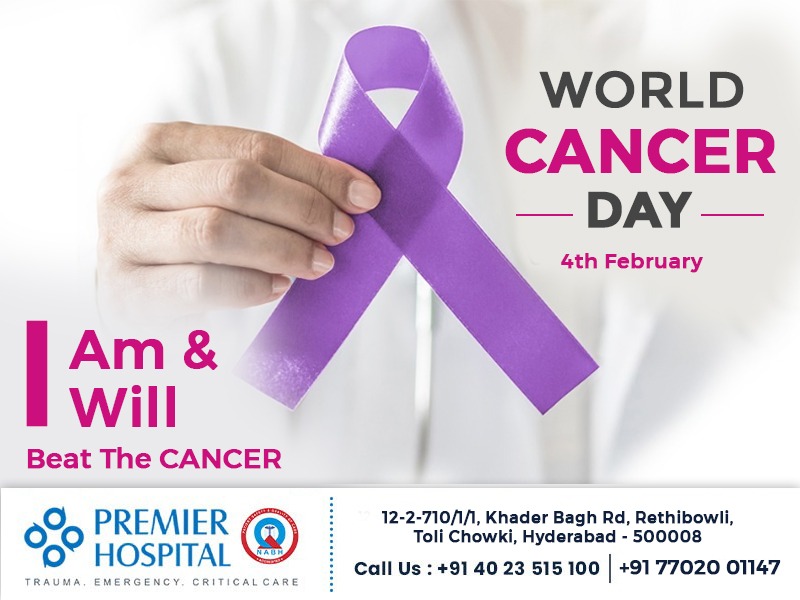 Sooner or later, it looks, that cancer shows an impact on many people. Cancer is a genetic disorder which is caused due to changes in genes that control the functions of our cells in the body, particularly how they grow and divide.
Experts are working to find the exact cause of cancer. Cancer is defined as the uncontrolled and abnormal growth of cells in your body. It may occur during a person's lifetime due to the damage of DNA because of certain environmental exposures which include chemicals substances, consumption of tobacco and its products, and radiation like ultraviolet rays etc. Cancer can also be inherited from family members.
Cancer might occur anywhere and affect any part of your body. Breast cancer in women is one of the most prevalent types of cancer and in men, prostate cancer is more common. Lung cancer and colorectal cancer affects high numbers of people in both men and women.
There were 5 main kinds of cancer that are fatal:
Carcinomas – it starts in your skin or tissues lining your internal organs.

Sarcomas – it grows in your bones, muscles or other connective tissues.

Leukaemia – it develops in your blood & bone marrow.

Lymphomas – it affects your immune system.

The type of cancers that affect your brain and spinal cord are called central nervous system cancers.
Cancer is a fatal condition and one of the leading causes of death worldwide. That's why World Cancer Day is commemorated on 4th February to raise awareness about prevention, detection, and treatment. It was started by the Union for International Cancer Control(UICC) in 1993. World Cancer Day activities mainly focus to reduce illness and mortality rate caused by cancer.
This year the theme of the awareness program is " I Am & I Will."
How to create cancer awareness?
On this day, many events and fundraisers will be organised around the world every year and summon individuals, societies, and other organizations together to campaign and deliver a powerful message that cancer patients are not alone, and as a fellow human being it is our minimum responsibility to fight and reduce the global impact of cancer.
Post a message on your social media and spread awareness

Educate people in your area about cancer and the damage it cause

Raise fund for cancer research. 

Help cancer patients and support them

Participate or volunteer in the Cancer Day events near you or host your own event. 
There are various treatments available for cancer, based on the type of cancer. Early diagnosis and treatment might help to save the life of a cancer patient. 
The Author :
Premier Hospital
Since the inception of Premier Hospital in 1991 till today, we have grown to unprecedented levels, due to our excellence in medical sciences and healthcare. Premier Hospital is the creation of Dr Mahesh Marda and when it was first established, was only a small, 30-bed hospital facility. Back then, we provided only secondary care to patients, but that certainly has changed in the present landscape.
YOU MIGHT ALSO LIKE
May 17, 2022

May 16, 2022

May 15, 2022

May 12, 2022

May 08, 2022

May 03, 2022

April 25, 2022

April 16, 2022

April 10, 2022
TESTIMONIALS
Hospital is in good condition in a very established area well maintained and in hygienic conditions Staff is friendly and polite very good cooperation Doctor Ayub is very good best
Awsome service by entire hospital staff. Special thanks to Abhinand Sir, Surya Kiran Sir, Chitra Madam. 1.Quick response. 2.Good Hygiene 3.Faster Services 4. Polite Attitude by a
Dr. Rokhsana s/b first trained on attention to detail... first listen the problem clearly and then suggest solution... and mind your voice while talking with patient and their compan
Categories