What Is The Difference Between A Neurosurgeon Vs Neurologist?
July 8, 2020
Posted by: Premier Hospitals
2875 Views
RSS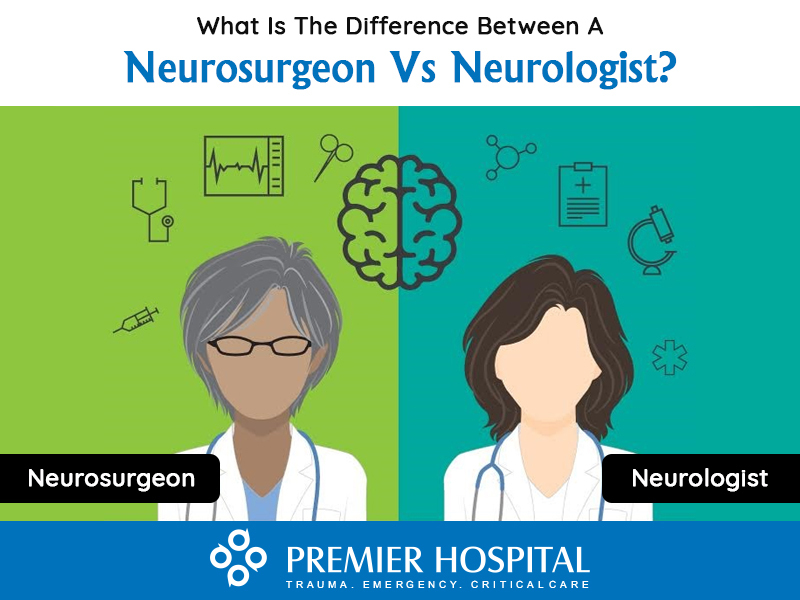 Are you confused about whom to consult for your neurological problem? With so many medical specialities, it's not always easy to distinguish doctors. For your knowledge, every speciality has two branches one is medicine branch and the second one is surgical. Neurosurgeons and neurologists specialise in the treatment of medical problems that affect the central nervous system. The central nervous system controls most functions of the body and mind, which consists of the brain and spinal cord.
Neurology is a medical speciality that focuses on the diagnosis and treatment of diseases that affect the brain and nervous system, as well as the spinal cord, blood vessels, muscles, and nerves. These diseases are treated by doctors in two related fields: neurology services and neurosurgery.
Neurologists and neurosurgeons specialise in the treatment of diseases of the brain, spine and nervous system. However, these two specialities have different ways of treatment for neurological disorders ranging from multiple sclerosis and epilepsy to brain tumours in the brain and spine. If you have symptoms of a neurological disorder, you can be referred to a neurologist, neurosurgeon, or both, to diagnose and treat the cause of your symptoms. Why are there differences between neurologists and neurosurgeons? This article provided by Premier Hospital explains the differences and similarities between the two. Before that, let us see what a neurological disorder is.
What is a neurological disorder?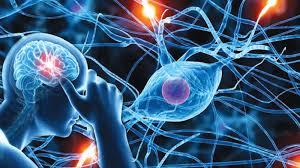 There are more than 600 neurological disorders short-term or chronic diseases that affect the brain, spine, and the central and peripheral nervous system. Common neurological disorders are multiple sclerosis, amyotrophic lateral sclerosis (ALS), Parkinson's and epilepsy, and memory disorders such as Alzheimer's. Brain malformations such as arteriovenous malformations, Chiari malignancies, and aneurysms, are considered neurological diseases. Neurologists also treat problems such as strokes and trauma of the brain or spine and nerve problems such as neuropathy and neuralgia.
Neurological disorders can cause a variety of symptoms, ranging from muscle weakness and numbness in peripheral areas such as arms and legs to problems of coordination, vision, concentration, and sensation. Unexplained paralysis, seizures and pain can also indicate neurological problems.
Diagnosis and treatment of neurological disorders: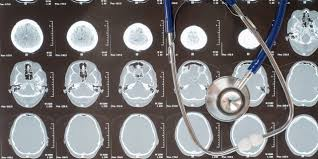 Neurological disorders can be treated with various approaches, including medication, physical therapy, and surgery. Treatment starts by visiting the family doctor, who then refers you to a neurologist for diagnosis and treatment. Depending on your circumstances, your treatment team might include neurologists, neurosurgeons, or both.
Diagnosis is the first step in treating neurological disorders, and several tests and diagnostic tools can be used to determine the cause of a person's symptoms. These include:-
General tests include laboratory tests of blood, urine and other fluids.
Imaging procedures such as CT and MRI, Ultrasound and Angiography.
Procedures in which a dye is injected into an artery and monitored for blockages and other types of abnormalities.
Both neurosurgeons and neurologists require these tests/procedures.
Who is a neurologist?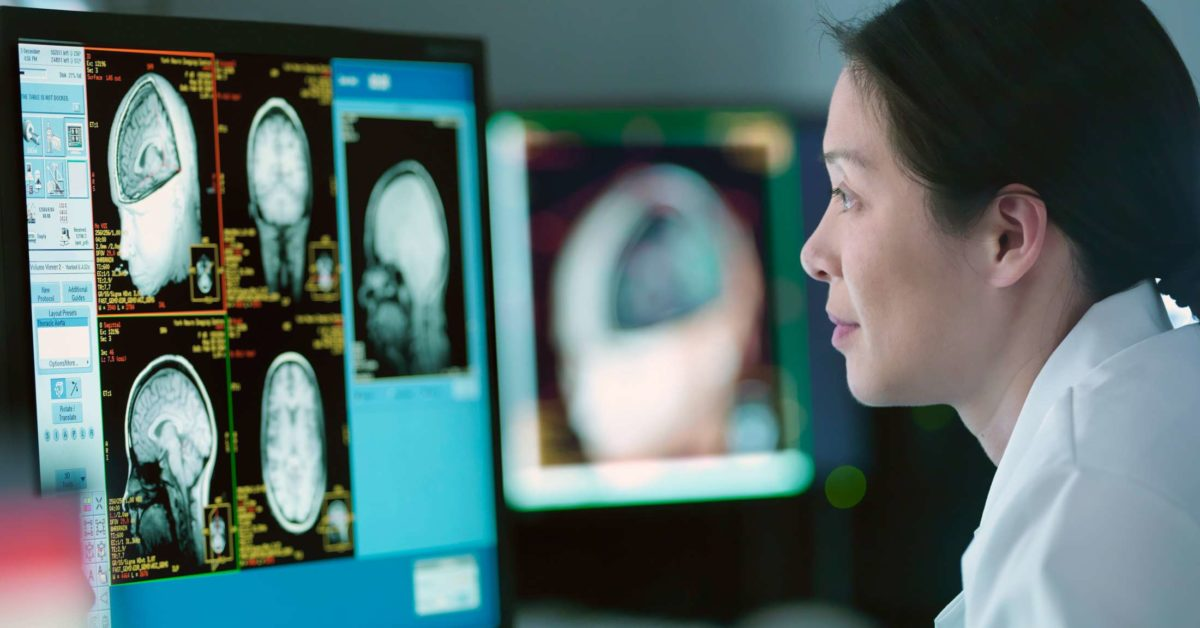 According to the Indian Academy of Neurology, a neurologist is a doctor who specialises in the diagnosis, treatment, of diseases of the brain and nervous system. Neurologists use diagnostic tests such as electroencephalograms (EEG), magnetic resonance imaging (MRI) and computed tomography (CAT) to identify neurological conditions. Neurologists can specialise in the treatment of neurological developmental disorders, learning disorders, pain management and other chronic diseases.
Neurologists complete four years of pre-medical education at a college or university, four years of medical education leading to an MD or DO, one year of experience and at least three years of specialised training in residency programs in neurology. Some neurologists choose additional training in areas of interest such as stroke, movement disorders or sleeping disorders.
What diseases are treated by neurologists?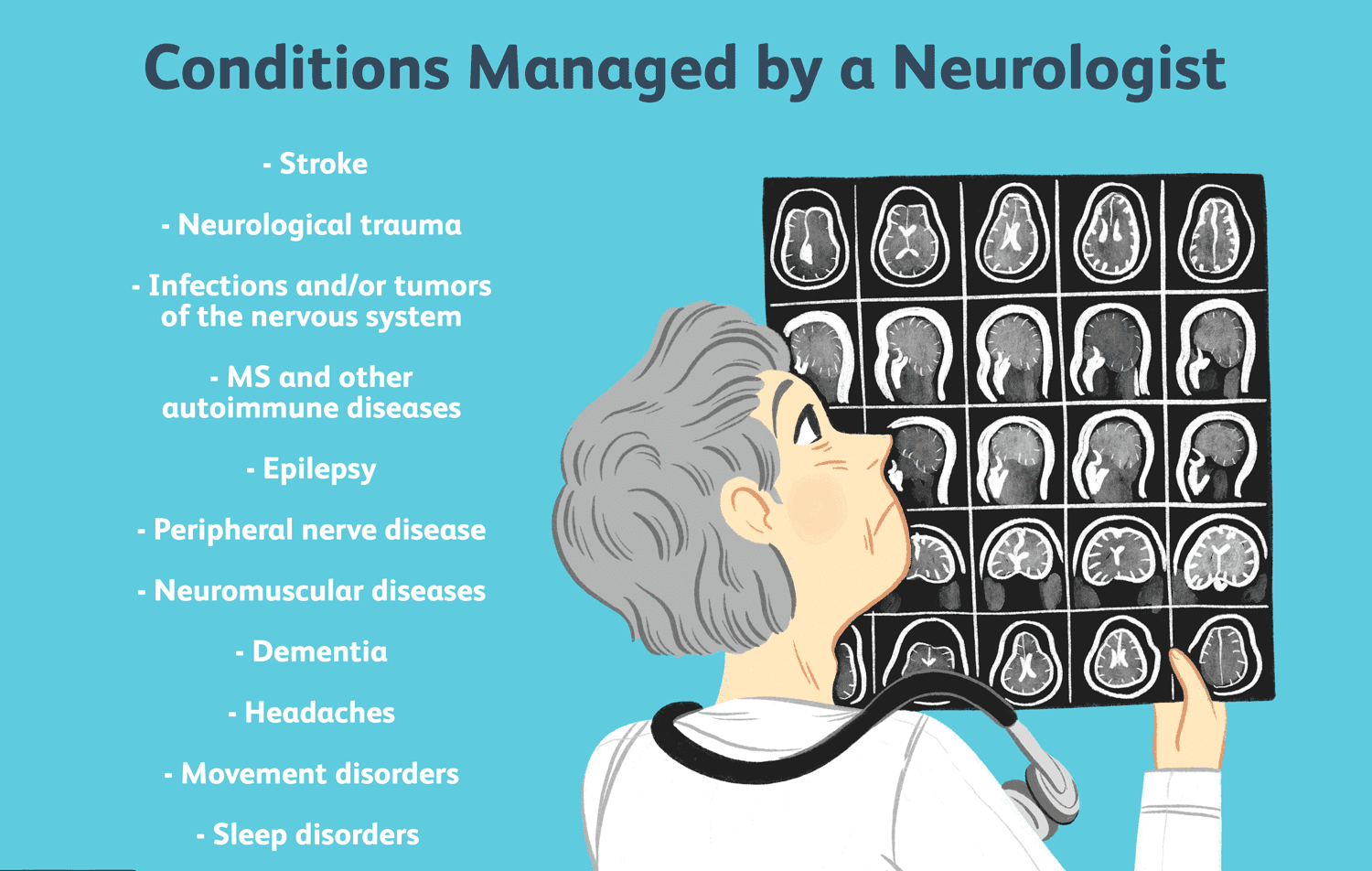 A neurologist treats such diseases of the brain and nervous system which do not require surgery. Some of the most common ailments they treat are headaches, Alzheimer's, multiple sclerosis, sleep disorders, pain, brain tumours, peripheral nerve disorders and amyotrophic lateral sclerosis (ALS). Some neurologists focus on subspecialties such as neurophysiology, pediatric neurology, epilepsy, vascular neurology, behavioural neurology or others.
These types of conditions usually do not require surgery. Neurologists and Neurosurgeons often work together on conditions such as epilepsy or that require surgery. Neurologists also work with family doctors to carry out and interpret tests for brain disorders.
Who is a neurosurgeon?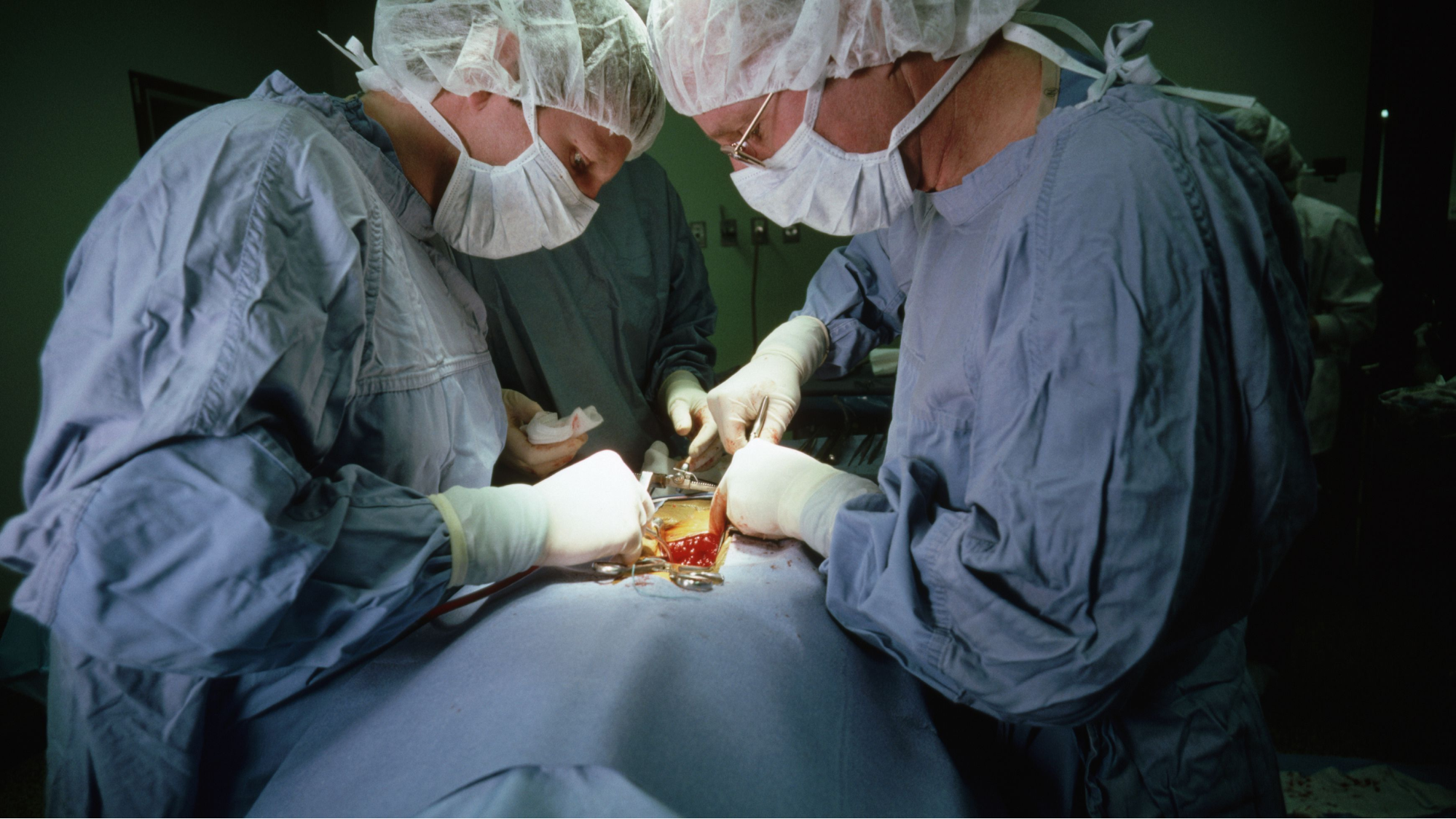 Neurosurgeons are doctors who diagnose and treat diseases of the brain, spine, and nervous system through surgical and non-surgical treatments based on the type of injury or disease. Due to their extensive training in the diagnosis of neurological diseases, neurosurgeons are often advised to consult with other doctors, emergency physicians, neurologists, internists and general practitioners.
Although they can do very complex operations, neurosurgeons usually use a non-surgical treatment plan before performing the surgery. If surgery is required, minimally invasive techniques are used whenever possible. Doctors also call neurosurgeons in the emergency room if the patient has an injury to the brain and spinal cord.
Training as a neurosurgeon is the most extended period in the medical specialisation. Apart from six years of pre-medical education, four years of medical studies and one year of experience, he should be a resident for five to seven years. Many of them specialise in fields such as the spine, pediatric neurosurgery or peripheral neurosurgery.
What diseases are treated by neurosurgeons?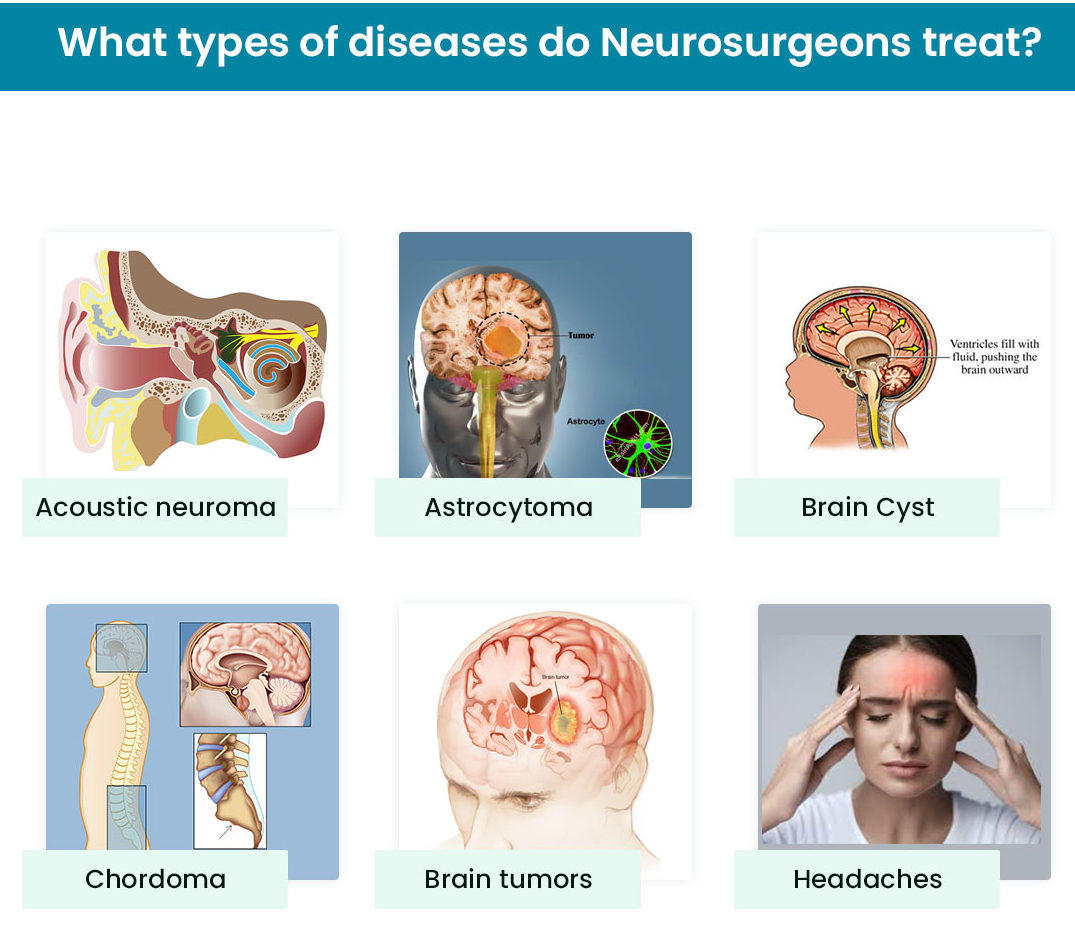 Neurosurgeons are trained to treat people with brain and spinal trauma, aneurysms, blocked arteries, chronic low back pain, congenital disabilities, brain tumours and spinal cord, and peripheral nerve problems. Neurosurgeons also perform surgery for carpal tunnel syndrome, surgery to remove tumours in the brain and spine, and surgery for the spine.
Common illnesses treated by neurosurgeons include back pain, neck pain, sciatica, hernias, degenerative spinal discs, cerebrovascular disease, brain and spinal tumours, and strokes. Also, because the nervous system extends from your brain to your spine and your nerves branch through your body, they treat conditions that have symptoms in parts of your body that are related to problems in the central nervous system. For example, carpal tunnel symptoms are sometimes associated with problems in your cervical spine (neck area)—accumulation of fluid in the brain, and problems with blood supply to the brain.
Neurologist Vs. Neurosurgeon: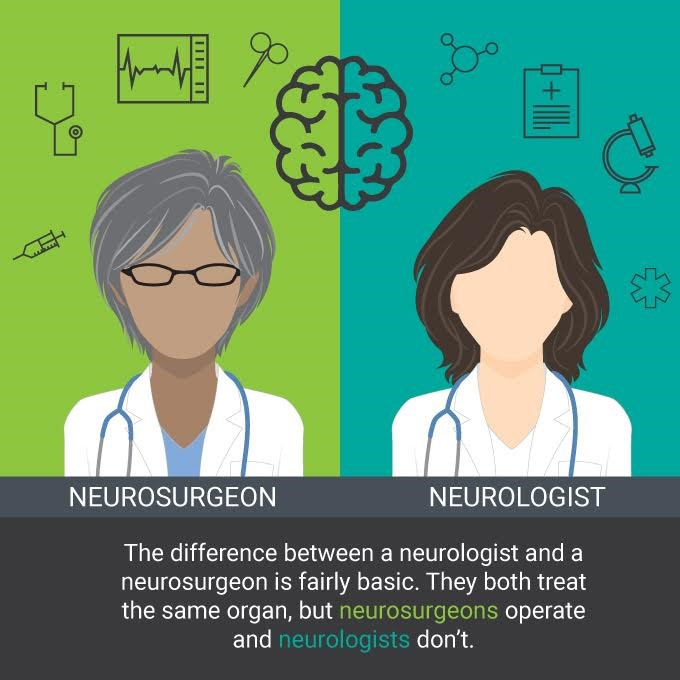 There are significant differences between neurologists and neurosurgeons. However, in the case of medical management, there is a significant overlap between the two.
While neurologists and neurosurgeons diagnose and treat diseases of the nervous system, neurologists do not do any surgery. Neurologists focus on identifying specific diagnostic neurological conditions that can be corrected with other drugs or therapies or that require strict care. However, if your diagnosis shows the physical cause of a neurological disorder, the neurologist can refer you to a neurosurgeon when surgery is needed to improve the condition or improve it to improve your results.
The first time you see someone in the Department of Neurology, you will likely see a neurologist. During your first appointment, your neurologist will do your first screening, including MRI. If a neurologist sees something disturbing that requires surgery, such as a tumour, he will refer you to a neurosurgeon.
After you see a neurosurgeon, you can take further tests to determine whether surgery is needed. A neurosurgeon might suggest trying other treatments before planning an operation. Neurosurgeons don't just do surgeries; they work with you to diagnose your condition and help you with non-surgical and surgical treatments.
Conclusion:
If you have a disease or symptom that you think may require a brain and spinal specialist, ask your general practitioner what type of specialist you should meet. The Premier Hospital multidisciplinary team of doctors at this centre are equipped with the latest technology and have experience in treating injuries or diseases that affect the nervous system.
If in doubt, contact Premier Hospital doctor. Our surgeons and medical staff are experienced in spine and brain surgery and are experts in surgical and non-surgical care for brain and spinal diseases. We practice comprehensive patient-oriented care to achieve the best results. Contact us today at  +91-77020 01163 to make an appointment or fill out our easy-to-use online meeting request form so we can get started. We look forward to serving you.
The Author :
Premier Hospital
Since the inception of Premier Hospital in 1991 till today, we have grown to unprecedented levels, due to our excellence in medical sciences and healthcare. Premier Hospital is the creation of Dr Mahesh Marda and when it was first established, was only a small, 30-bed hospital facility. Back then, we provided only secondary care to patients, but that certainly has changed in the present landscape.
YOU MIGHT ALSO LIKE
May 17, 2022

May 16, 2022

May 15, 2022

May 12, 2022

May 08, 2022

May 03, 2022

April 25, 2022

April 16, 2022

April 10, 2022
TESTIMONIALS
Hospital is in good condition in a very established area well maintained and in hygienic conditions Staff is friendly and polite very good cooperation Doctor Ayub is very good best
Awsome service by entire hospital staff. Special thanks to Abhinand Sir, Surya Kiran Sir, Chitra Madam. 1.Quick response. 2.Good Hygiene 3.Faster Services 4. Polite Attitude by a
Dr. Rokhsana s/b first trained on attention to detail... first listen the problem clearly and then suggest solution... and mind your voice while talking with patient and their compan
Categories