An overview of Varicose Veins
February 20, 2022
Posted by: Premier Hospitals
203 Views
RSS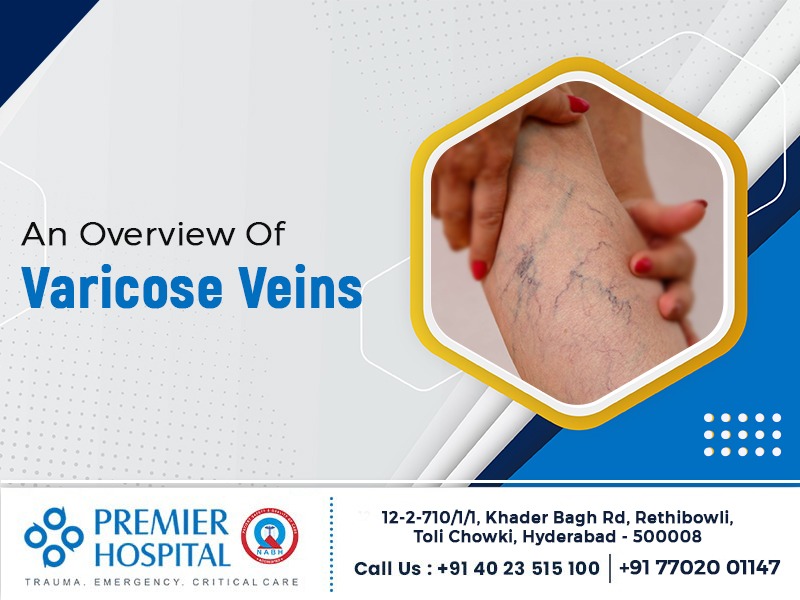 Varicose veins, also known as varicosities, is a medical ailment defined as swollen veins overfilled with blood. Varicose veins can develop in any superficial vein, though they are most often found in legs and feet. Often, they are covered with flooded capillaries that appear as spider veins and are referred to as superficial varicose veins.
They are blue or dark purple coloured veins that develop when the valves of the veins allow too much blood to flow or the blood flow in a wrong direction(reverse). This happens due to the malfunctioning of the veins. 
Varicose Veins Symptoms
Generally, varicose veins are not harmful; they may just be an aesthetic problem. However, the following symptoms indicate that patient have varicose veins:
The color of the veins appears to be dark purple or bluish.

Clearly evident on the skin surface because of swelling and twisting of veins. These often appear on the legs like cords.
They can be painful sometimes, and the signs of the condition include:
The affected legs pain might be painful

Your legs may feel heavy, particularly at nighttime

Throbbing pain and burning sensation

Increased swelling in the ankle area

Standing or sitting for a prolonged period of time increases pain

Restless legs syndrome

Lipodermatosclerosis 

Lower leg swelling and muscle cramps

Venous eczema (stasis dermatitis) 

It feels itchy near the veins
There are similar features between spider veins and varicose veins, although they are not the same. 
Spider veins appear as red or blue coloured lines that are located close to the surface of the skin. In most cases, spider veins resemble spider webs; their size varies, and they typically emerge on the face and the legs.
What Are The Causes Of Varicose Veins?
As the vein openings(valves) weaken or fail, the functions of the veins become compromised, i.e., the veins become incapable of returning blood to the heart. As a result, your veins fill up with blood and begin to swell.
The following factors can increase the risk of developing varicose veins:
Being pregnant

During menopause

People over 50 years of age

Those who spend long periods of time standing or sitting

Overweight/Obesity

Hereditary (varicose veins run in families)
It can also be caused by chronic constipation, injuries to the vein valves, and tumors can also rarely result in varicose veins.
Varicose Veins Treatment
The treatment for varicose veins is mostly suggested when they are severe. However, you shouldn't ignore the problem. Talk to a doctor and start taking preventative measures. They may suggest home remedies or other treatment options to reduce discomfort depending on the severity of the condition. The following are some common treatments for this condition, according to our expert doctor:
Self-care
Currently, no preventive measures are available to prevent the formation of new varicose veins. Although self-care is not a cure for varicose veins, it can reduce discomfort and prevent the condition from worsening.
Regular exercise

Getting rid of excess weight

Avoid wearing tight-fitting clothing

While sleeping, elevate your legs

Don't stand or sit for too long
Pain can be eased, and the condition can be prevented from worsening if you follow the above home remedies.
Compression stockings
Before moving to any other type of treatment, the doctors typically recommend wearing compression socks (stockings) for the whole day as the first line of treatment. Your legs are pressured by these socks, which helps to pump back the blood to the heart. This reduces swelling as well. You should wear compression stockings as prescribed by your doctor, depending on the compression level. These stockings can be found in pharmacies and medical supplies stores.
Other treatments for severe varicose veins
If the conventional treatments for varicose veins don't improve the varicose veins, there are other treatments available to tackle the condition. A doctor may suggest one or more of the following methods.
Endothermal ablation: A procedure in which the affected veins are sealed off by heat therapy.
Ambulatory phlebectomy: Small slits are in the skin during an ambulatory vein procedure, and the damaged veins are removed. Usually, there is minimal scarring.
Sclerotherapy: This procedure involves covering the veins with a special foam and shrinking them.
Ligation and stripping: It is a surgical procedure where the varicose veins are tied to prevent blood pooling. And they are removed as well.
Laser surgeries: Here, in this procedure, a laser beam is focused onto the vein until it gradually fades away.
Endoscopic vein surgery: This is a minimally invasive procedure where the damaged veins are removed by making small incisions. In this procedure, a thin probe with a camera head sent into the leg helps the surgeon see more clearly.
Varicose veins that develop during pregnancy tend to disappear by themselves within a few months after delivery without medical treatment. For more details about varicose vein treatment, contact our expert doctors at Premier Hospital, one of the best hospitals for varicose vein treatment in Hyderabad. We helped thousands of patients with varicose veins as we have been treating varicose veins problems for more than two decades. Call +91-83747 18100 to book an appointment with top doctors in Hyderabad. 
The Author :
Premier Hospital
Since the inception of Premier Hospital in 1991 till today, we have grown to unprecedented levels, due to our excellence in medical sciences and healthcare. Premier Hospital is the creation of Dr Mahesh Marda and when it was first established, was only a small, 30-bed hospital facility. Back then, we provided only secondary care to patients, but that certainly has changed in the present landscape.
YOU MIGHT ALSO LIKE
May 17, 2022

May 16, 2022

May 15, 2022

May 12, 2022

May 08, 2022

May 03, 2022

April 25, 2022

April 16, 2022

April 10, 2022
TESTIMONIALS
Hospital is in good condition in a very established area well maintained and in hygienic conditions Staff is friendly and polite very good cooperation Doctor Ayub is very good best
Awsome service by entire hospital staff. Special thanks to Abhinand Sir, Surya Kiran Sir, Chitra Madam. 1.Quick response. 2.Good Hygiene 3.Faster Services 4. Polite Attitude by a
Dr. Rokhsana s/b first trained on attention to detail... first listen the problem clearly and then suggest solution... and mind your voice while talking with patient and their compan
Categories