Post-Traumatic Facial Reconstruction
December 31, 2021
Posted by: Premier Hospitals
287 Views
RSS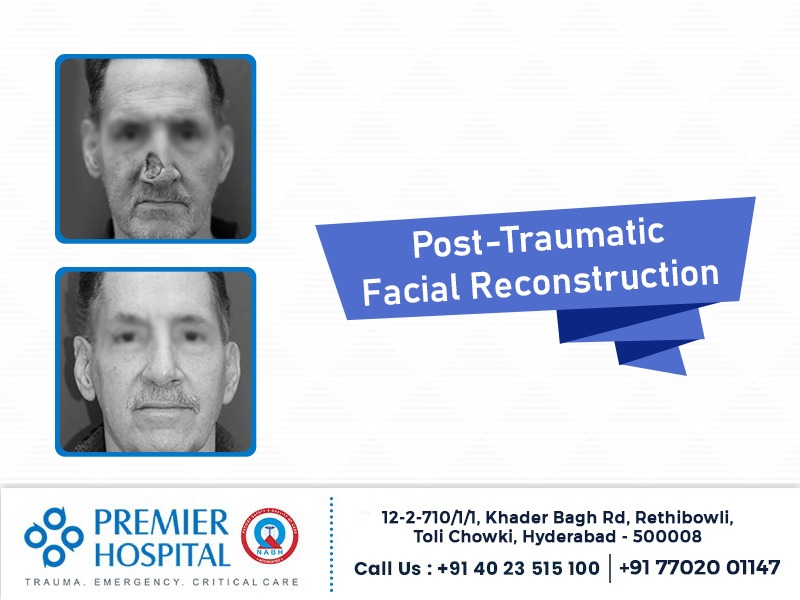 We often see motor vehicle accidents, gunshots, falls, and fire engulfs. All these factors may cause facial injuries, also known as facial trauma. A trauma surgeon is trained to perform life-saving procedures on people who have been injured severely. Later on, the maxillofacial surgeons at Premier Hospital specialize in post-traumatic reconstruction of the face, including plastic and craniofacial procedures, giving patients a new start.
At Premier Hospital, we provide the latest and advanced procedures in facial reconstruction. As a team, we believe in comprehensive medical care, and, we have a very talented and experienced specialist doctors in this field to provide the best possible results for patients with disfiguring or disabling facial & craniofacial injuries.
Premier is a level 1 trauma care centre in Hyderabad which has helped thousands of patients.
Post-Traumatic Facial Deformities
The best approach to prevent post-traumatic facial deformities is to receive the correct treatment immediately after an injury. In many cases, using advanced craniofacial techniques helps to avoid unnecessary revision procedures. The field of craniofacial surgery has made many advances in recent years, but some patients still end up with severe facial deformities.
Facial fractures that are left unrepaired or under-reduced may lead to severe cosmetic and functional problems. For example, unrepaired orbital fractures can result in a sunken-in-eye appearance, nasal malformations, vision problems (double vision). In addition, untreated middle and lower face injuries can cause cheeks to flatten or dental problems making it difficult to chew.
Post-traumatic facial deformities can lead to a wide range of problems. The process of repairing or reconstructing soft tissue and bones after they have healed presents challenges.
During reconstruction, a wide exposure is required, thereby allowing the surgeon to directly see the deformities in the bone. The displaced bone is then repositioned by trimming it, and the soft tissue is attached back to its normal position. A bone graft may be used to replace missing or severely deformed bone. In all these procedures, standard craniofacial surgery techniques are used.
Recent Advances in Facial Reconstruction
At Premier Maxillofacial Department, we utilize minimally-invasive treatment options and biocompatible products and take advantage of the latest technology in facial reconstruction. These include:
Virtual Surgical Planning
When surgery cannot be performed immediately, with digital imaging technique, the planning of surgery can be accomplished much more precisely, and implants can be customized according to the patient's need to repair bone deficiencies.
Microsurgery
Microsurgery is a procedure that allows the transfer of patients' "own" healthy tissue, including the blood vessels, from another area of the body to the damaged area. When performed on the right patient, the microsurgical "free flap" tissue transfer eliminates both physical pain and psychological trauma related to cosmetic imperfections.
Biocompatible Implants
Facial fractures are best treated using biograde titanium plates. A second surgery need not be performed after the bones have healed to remove the plates. As a result, complications during the healing process are dramatically reduced. At Premier Hospital, we prefer high-quality materials for post-traumatic facial reconstruction.
Patient-Specific Implants
We should thank virtual surgical planning, which allows for the design of patient-specific implants used in reconstructive surgeries. With the help of state-of-the-art digital imaging techniques, experts evaluate the patent requirements and then design patient-specific implants accordingly. They are made of bioinert materials and are printed using 3D technology.
In combination, these revolutionary technologies are saving and improving the lives of many people all over the world by giving surgeons the ability to rebuild flesh and bone damaged or lost due to traumatic injury. They can even repair congenital facial deformities.
There was a time when fixing congenital craniofacial defects was nearly impossible, but now advanced technology has made it possible to provide standard treatment for patients with birth defects and those with high-velocity facial wounds, disfiguring injuries, etc. For more details about post-traumatic facial reconstruction, consult Dr. Abhinand Potturi, the best maxillofacial surgeon in Hyderabad. Chief Consultant, Department of Maxillofacial & Reconstructive Surgery,  incharge – Oral Cancer Screening clinics at Premier Hospital, Mehdipatnam, Hyderabad.
The Author :
Premier Hospital
Since the inception of Premier Hospital in 1991 till today, we have grown to unprecedented levels, due to our excellence in medical sciences and healthcare. Premier Hospital is the creation of Dr Mahesh Marda and when it was first established, was only a small, 30-bed hospital facility. Back then, we provided only secondary care to patients, but that certainly has changed in the present landscape.
YOU MIGHT ALSO LIKE
May 17, 2022

May 16, 2022

May 15, 2022

May 12, 2022

May 08, 2022

May 03, 2022

April 25, 2022

April 16, 2022

April 10, 2022
TESTIMONIALS
Hospital is in good condition in a very established area well maintained and in hygienic conditions Staff is friendly and polite very good cooperation Doctor Ayub is very good best
Awsome service by entire hospital staff. Special thanks to Abhinand Sir, Surya Kiran Sir, Chitra Madam. 1.Quick response. 2.Good Hygiene 3.Faster Services 4. Polite Attitude by a
Dr. Rokhsana s/b first trained on attention to detail... first listen the problem clearly and then suggest solution... and mind your voice while talking with patient and their compan
Categories