New Born Care Week, 15th – 21st November 2019
November 19, 2019
Posted by: Premier Hospitals
1902 Views
RSS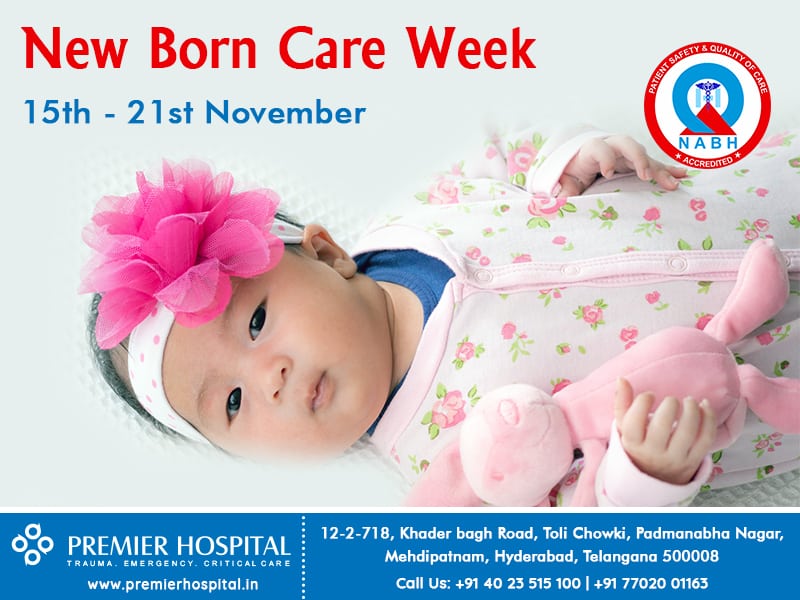 Every year Newborn Care Week is observed in the month of November from 15 to 21. This week aims to create awareness among people about the importance of newborn care for the child to eradicate neonatal deaths and increase survival and development.
The first 28 days of life(neonatal period) is a very important period for every newborn child survival; during this period, the highest risk of deaths per day has been recorded than any other period during childhood. For a newborn child, the first month of life is the most crucial period for lifelong health and growth.
Every year in the first 28 days of newborn life, 2.6 million babies dying and most of the deaths happening in the first week. The main goal of newborn care week is to reduce the mortality rate to 20 or less per 1000 live births by 2035. This can only be accomplished with special efforts. These newborn deaths can be prevented by following certain effective health measures provided at the time of birth and in the first week after birth.
These are the leading causes of newborn deaths are:
Prematurity
Complications during birth
Severe infections
The main cause for newborn deaths in India are preterm births (35%), neonatal infection (33%) and, birth asphyxia (20%), and congenital malformations (9%).
Newborn care tips include:
Immediate and thorough drying
skin-to-skin contact with the mother
Cord clamping and cutting after birth in the first minutes
Exclusive breastfeeding
Should provide ventilation for newborns who do not start breathing on their own immediately after birth
After the first hour of delivery, they should get eye care, vitamin K and other immunizations
Let's join together to reduce newborn deaths. As social responsibility we, Premier Hospital creating awareness among people about the importance of newborn care.
The Author :
Premier Hospital
Since the inception of Premier Hospital in 1991 till today, we have grown to unprecedented levels, due to our excellence in medical sciences and healthcare. Premier Hospital is the creation of Dr Mahesh Marda and when it was first established, was only a small, 30-bed hospital facility. Back then, we provided only secondary care to patients, but that certainly has changed in the present landscape.
YOU MIGHT ALSO LIKE
May 17, 2022

May 16, 2022

May 15, 2022

May 12, 2022

May 08, 2022

May 03, 2022

April 25, 2022

April 16, 2022

April 10, 2022
TESTIMONIALS
Hospital is in good condition in a very established area well maintained and in hygienic conditions Staff is friendly and polite very good cooperation Doctor Ayub is very good best
Awsome service by entire hospital staff. Special thanks to Abhinand Sir, Surya Kiran Sir, Chitra Madam. 1.Quick response. 2.Good Hygiene 3.Faster Services 4. Polite Attitude by a
Dr. Rokhsana s/b first trained on attention to detail... first listen the problem clearly and then suggest solution... and mind your voice while talking with patient and their compan
Categories