National Thyroid Awareness Month 2022
January 13, 2022
Posted by: Premier Hospitals
211 Views
RSS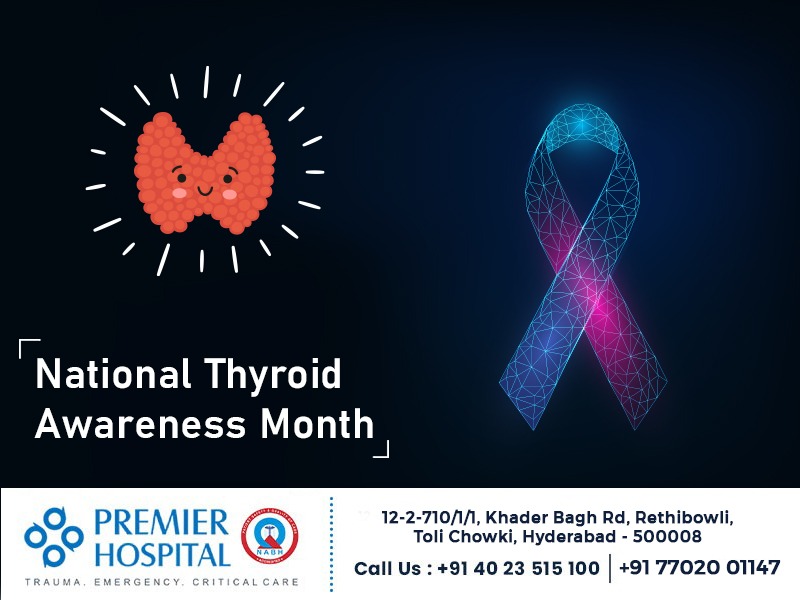 January is marked as National Thyroid Awareness Month, where the Thyroid Associations all over the world organise campaigns to promote & make people aware of the importance of thyroid health. Preventive tips and treatment to cure thyroid-related diseases are the other key focus areas of this month.
Thyroid glands are small glands and are located at the base of our necks. This gland secretes some vital hormones like triiodothyronine (T3) and thyroxine (T4) that play an important role in regulating metabolism in the body. A variety of thyroid disorders can be caused by the abnormal production of these hormones. Hypothyroidism (underactive thyroid) and Hyperthyroidism are the most common thyroid disorders. 
Hyperthyroidism 
Hyperthyroidism (overactive thyroid disease) is a condition that develops when the thyroid gland produces too much thyroxine (T4) hormone. Furthermore, this thyroid disease can increase the metabolism of your body which results in weight loss and an abnormal heartbeat. 
Hypothyroidism
Hypothyroidism arises from insufficient production of thyroid hormone T4, and its usual symptoms include tiredness, unusual weight gain, mood swings, and a tendency to become cold-sensitive. It is usually treated through hormone replacement therapy, oral levothyroxine, a synthetic form of T4.
Making people more aware of hypothyroidism and other thyroid disorders offers a valuable contribution to public health. Even though hypothyroidism is quite common, it is surprisingly underdiagnosed. It is primarily due to a lack of awareness related to thyroid functions and the vague symptoms of the disease since the symptoms are often mistaken for other conditions. Millions of people around the world are living with hypothyroidism, and most of them don't know that they have this disease. Due to this condition, they are at a high risk of neurosensory & gastrointestinal (GI) diseases and complications associated with the heart.
The lack of diagnosis rates and the difficulty of treating hypothyroidism with levothyroxine is contributing to many unmet clinical needs. Dosage of levothyroxine is customized based on various factors like patient age, gender, weight, and thyroid functioning. But it requires lifelong adjustments based on the body's changing needs, which include aging, weight gain or weight loss, pregnancy, and menopause. 
Thyroid cancer – another major thyroid disease
When thyroid cells grow & multiply rapidly, thyroid cancer develops. As a result, abnormal cells can form tumors and can spread throughout the body.
Early signs are not present. Over time, as the cells grow, the patient may observe symptoms like lumps in the neck, lymph node swelling, changes in voice, and swallowing problems. In most thyroid cancer cases, a thyroidectomy is a surgical procedure used to cure the disease. 
Different types of thyroid cancer
Papillary thyroid cancer – The most common form of thyroid cancer. Although it grows slowly, it is capable of spreading to lymph nodes near the neck.
Follicular thyroid cancer – This is the second most common type of thyroid cancer. The growth of these cancer nodules is slow and occurs near areas where there is a severe iodine deficiency. Fortunately, this type of thyroid cancer can be easily treated.
Medullary thyroid cancer – This form of cancer is rare and usually hereditary. However, this type is more likely to affect the lymph nodes compared to other types.
Anaplastic thyroid cancer – This thyroid cancer is the rarest but most aggressive. Due to its rapid growth and ease of spread, it is very dangerous.
Our health care providers offer the best treatment for thyroid problems.
Premier Hospital in Hyderabad offers comprehensive treatment for various thyroid disorders, and we are particularly experts in treating Hyperthyroidism, hypothyroidism, and thyroid cancer. We have the best-in-class diagnostic equipment to perform thyroid biopsies, testing, and advanced technology for surgical and nonsurgical procedures. With the experience possessed by our doctors, we assure you of the best treatment plan for you. You can visit us at 12-2-718, Khader Bagh Road, Toli Chowki, Padmanabha Nagar, Mehdipatnam, Hyderabad, Telangana – 500 028. 
During this National Thyroid Awareness Month of January, we request everyone to help us raise awareness. In addition, we encourage you to join the fight against undiagnosed thyroid disorders as well as other thyroid cancer.
Our endocrinologist can answer any questions or concerns you might have about thyroid problems. Our endocrinologists have decades of experience here at Premier Hospital and are happy to address all your concerns. Our surgeons will help you determine which treatment option would be most appropriate for you.
To book an appointment with a top endocrinologist in Hyderabad, call 040 2351 5100 or +91 83747 18100.
The Author :
Premier Hospital
Since the inception of Premier Hospital in 1991 till today, we have grown to unprecedented levels, due to our excellence in medical sciences and healthcare. Premier Hospital is the creation of Dr Mahesh Marda and when it was first established, was only a small, 30-bed hospital facility. Back then, we provided only secondary care to patients, but that certainly has changed in the present landscape.
YOU MIGHT ALSO LIKE
May 17, 2022

May 16, 2022

May 15, 2022

May 12, 2022

May 08, 2022

May 03, 2022

April 25, 2022

April 16, 2022

April 10, 2022
TESTIMONIALS
Hospital is in good condition in a very established area well maintained and in hygienic conditions Staff is friendly and polite very good cooperation Doctor Ayub is very good best
Awsome service by entire hospital staff. Special thanks to Abhinand Sir, Surya Kiran Sir, Chitra Madam. 1.Quick response. 2.Good Hygiene 3.Faster Services 4. Polite Attitude by a
Dr. Rokhsana s/b first trained on attention to detail... first listen the problem clearly and then suggest solution... and mind your voice while talking with patient and their compan
Categories