Everything you need to know about Male Infertility
March 14, 2021
Posted by: Premier Hospitals
735 Views
RSS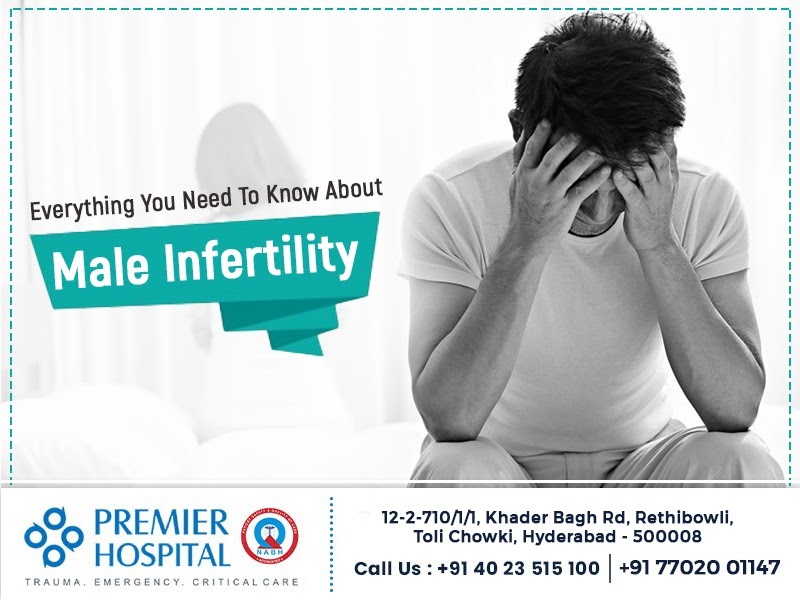 Every couple wants to have a baby in their lives through the natural process of reproduction. But, there are many conditions in which men and women sometimes face problems during the birth process. Medically, these problems are called Infertility. It's hard to accept that men are sterile. 
However, medical technology is being strengthened to address many of the current male and female infertility problems. This is an article that all men should read to know about the causes of male infertility and it's treatment. 
What Is Male Infertility?
Male Infertility, also called male impotence, is the inability to make his partner pregnant. Medically, if the sperm count is less than 39 million, a man will not be able to make a fertile female woman pregnant. A man's fertility is related to the quantity and quality of the sperm produced. As a result, it even takes several years for a woman to become pregnant.
Of all recorded infertility cases, 40% to 50% of infertility cases are due to male infertility problems.
How is sperm generated?
The two important sex hormones, sperm and testosterone, in men are generated in the testicles. The sperm goes into the epididymis at the time of ejaculation, leaving the testicles located on top of your testicles. The sperm cells mix with other fluids from the prostate gland & seminal vesicles to form semen. Finally, this sperm comes out of your penis through the urethra during intercourse.
Types of Male Infertility
Male Infertility is classified into different types based on the quality and quantity of sperm production:
Azoospermia – a medical condition in which the semen doesn't contain any sperm. Azoospermia further classified into Obstructive Azoospermia and Non-Obstructive Azoospermia.

Asthenozoospermia is a medical condition where the motility of your sperm(the ability to swim efficiently) is affected. It is further classified into progressive motility and non-progressive motility based on the way your sperm moves.

Oligospermia or Oligozoospermia is a male infertility problem defined as the low sperm concentration in the semen.
The quality and quantity of sperm are very important for fertilisation. However, they vary throughout your life based on several factors. According to WHO, the sperm count should be 15 million to more than 200 million sperm per ML of semen.
Causes of Infertility in men
Male Infertility is generally due to the production of low quality semen or deficiencies in the semen. Some underlying health problems such as hormonal disorders, enlarged veins around your testicles and some medical conditions also cause male Infertility. Some other external conditions, like environmental factors and lifestyle habits, also result in Infertility:
Environmental factors that cause male Infertility
When you are likely to be exposed to heat, toxins and chemicals, they tend to affect your sperm production and its functions. The factors include: 
If you are exposed to radiation or x-rays in high amounts, it affects the production of your sperm. A massive amount of radiation can reduce sperm production permanently.

If you are exposed to particular industrial chemicals like pesticides, benzene, herbicides etc. or certain painting substances and organic solvents can reduce your sperm count, a condition of Infertility.

Tub bath in extremely hot water for a longer time, wearing tight clothing, sitting for an extended period with a laptop on laps might heat your testicles, reducing your sperm production.
Medical factors that cause male Infertility
Male Infertility is associated with many underlying health problems and some medical problems; some of them are:
If the varicose veins in your scrotum enlarged, it might affect the quality and quantity of your sperm. This condition is called a varicocele.

Retrograde ejaculation or other ejaculation problems like the semen entering into the bladder instead of the urethra results in Infertility.

Erectile dysfunction, pain during intercourse, premature ejaculation(orgasm before intercourse), hypospadias are some of the sexual problems in men causing Infertility.

Hormonal problems like hypogonadism and testicular disorders can affect other hormonal systems can also lead to infertility in men.

Previous surgeries like scrotal surgeries, inguinal hernia repairs, prostate surgeries etc., can block sperm ejaculation. 

The treatment involves in treating tumours that affect the reproductive hormone-releasing glands by chemotherapy, radiation, or surgery can cause infertility problems.

Infections of the testicles and STD diseases can also affect sperm production.

Genetic or Inherited Disorders can also lead to Infertility.
Celiac disease, undescended testicles and the antibodies in your body attacking the sperm also cause Infertility.
Lifestyle Factors that cause male Infertility
Smoking & Drinking Alcohol can affect sperm count, lowers sperm production and also causes erectile dysfunction.

Depression or Stress in men might result in erectile dysfunction, delayed ejaculation and other sexual dysfunctions. 

Using steroids, drugs and cocaine can shrink your testicles and affect your sperm production. 
Obesity or overweight is also a factor of Infertility.
Treatments for Male Infertility
Most of the time, the exact cause of the infertility problem is not known. Though some treatments and procedures are available to treat male Infertility, and it depends on the cause of Infertility. Most infertility problems can be fixed by medicines or surgery. The treatments are classified into 3 categories:
Non-surgical Treatment for Male Infertility

Surgical Treatment for Male Infertility

Treatment for Unknown Causes of Male Infertility
Non-surgical Treatment for Male Infertility
Anejaculation (dry ejaculate):

It is a condition where there's no semen produced during ejaculation. Initially, it is treated through medication. If it fails, doctors use Penile vibratory stimulation (PVS) or Rectal probe electroejaculation (RPE), also called electroejaculation or EEJ) to produce ejaculation. Sometimes perm is retrieved with a needle directly from the testicle called Testicular Sperm Aspiration. The retrieved sperm is used in IVF or ICSI ART procedures.

Genital Tract Infection:

It is rarely associated with Infertility and is found in 2 out of 100 men having fertility problems. It can also be treated with Antibiotic medication and NSAIDs.

Hyperprolactinemia:

The pituitary gland makes more prolactin hormone causing Infertility and erectile dysfunction. It can be treated with drugs or surgery to remove tumours if present in testicles.

Hypogonadotropic Hypogonadism:

The testicles can't make sperm due to defects in the pituitary or hypothalamus glands. Medication to lower your prolactin levels and Gonadotropin replacement therapy is suggested if there are no traces of tumours.

Retrograde ejaculation:

Semen flows back instead of coming out of your penis, which over-the-counter medications can treat like Sudafed and other drugs.
Surgical Treatment for Male Infertility
Varicocele Treatments:

Varicoceles can be repaired by a surgery called varicocelectomy.

Azoospermia Treatments:

Lack of sperm in your semen due to blockage. There were many surgical options to treat this condition.

Microsurgical Vasovasostomy

to undo a vasectomy.

Vasoepididymostomy:

It is a common microsurgical procedure to treat epididymal blocks.

Transurethral Resection of the Ejaculatory Duct (TURED): The blockages in the ejaculatory duct can be treated surgically with the help of a cystoscope.
Treatment for Unknown Causes of Male Infertility
Sometimes the exact cause of male Infertility is hard to tell, which is defined as "idiopathic" male Infertility. However, using the experience of a fertility doctor tries to solve the infertility problem. If it fails or treatment isn't available, he suggests other ways to make your partner pregnant. Those methods are called ART procedures. Based on the severity of infertility problems, a fertility doctor recommends In Vitro Fertilization (IVF), Intrauterine Insemination (IUI), Intracytoplasmic Sperm Injection (ICSI).
The Infertility affects both males and females. Our infertility experts at Premier hospital are experienced in treating various fertility problems in both male and female. A small consultation can make your dreams come true. 
The Author :
Premier Hospital
Since the inception of Premier Hospital in 1991 till today, we have grown to unprecedented levels, due to our excellence in medical sciences and healthcare. Premier Hospital is the creation of Dr Mahesh Marda and when it was first established, was only a small, 30-bed hospital facility. Back then, we provided only secondary care to patients, but that certainly has changed in the present landscape.
TESTIMONIALS
My child was taken very good care at Premier Hospital when she was in ICU and also in the room. Nurses and other staff members are very courteous towards her and other patients. They
I went to Premier Hospital for emergency dialysis for my father. We had received an amazing response from the entire team of doctors. We had a good stay and good medical care. I woul
I admitted my mom in Premier Hospitals due to a drug reaction. Their caring and hospitality was really wonderful. They treat the patients as their family members. I would like to tha
Categories