Malaria & COVID19 – World Malaria Day
April 25, 2020
Posted by: Premier Hospitals
1248 Views
RSS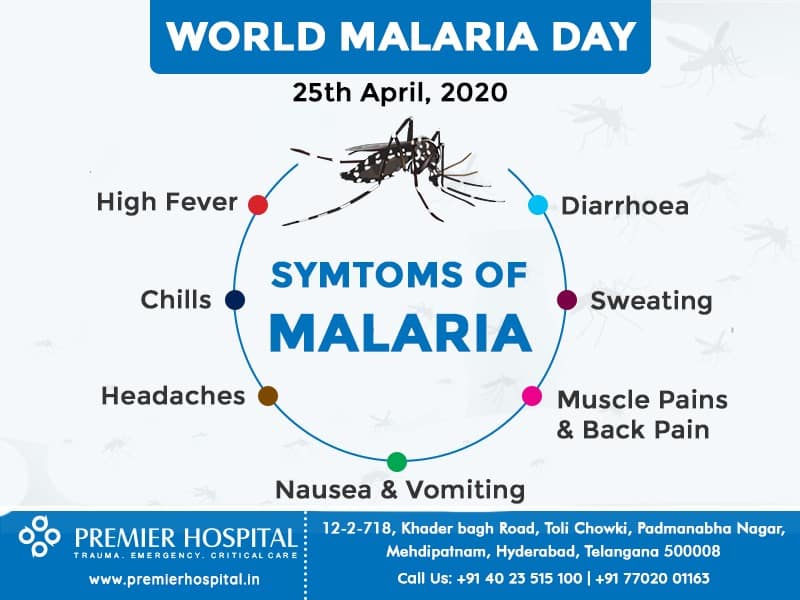 Before talking about this year's World Malaria Day, most of the countries around the globe are in the death throes of COVID-19 pandemic. However, the cases of COVID19 in malaria-affected countries present in a small proportion currently compared to the global total, but the situation is growing rapidly. WHO points out the importance of the efforts we put into sustaining, detecting and preventing malaria, in the same use best practices to protect all the communities from COVID-19 infection.
We all aware that COVID-19 is spreading rapidly, it is important to tackle the novel coronavirus aggressively, and health communities should ensure that other killer diseases like malaria, are not neglected. World Health Organisation urges all the countries to ensure the flow of malaria services in this pandemic circumstances.
A global surge has raised in demand for the drugs that are normally used to treat malaria can help to handle the coronavirus. The drugs chloroquine and hydroxychloroquine gained global attention, but the World Health Organization (WHO) says there is no evidence that they work for sure. Clinical trials are running vigorously to find a definite cure for coronavirus infection.
However, if you find any symptoms of malaria, consult a doctor immediately. Early diagnosis and treatment can lower the condition from worsening. We, Premier Hospital, posses the best general physician in Hyderabad, who can provide the best treatment for malaria.
The Author :
Premier Hospital
Since the inception of Premier Hospital in 1991 till today, we have grown to unprecedented levels, due to our excellence in medical sciences and healthcare. Premier Hospital is the creation of Dr Mahesh Marda and when it was first established, was only a small, 30-bed hospital facility. Back then, we provided only secondary care to patients, but that certainly has changed in the present landscape.
YOU MIGHT ALSO LIKE
May 17, 2022

May 16, 2022

May 15, 2022

May 12, 2022

May 08, 2022

May 03, 2022

April 25, 2022

April 16, 2022

April 10, 2022
TESTIMONIALS
Hospital is in good condition in a very established area well maintained and in hygienic conditions Staff is friendly and polite very good cooperation Doctor Ayub is very good best
Awsome service by entire hospital staff. Special thanks to Abhinand Sir, Surya Kiran Sir, Chitra Madam. 1.Quick response. 2.Good Hygiene 3.Faster Services 4. Polite Attitude by a
Dr. Rokhsana s/b first trained on attention to detail... first listen the problem clearly and then suggest solution... and mind your voice while talking with patient and their compan
Categories