Is Your Body Signs Showing Of PCOD ?
November 11, 2020
Posted by: Premier Hospitals
1087 Views
RSS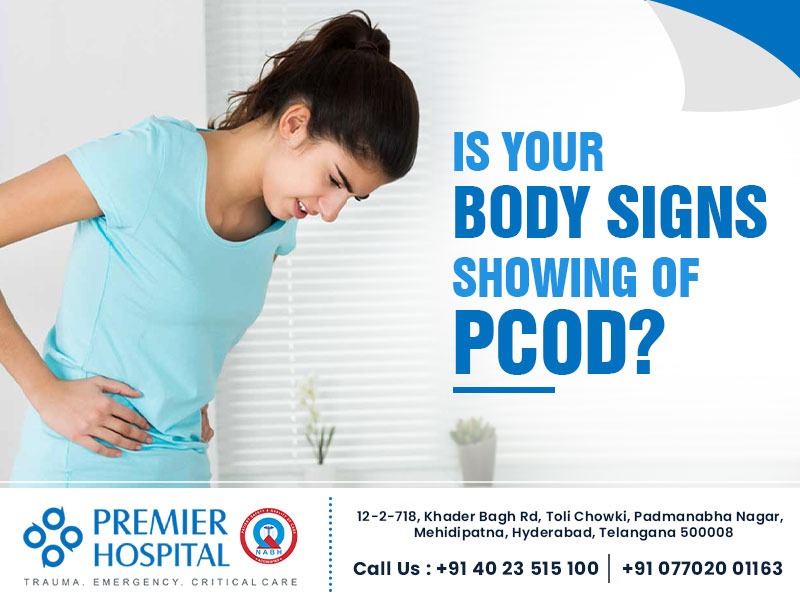 In today's day and age, when people are so conscious about their looks and appearance, we often see young girls worry about their complexion, pimples, acne marks and their weight. Their family, friends and advertisements advise them to use creams, "health foods" or "magic cures" as treatment.
But sometimes, if one notices odd changes in their body suddenly such as weight gain, excessive growth of body hair, excessive acne, irregular periods, excessively oily skin, etc., it might be a medical condition that needs urgent medical attention.
These odd health issues can be due to some underlying causes and require medical intervention. One such common cause is Polycystic Ovarian Disease (PCOD). One in every 10 women could be suffering from PCOD and its symptoms.
Polycystic Ovarian Disease (PCOD)
PCOD is a condition arising due to hormonal imbalance in women of reproductive age. It alters the natural functions of the reproductive system. Research says that around 5-10 % of Indian women suffer from PCOD and it rises to 18% in other parts of the world. It is one of the causes of infertility in many women.
Often, it is confused with PCOS – an endocrine system disorder in which the ovaries release eggs before maturing. Whereas, PCOD is a hormonal disorder in which the eggs in the ovary cluster up together forming cysts. Although both the diseases affect the ovaries, PCOS is the more severe form of the disease. If this condition is left untreated, it leads to serious and long-lasting health issues in women. It even affects or delays your pregnancy.
PCOD is hereditary and appears to run in families, so if any of your family members have PCOD, it increases the chance of you being affected.
Signs & Symptoms of PCOD
Growth of excessive facial and body hair called hirsutism – due to hormonal imbalance
Mood swings
Painful periods
Heavy bleeding in periods
Infertility
Feeling depressed
Women having PCOD are prone to type-2 diabetes mellitus due to insulin resistance
Hormonal changes can lead to acne growth
Weight gain due to high levels of insulin and testosterone production
Makes your skin or face oily
Women having PCOD are prone to heart diseases with increasing age
Long term irregular periods increases the risk of getting uterine cancer
PCOD can also lead to breast and endometrial cancers
If you witness any of the above symptoms, visit Premier Hospitals, and schedule an appointment with our Gynecologists for PCOD workup.
PCOD Problems and Pregnancy
PCOD interrupts your regular menstrual cycle and that might make it difficult for you to get pregnant. Around 70 to 80% of women having PCOD face problems with conceiving or becoming pregnant. PCOD may also increase the risk of pregnancy complications such as:
Miscarriages
Ectopic pregnancy
Gestational Diabetes
Premature Birth
Incompetent Cervix
Placental Abruption
Preeclampsia
Eclampsia
Treatment of PCOD
Experts are still researching to find a permanent cure for PCOD. However, you can manage the symptoms by following the suggestions mentioned below.
It can be controlled by adapting a healthy lifestyle. A multidisciplinary treatment approach needs to be taken to address PCOD and associated symptoms.
Weight management is the best way to control PCOD. Even a small percentage of weight reduction can help. So, women with PCOD need to maintain a healthy diet and exercise regularly. Reduce the intake of sugars and carbohydrates. It is recommended to take a diet rich in protein and high fibre for women suffering from PCOD.
Below are some other treatment options to manage PCOD based on the symptoms.
Exercising regularly, walking, yoga and meditation can help to manage and reduce the risk of PCOD.
Medication can help to treat insulin resistance and hormone imbalance.
You can manage acne, pigmentation and hair growth problems through various skin treatments.
Fertility drugs to treat infertile patients.
Oral medication and injections are also available for proper ovulation.
Laparoscopic surgery is done in advanced cases to remove cysts and abnormal ovarian tissues causing problems. It can restore your normal ovarian functions.
In summary, PCOD is a common disorder in young women of reproductive age. If detected early, appropriate treatment and a healthy lifestyle can help you lead a normal life without the complications associated with it. For PCOD women who want to conceive, there are good treatment options available and must be followed for a healthy and safe pregnancy.
To know more about PCOD and its various treatment options, consult our expert Gynecologists at Premier Hospitals in Hyderabad.
The Author :
Premier Hospital
Since the inception of Premier Hospital in 1991 till today, we have grown to unprecedented levels, due to our excellence in medical sciences and healthcare. Premier Hospital is the creation of Dr Mahesh Marda and when it was first established, was only a small, 30-bed hospital facility. Back then, we provided only secondary care to patients, but that certainly has changed in the present landscape.
YOU MIGHT ALSO LIKE
May 17, 2022

May 16, 2022

May 15, 2022

May 12, 2022

May 08, 2022

May 03, 2022

April 25, 2022

April 16, 2022

April 10, 2022
TESTIMONIALS
Hospital is in good condition in a very established area well maintained and in hygienic conditions Staff is friendly and polite very good cooperation Doctor Ayub is very good best
Awsome service by entire hospital staff. Special thanks to Abhinand Sir, Surya Kiran Sir, Chitra Madam. 1.Quick response. 2.Good Hygiene 3.Faster Services 4. Polite Attitude by a
Dr. Rokhsana s/b first trained on attention to detail... first listen the problem clearly and then suggest solution... and mind your voice while talking with patient and their compan
Categories