International Nurses Day – Nursing The World To Health
May 12, 2020
Posted by: Premier Hospitals
1342 Views
RSS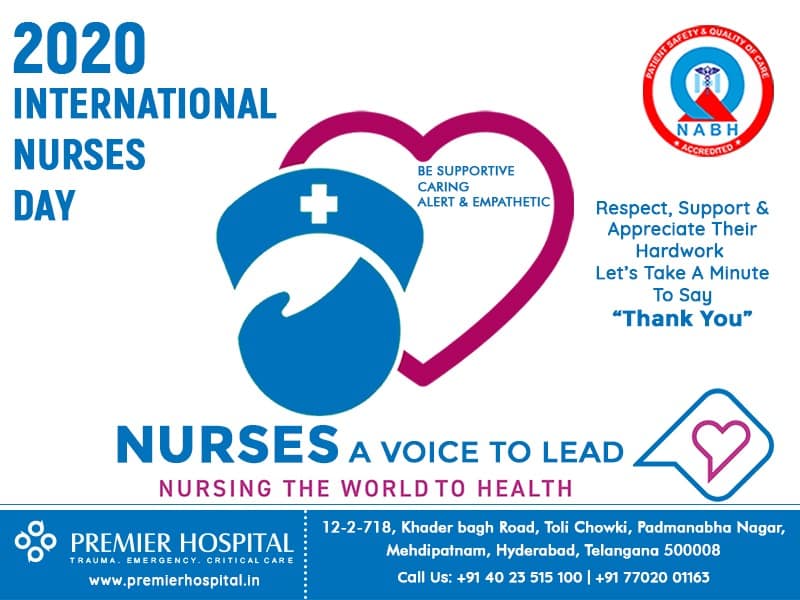 ICN(International Council Of Nurses) organises the International Nurses Day every year, which is traditionally commemorated on May 12th, on the special occasion of Florence Nightingale's birth anniversary.
This ICN year came up with the theme " Nurses: A Voice to Lead – Nursing The World To Health" for this 2020 International Nurses Day, focusing on the true spirit of nurses and their exceptional services to the people around the world during COVID-19 pandemic.
In 2020, May 12th is more special for nurses because this is the year of Nurses and Midwives, owing to their extensive support in tackling the virus. Nurses are at the frontline in treating patients in this COVID-19 outbreak.
Nurses are working hard to save the lives of corona patients. Let us take a minute to thank together all the nurses for their valuable contribution to health and healing.
The Author :
Premier Hospital
Since the inception of Premier Hospital in 1991 till today, we have grown to unprecedented levels, due to our excellence in medical sciences and healthcare. Premier Hospital is the creation of Dr Mahesh Marda and when it was first established, was only a small, 30-bed hospital facility. Back then, we provided only secondary care to patients, but that certainly has changed in the present landscape.
YOU MIGHT ALSO LIKE
May 17, 2022

May 16, 2022

May 15, 2022

May 12, 2022

May 08, 2022

May 03, 2022

April 25, 2022

April 16, 2022

April 10, 2022
TESTIMONIALS
Hospital is in good condition in a very established area well maintained and in hygienic conditions Staff is friendly and polite very good cooperation Doctor Ayub is very good best
Awsome service by entire hospital staff. Special thanks to Abhinand Sir, Surya Kiran Sir, Chitra Madam. 1.Quick response. 2.Good Hygiene 3.Faster Services 4. Polite Attitude by a
Dr. Rokhsana s/b first trained on attention to detail... first listen the problem clearly and then suggest solution... and mind your voice while talking with patient and their compan
Categories