International Epilepsy Day 2022
February 14, 2022
Posted by: Premier Hospitals
161 Views
RSS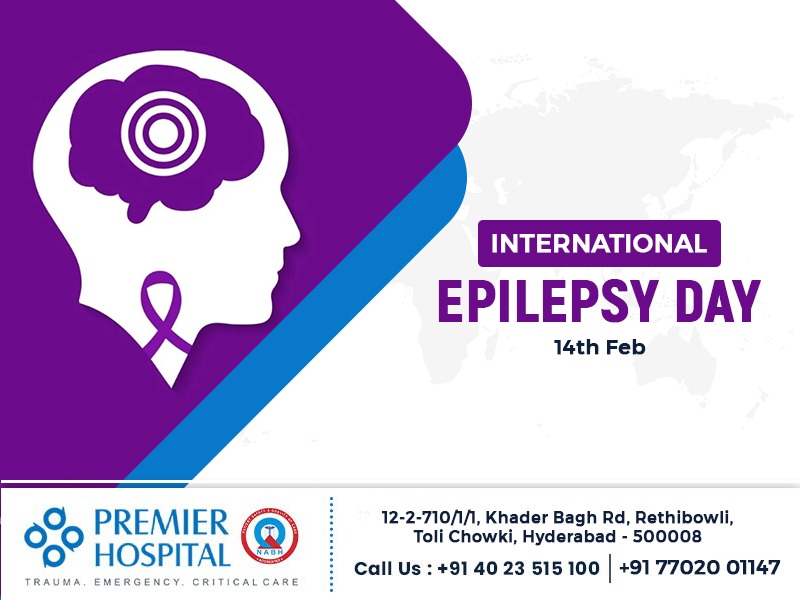 Throughout the world, more than 120 countries celebrate International Epilepsy Day each year as a way to raise awareness about epilepsy. Every year epilepsy is observed on the second Monday of February to draw attention to the problems facing epilepsy patients and those who care for them.
Help us celebrate World Epilepsy Day by spreading awareness about epilepsy! The day belongs to everyone; no matter who you are, where you are, or whether you are interested in the medical aspects or not, do your part to spread the word. Join together to stand up for the day.
Get involved!
Social media always play a significant role in spreading awareness messages about epilepsy worldwide on the day of International Epilepsy Day. Today, Monday, February 14, people from all over the world will be participating in spreading the trend of #epilepsyday on all social media platforms.
Share a photo on epilepsy day with the hashtag #EpilepsyDay2022

You can also print a card related to #epilepsyday and share a selfie with it, or record a video addressing epilepsy day and its importance. 

You can also use the International Epilepsy Day logo as your profile picture and cover photo to notify people.
In your social media posts, don't forget to include the hashtag #EpilepsyDay!
What is Epilepsy?
A progressive neurological disorder characterized by sudden seizures and fits is referred to as epilepsy.

Epileptic seizures are usually caused by excessive and unusual brain activity, and sometimes seizures are also caused by hypersynchronous neuronal brain activity.

World Health Organisation (WHO) has estimated that approximately 65 million people around the world are suffering from epilepsy, making it the fourth most common neurological condition in the world.

Approximately 80% of epileptic patients live in low- or middle-income countries. Research stats show that 70% of people with epilepsy are able to live without seizures with proper diagnosis and treatment.
Millions of Indian people are suffering from the neurological disorder epilepsy. Epilepsy is commonly caused by neurocysticercosis in people between the ages of 15-50 years, which can result from eating infected pork or eating underground vegetables that have not been washed. Genes play a significant role in causing epilepsy in young children.
There are many interesting Epilepsy facts, and one of them is that 90% of epileptic seizures last for two minutes. When the seizure lasts longer than five minutes, medication is administered through the nose. The patient should be taken to the hospital if they have seizures lasting longer than five minutes. Generally, patients with epilepsy attacks recover within half an hour.
Epilepsy prevention
As of today, epilepsy has no cure. It is, however, possible to minimize the risks of seizures and the frequency of seizures. Here are some suggestions:
Ensure that you take prescribed medications according to your healthcare provider's instructions

Make sure you eat a balanced diet

Exercising regularly is important

You should get quality sleep

Avoid drinking alcohol, consuming tobacco, and other habits that are harmful to the brain

Reduce your stress levels
When participating in sports or strenuous activities, wear protective gear

A first-aid kit should be kept on hand to handle emergencies, which may include seizures
As a part of our responsibility, we, Premier Hospital, are doing our best to create awareness in public about epilepsy and the care to be taken to manage the condition. In this day and age of ongoing medical advancements and greater awareness, epilepsy complications can be minimized to the greatest extent possible. With good and timely epilepsy treatment, patients can live seizure-free.
The Author :
Premier Hospital
Since the inception of Premier Hospital in 1991 till today, we have grown to unprecedented levels, due to our excellence in medical sciences and healthcare. Premier Hospital is the creation of Dr Mahesh Marda and when it was first established, was only a small, 30-bed hospital facility. Back then, we provided only secondary care to patients, but that certainly has changed in the present landscape.
YOU MIGHT ALSO LIKE
May 17, 2022

May 16, 2022

May 15, 2022

May 12, 2022

May 08, 2022

May 03, 2022

April 25, 2022

April 16, 2022

April 10, 2022
TESTIMONIALS
Hospital is in good condition in a very established area well maintained and in hygienic conditions Staff is friendly and polite very good cooperation Doctor Ayub is very good best
Awsome service by entire hospital staff. Special thanks to Abhinand Sir, Surya Kiran Sir, Chitra Madam. 1.Quick response. 2.Good Hygiene 3.Faster Services 4. Polite Attitude by a
Dr. Rokhsana s/b first trained on attention to detail... first listen the problem clearly and then suggest solution... and mind your voice while talking with patient and their compan
Categories