Immunize Your Child For A Healthy Future – World Immunization Day
November 10, 2019
Posted by: Premier Hospitals
2381 Views
RSS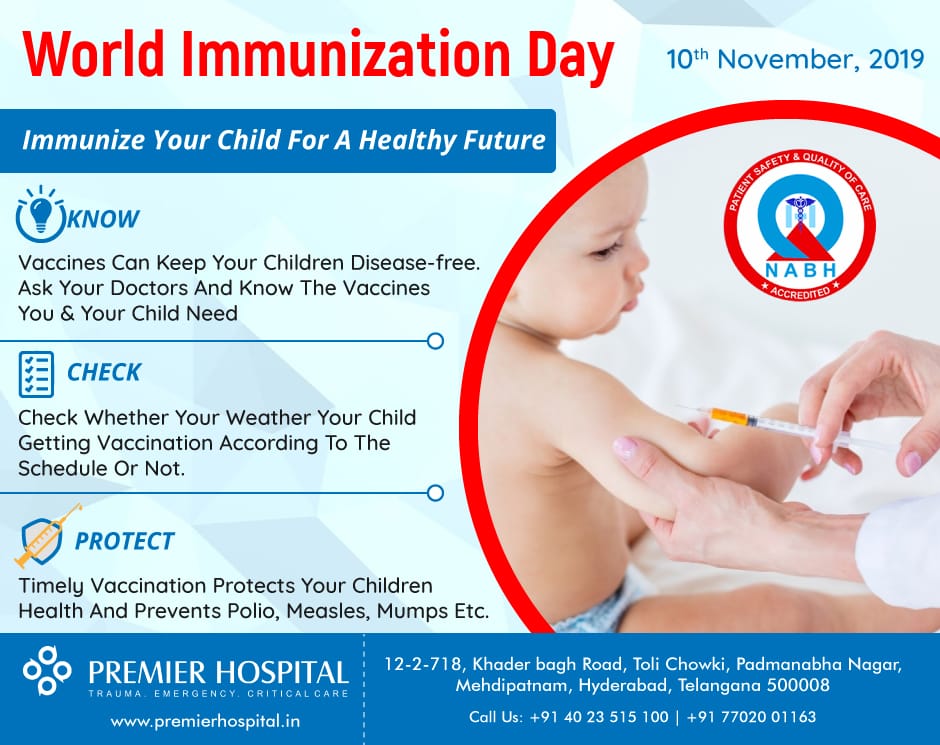 According to WHO, vaccination is a proven way to combat and eliminate life-threatening infectious diseases. It is estimated that between 2 and 3 million people dying every year, around 18.7 million babies still miss essential vaccines worldwide.
World Immunization Day is celebrated every year on November 10th. Today we at Premier Hospital celebrate this to make people aware of the importance of preventable vaccinations against diseases.
What Are Immunizations?
Immunization is the process by which a person is immunized or resistant to an infectious disease, usually by administering a vaccine. This vaccine protects your child from life-threatening diseases. It also helps to reduce the spread of diseases to others. The vaccine stimulates the immune system to protect a person from further infection or disease.
Babies are born with natural immunity and also receive immunity in breastfeeding from their mother. This immunity gradually decreases when the baby's immune system starts to develop. Vaccination is one of the most effective investments in the health sector and does not require significant lifestyle changes.
Vaccines contain infectious microbes that are killed or weakened, such as influenza, measles, smallpox, typhoid and many more. When they get injected into the body, they promote the production of antibodies that help you develop immunity to this disease without ever having it. In other words, immunization helps prevent diseases.
In December 2014, the Government of India launched the "Indradhanush Mission" to achieve full coverage of vaccines for all children. The program aims to fully give all vaccines available for children up to two years and pregnant women. All vaccines are available free under this program.
The Purpose of the 2019 Campaign:
The primary purpose of this campaign is to raise awareness of the importance of full immunization throughout life.
As part of the 2019 campaign, WHO and its partners want to:
Show the value of vaccines for the health of children, the community and the world.
Stress the need to build vaccine progress while filling gaps, including increased investment.
Show how routine immunization is at the heart of a secure and sustainable health care system and universal health coverage.
As the age-old proverb says – "Prevention of Disease is Better Than Cure"
Follow the below sheet for and vaccinate your child in time to protect their health. For more information, contact our experts at Premier Hospitals for a Healthy Future.
The Author :
Premier Hospital
Since the inception of Premier Hospital in 1991 till today, we have grown to unprecedented levels, due to our excellence in medical sciences and healthcare. Premier Hospital is the creation of Dr Mahesh Marda and when it was first established, was only a small, 30-bed hospital facility. Back then, we provided only secondary care to patients, but that certainly has changed in the present landscape.
YOU MIGHT ALSO LIKE
May 17, 2022

May 16, 2022

May 15, 2022

May 12, 2022

May 08, 2022

May 03, 2022

April 25, 2022

April 16, 2022

April 10, 2022
TESTIMONIALS
Hospital is in good condition in a very established area well maintained and in hygienic conditions Staff is friendly and polite very good cooperation Doctor Ayub is very good best
Awsome service by entire hospital staff. Special thanks to Abhinand Sir, Surya Kiran Sir, Chitra Madam. 1.Quick response. 2.Good Hygiene 3.Faster Services 4. Polite Attitude by a
Dr. Rokhsana s/b first trained on attention to detail... first listen the problem clearly and then suggest solution... and mind your voice while talking with patient and their compan
Categories