How to Overcome Miscarriage ?
November 29, 2020
Posted by: Premier Hospitals
936 Views
RSS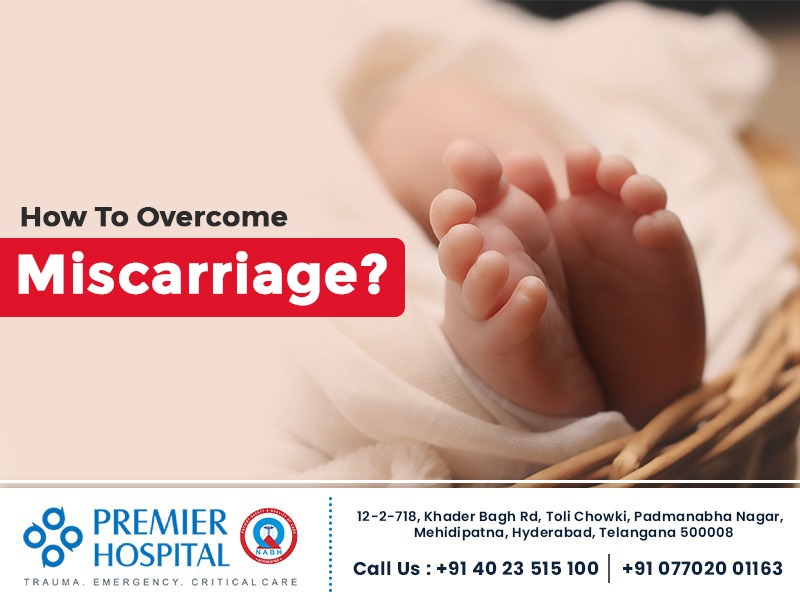 When you are rejoicing over a positive pregnancy test, and all of a sudden unexpected miscarriage can be heart whelming. Though you never saw your baby, you may felt his growth inside you and built a bond with him. You may imagine yourself as a mother and if the excitement breaks suddenly it's difficult to cope up with the situation.
Understandably, the situation puts you under stress, sad and disheartened over the loss. It affects your physical and mental health condition. You may face trouble eating and sleeping; you may cry out loud and affects your emotional well being.
Family members need to stick around, especially partner and support each other in this situation. The mother requires utmost care as the miscarriage is not just emotional but also a huge physical discomfort. Keeping everything in the loop what makes you feel good, including the health care professional can help you get through this time physically and emotionally.
Remember, miscarriages are very common and may or may not be an indication of a fertility problem.
What is a miscarriage?
A miscarriage(early pregnancy loss) is a loss of a baby before 20 weeks gestation. Heavy bleeding, along with abdominal or back pain and cramps are the first sign of a miscarriage. The symptoms last for just a few days to a week based on how many days your pregnancy was — like a regular period — or a three or four-week pregnancy. Consult a gynaecologist, if you experience the symptoms, to diagnose any problems associated with miscarriages.
Doctors diagnose the miscarriage and confirm it. After a miscarriage, a gynecologist evaluates whether it is a complete or incomplete and based on some medical intervention may be performed. For some people, medications such as misoprostol is given to discharge the uterine contents. In some cases, a Dilation and curettage might be required if the medication is not sufficient. This can also help to recognize if there are any problems in the uterus, causing the miscarriage.
Well, the above is to taking care of the physical part, and the emotional part also needs cautious management. Here are some things you can to overcome miscarriage or a stillbirth.
Keep Your Loved People Around – Try to spend more time with people who really love and care you in this challenging time like family and close friends. They can keep you calm and get you out of stress.
Keep Your Faith Still – A miscarriage doesn't mean everything is over. You may have a lot of questions running over mind, talk to your Geynec to clear all of them. You may get over and have a safe pregnancy next time, never give up hope, even it is not your first loss.
Don't Miss Out On Consultation – Ask the doctor when and how safe is it to try again if you intended to. If you suffer from multiple miscarriages, find the cause and get it treated. Don't hesitate to ask questions to the doctor like the right time to start again or any other questions of your doubts.
Seek Spiritual Guidance – If you're inclined religiously, visiting temples or attending worship events and speaking with a spiritual leader can help you to coup up with the situation.
Explore Your Options – If this is not your first pregnancy loss, don't be nervous or ashamed in exploring other possibilities. This doesn't mean to give up hope; it means the path your choosing may be different from. You look into ART techniques such as in-vitro fertilization (IVF), Intrauterine insemination (IUI) etc. If it is a fertility problem that can be treated, get it treated. In can't, but situation surrogacy or adoption is also an excellent choice to fulfil your dream of having a baby.
Minimize Stress – Avoid stressful people, stressful situations and talks as much as possible. Try keeping yourself calm, practise meditation. If required, attend counselling sessions with your partner. Unfortunately, the pain in these situations can put a burden on your relationship with your partner. Don't blame one another, talk and sort out things.
Things You Need To Stop Thinking About After a Miscarriage
Any woman experiencing pregnancy loss, particularly when you are desperate to have a baby will suffer extreme grief and challenging to handle the loss. The range of thoughts and feelings will be awful. People may become mentally ill.
Don't be alone, spend some quality time and share your grief with your family, friends or other you love.
Stop blaming yourself; pregnancy loss is very common.
Take rest for physical well being.
Stop listening to negative talks because they may hurt you and puts you under pain.
Don't worry what others think, keep the faith and trust in yourself all the time.
Don't ignore your physical needs after a miscarriage. After a pregnancy loss, you should deal with lots of physical changes and body transitions to get back to a non-pregnant state.
Initially, the word miscarriage may give unbearable pain, but you should get through this because this is not the end. Your baby reaches heaven and always occupies a special place in your heart. You no need to give up on the desire of having a baby and becoming a parent. Consult our experienced gynecologists in Hyderabad at Premier Hospitals. We assure you, you will smile again.
The Author :
Premier Hospital
Since the inception of Premier Hospital in 1991 till today, we have grown to unprecedented levels, due to our excellence in medical sciences and healthcare. Premier Hospital is the creation of Dr Mahesh Marda and when it was first established, was only a small, 30-bed hospital facility. Back then, we provided only secondary care to patients, but that certainly has changed in the present landscape.
YOU MIGHT ALSO LIKE
May 17, 2022

May 16, 2022

May 15, 2022

May 12, 2022

May 08, 2022

May 03, 2022

April 25, 2022

April 16, 2022

April 10, 2022
TESTIMONIALS
Hospital is in good condition in a very established area well maintained and in hygienic conditions Staff is friendly and polite very good cooperation Doctor Ayub is very good best
Awsome service by entire hospital staff. Special thanks to Abhinand Sir, Surya Kiran Sir, Chitra Madam. 1.Quick response. 2.Good Hygiene 3.Faster Services 4. Polite Attitude by a
Dr. Rokhsana s/b first trained on attention to detail... first listen the problem clearly and then suggest solution... and mind your voice while talking with patient and their compan
Categories