High Risk Pregnancy – Risk Factors and Complications
October 28, 2020
Posted by: Premier Hospitals
1457 Views
RSS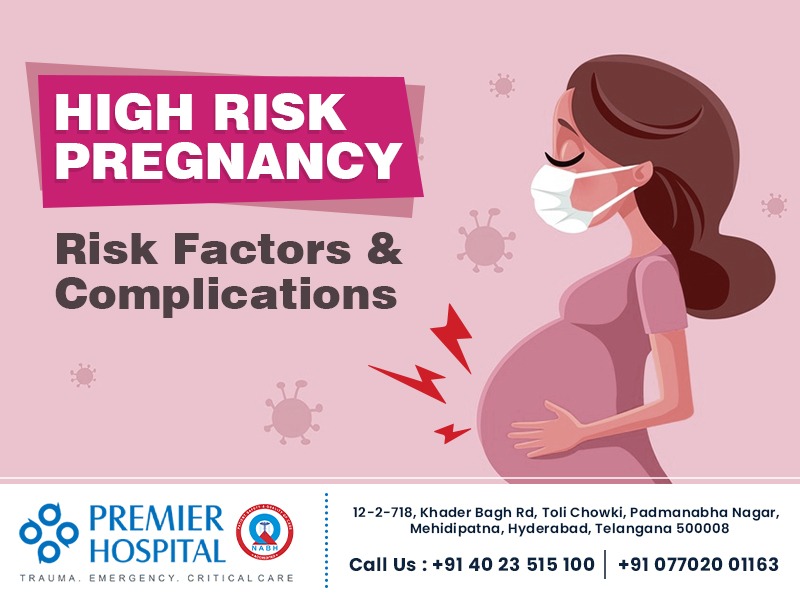 Pregnancy is the most delightful moment for women in their life. From the very first moment they get to know that they are pregnant, their joy has no bounds. It brings a lot of excitement and happiness. The care & affection shown by your friends and loved ones adds to the experience.
During pregnancy, women experience a wide range of emotional and physical changes, and indeed, pregnancy is not always easy. Most pregnancies go smoothly, but in a few women, it might be a little more difficult than usual. Some pregnancies might be associated with risks and complications, often called a high-risk pregnancy.
If you are struggling with your pregnancy's happy moments, you are not alone; there are quite a few women who go through such a scenario, but help is always on hand. The best gynaecology doctors in Hyderabad are always ready to help you out with any pregnancy related problem.
What Is A High-Risk Pregnancy?
It is a medical complication related to the mother's health or the baby's or both, that occurs during pregnancies. These complications can sometimes be life-threatening. They can occur during pregnancy or at the time of delivery. It requires special care from professionals. Some of these risks can be identified even before the woman gets pregnant. Hence, always consider early prenatal care for a healthy pregnancy and delivery, without any complications.
What Are The Risk Factors And Complications?
There are several risk factors that can put your pregnancy at high risk. Some of the common risk factors mentioned by our gynaecology experts include:
Maternal age: Age is one of the most common factors that impact pregnancy. Women under 17 years of age and above 35 years of age are at greater risk for pregnancy related complications. The possibility of miscarriages and congenital disabilities is also very high in this age group.
Existing Health Condition Before Pregnancy: Medical conditions like high BP, diseases associated with lung, kidney or heart; autoimmune disorders, STDs such as HIV can put yourself or your unborn child at risk. If you have had recurrent miscarriages or any other problems during previous pregnancy, it also means that your pregnancy is at high risk. History of genetic disorders in the family can also be a significant risk factor.
Certain Medical Conditions During pregnancy: Even if you are healthy before becoming pregnant, some medical conditions can develop during pregnancy that might affect you and your fetus, which include:
Pre-eclampsia/ Ecclampsia: A syndrome associated with high blood pressure, urinary protein, weight gain and seizures. If the condition is not treated in time, it can be fatal for both mother and baby. It may even lead to an emergency caesarean section.
Gestational diabetes: This type of diabetes occurs only at the time of pregnancy and resolves on its own after some time post-delivery. In rare cases, it leads to long term diabetes. A proper treatment plan can help you to have a healthy pregnancy and delivery even with diabetes.
Pregnancy-related Problems
Not only the mother's health but also problems related to pregnancy itself puts your pregnancy at high risk:
Multiple births: This is a condition where your pregnancy involves twins, triplets, quadruplets, etc. This is mostly caused due to infertility treatments, and it also increases the risk of preterm labor, gestational diabetes, and high BP.
Preterm Labor: This condition is commonly called premature labour. If your cervix opens before the due dates, it leads to premature birth. This might be due to infections, cervix problems, or early preterm labor. The earlier the premature birth, the higher the risk of your baby's health.
Placenta previa: in this condition, the placenta covers the cervix. The condition results in bleeding, particularly in women who have contractions. If the placenta covers the cervix even before the due date, a cesarean section is performed to reduce the risk to mother and baby.
Fetal problems: Around 2 to 3% of babies suffer from minor to major structural issues during fetal development. These problems occur unexpectedly or might be due to a family history of fetal problems. Has to be diagnosed early and treated. Your gynecologist might suggest a few additional tests at the start of your pregnancy to identify these issues.
Before you plan to become pregnant, it's better to consult an expert gynaecologist, if you suffer from any medical condition. They will run some necessary tests, suggest medications, and advise you on the precautionary steps to optimize your baby's health problems and yours.
How Are These Complications Prevented?
Here are some of the preventive steps you should take to reduce the risk factors:
It's good to take folic supplements regularly under a doctor's prescription.
Get immunizations properly
Take a healthy diet and watch your weight
Do physical activities regularly if advised by the doctor
Stop drinking and smoking
Never miss regular check-ups
However, a pre-pregnancy appointment with a gynaecologist is an ideal decision even if you think you are healthy. At Premier Hospital, we have the top gynaecologists in Hyderabad. They have decades of experience and have delivered many high-risk pregnancies safely. They are also ably supported by a good neonatology team. They will help you with the best possible options ensuring the health of both you and your baby if you are prone to high-risk pregnancy conditions. Just a small consultation with us can help you enjoy a safe pregnancy and a happy motherhood.
The Author :
Premier Hospital
Since the inception of Premier Hospital in 1991 till today, we have grown to unprecedented levels, due to our excellence in medical sciences and healthcare. Premier Hospital is the creation of Dr Mahesh Marda and when it was first established, was only a small, 30-bed hospital facility. Back then, we provided only secondary care to patients, but that certainly has changed in the present landscape.
YOU MIGHT ALSO LIKE
May 17, 2022

May 16, 2022

May 15, 2022

May 12, 2022

May 08, 2022

May 03, 2022

April 25, 2022

April 16, 2022

April 10, 2022
TESTIMONIALS
Hospital is in good condition in a very established area well maintained and in hygienic conditions Staff is friendly and polite very good cooperation Doctor Ayub is very good best
Awsome service by entire hospital staff. Special thanks to Abhinand Sir, Surya Kiran Sir, Chitra Madam. 1.Quick response. 2.Good Hygiene 3.Faster Services 4. Polite Attitude by a
Dr. Rokhsana s/b first trained on attention to detail... first listen the problem clearly and then suggest solution... and mind your voice while talking with patient and their compan
Categories