High Blood Pressure Causes, Symptoms and Treatment
February 20, 2021
Posted by: Premier Hospitals
876 Views
RSS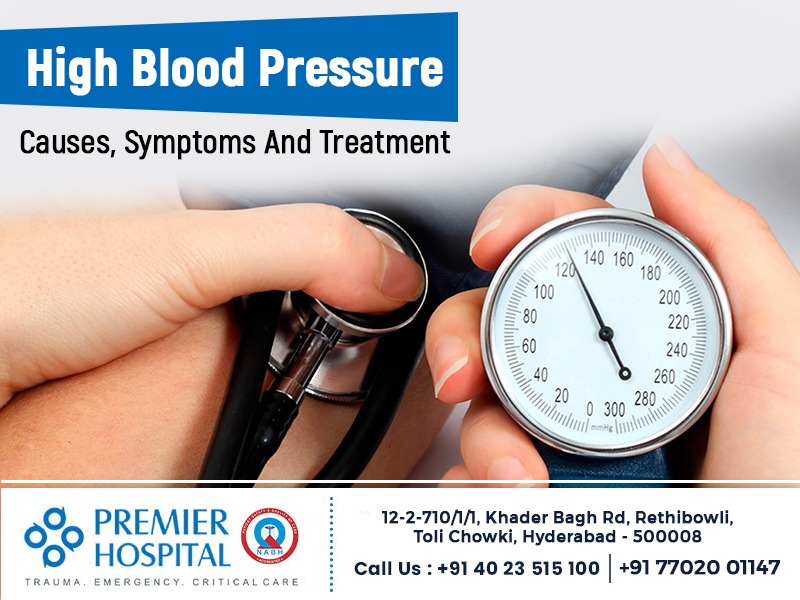 Blood pressure is said to be the pressure or force exerted by the blood against the walls of the blood vessel while travelling to various body parts. The heart is your pumping system of blood where it transmits blood throughout the body through the blood vessels. By any means, if the blood exerts more pressure than normal on your blood vessels, it is called High blood pressure.
It is also termed hypertension, which is a serious condition because it makes your heart function harder for pumping blood to your body parts. It also leads to hardening your arteries, or atherosclerosis(buildup of fats, cholesterol, and plaque in and on your artery walls), kidney disease, and heart problems.
How is high blood pressure defined?
It is defined as the amount of blood pumped by your heart and the amount of resistance in your arteries to blood flow. The more the blood pumps from your heart and the narrower the arteries, then the higher is the blood pressure. Blood pressure is measured with the help of a sphygmomanometer. First, a band is placed tightly around your arm and then inflated with the help of the air pump until the blood circulation is cut off.
A normal blood pressure reading will be 120/80. It means 120 over 80. The top number 120 is called systolic pressure, and the below number 80 is called diastolic pressure.
The ranges of blood pressure(BP) are:
Normal BP will be 120 over 80 (120/80) 

Elevated BP will be 120 to 129/< 80

Stage 1 High BP will be 130 to 139/80 to 89

Stage 2 High BP will be 140 and above/90 and above

Hypertension crisis if BP is higher than 180/higher than 120. In this case, you consult an expert doctor right away
You may suffer from high blood pressure for years, and you may don't know it. It doesn't even show symptoms—people with uncontrolled high blood pressure are vulnerable to serious health problems, including heart attack and stroke. Fortunately, high blood pressure in most of the cases can be diagnosed easily. And once you are diagnosed with high blood pressure, it can be controlled with proper treatment.
Causes high blood pressure(hypertension)
Hypertension is categorised into two types, and each type has distinct causes.
Primary (essential) hypertension
In primary hypertension, the underlying cause of this condition can't be found. This type of hypertension is developed over time with no known cause. Unfortunately, most of the people are diagnosed with this type of High BP.
Experts are still researching to find the exact mechanism that causes blood pressure to rise slowly. However, high blood pressure causes remain somewhat mysterious, but it is associated with certain risk factors. These factors include:
Hereditary – High blood pressure might be inherited from your parents, and men are more prone to High BP than women. 
Age and race – It also plays a part because black people are twice likely to have high blood pressure compared to whites, but the gap starts to narrow around 44 years. Black women above the age of 65 have a high rate of high blood pressure.
Diet and lifestyle – salt and high blood pressure are exceptionally linked. People who eat more salt have the highest incidence of hypertension.
Physical changes – If anything changes in your body, you might experience some problems throughout your body. High blood pressure is also one of them. For instance, your kidneys' functioning changes due to aging, which might upset the natural balance of salts and fluid in your body. These changes might trigger the blood pressure to increase.
Some other risk factors that can increase the risk of essential hypertension are obesity, low levels of vitamin D, diabetes, high cholesterol levels, high blood sugar levels, lack of physical activity, stress, inadequate consumption of minerals like potassium, calcium, and magnesium and chronic consumption of alcohol.
Secondary hypertension
If the direct cause of high blood pressure is known, it is called secondary hypertension. Often, this condition attacks quickly and also become severe compared to primary hypertension. The known conditions that might result in secondary hypertension include:
kidney disease

Sleeping disorders like obstructive sleep apnea

Heart defects at the time of birth

Thyroid problems

Side effects due to medications

Consumption of drugs

Drinking alcohol heavily

Adrenal gland abnormalities

Certain endocrine tumors

Birth control pills
People who eat more fatty foods, smokers, pregnant women are also at risk of high blood pressure or hypertension.
Complications
High pressure on the walls of your artery caused by blood flow can damage your blood vessels and other organs. If your blood pressure is high for a long time, the damage will be greater. Uncontrolled hypertension results in many health complications, including:
Heart attack or stroke

Aneurysm

Heart failure

Weak and narrowed blood vessels in your kidneys

Thick and narrowed or torn blood vessels in your eyes

Metabolic syndrome

Problems with memory or understanding

Dementia
Signs and symptoms
Most of the time, high blood pressure goes symptomless in many people, which is why it is called hypertension the "silent killer." However, if the blood pressure reaches above 180/120 mm Hg, it becomes a medical emergency.
The signs & symptoms at this stage include:
Headache

Vision problems

Nausea and vomiting

Dizziness

Bleeding from nose

Palpitations

Chest pain

Breathlessness 

Blood in the urine
If you experience these symptoms, then reach out to a doctor immediately.
Treatment for High Blood Pressure
Treatment for hypertension depends on various factors, and it is a multi-pronged approach. The factors considered during the hypertension treatment include the type of hypertension you have, your age, comorbid conditions, and the cause.
To prevent hypertension, one should make necessary lifestyle modifications like taking a healthy diet, quitting unhealthy habits, and being active physically. Medication is prescribed to lower blood pressure in older people of age 65 & above and those who are at risk of diabetes and high cholesterol.
Lifestyle Changes to Treat Hypertension
Healthy lifestyle choices can treat primary hypertension effectively. You can reduce your blood pressure by following the below lifestyle changes:
Lose weight if you are obese

Quitting smoking and drinking

Eat a proper healthy diet, which includes the DASH diet, i.e., more fruits & vegetables, and low-fat products, etc.

Reduce the amount of salt in your diet 

Exercise regularly
Secondary hypertension is directly caused due to other health conditions or drug side effects. So the underlying causes need to be treated first, and until then, hypertension can be managed with the help of medication and the lifestyle changes mentioned above.
Medication to treat High Blood Pressure
Several drugs are available and used to treat high blood pressure, which includes:
ACE inhibitors

Angiotensin II receptor blockers

Diuretics

Beta-blockers

Alpha-Beta blockers

Calcium channel blockers

Alpha-blockers

Aldosterone antagonists

Alpha-agonists

Renin-inhibitors

Combination medications
Which medication to take, when take, dosage everything will be suggested by the doctor. Never try your own medication because it leads to serious complications. You should visit the doctor regularly if you are under medication for high blood pressure until it is under control. For more information about treatment, visit Premier Hospital and consult our expert doctors for a solution.
The Author :
Premier Hospital
Since the inception of Premier Hospital in 1991 till today, we have grown to unprecedented levels, due to our excellence in medical sciences and healthcare. Premier Hospital is the creation of Dr Mahesh Marda and when it was first established, was only a small, 30-bed hospital facility. Back then, we provided only secondary care to patients, but that certainly has changed in the present landscape.
YOU MIGHT ALSO LIKE
May 17, 2022

May 16, 2022

May 15, 2022

May 12, 2022

May 08, 2022

May 03, 2022

April 25, 2022

April 16, 2022

April 10, 2022
TESTIMONIALS
Hospital is in good condition in a very established area well maintained and in hygienic conditions Staff is friendly and polite very good cooperation Doctor Ayub is very good best
Awsome service by entire hospital staff. Special thanks to Abhinand Sir, Surya Kiran Sir, Chitra Madam. 1.Quick response. 2.Good Hygiene 3.Faster Services 4. Polite Attitude by a
Dr. Rokhsana s/b first trained on attention to detail... first listen the problem clearly and then suggest solution... and mind your voice while talking with patient and their compan
Categories