Hernia Surgery in Hyderabad
March 14, 2022
Posted by: Premier Hospitals
148 Views
RSS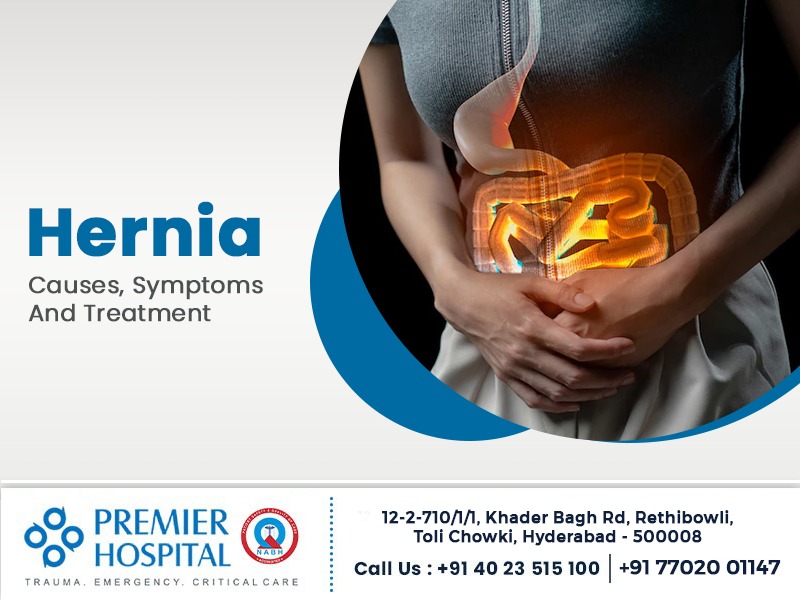 A hernia is a condition where a bulge is formed in the stomach or groin area. Hernias are classified into different types. It can be painful, but you may only observe swelling or lumps along the groin or stomach in most cases. This usually requires surgical intervention. Most of the time, it's harmless and painless, but there can be times when it causes discomfort.
In this article, our experts at Premier Hospital explained about hernias, and their symptoms, along with their causes and treatment.
A hernia usually occurs when the contents from the abdominal area bulge out due to a weak muscle. 
What Causes Hernias?
Hernias can appear anywhere in the stomach, thighs, groin, and abdominal area.
There can be different causes for different types of hernias. Hernias usually occur when your internal organs are under high pressure. When this pressure develops in the area where your muscle wall is weak, the internal parts bulge out. There are some individuals who have weak muscles by birth or underdeveloped tissues. 
Hernias in most people are caused by aging as the muscles become weak with increasing age. In addition, certain movements and habits can cause hernias, or they can worsen an existing hernia. This includes:
Lifting heavy objects incorrectly

Overuse of a single muscle

Chronic coughing, sneezing, diarrhea

Constipation 

Being overweight

Malnutrition 

Family history

Smoking or consumption of tobacco and its products
What Are The Symptoms Of A Hernia?
Typically, hernias are painless swelling that doesn't pose any health risks and might not need medical treatment right away. However, patients with a hernia might experience discomfort and pain when performing certain tasks, e.g., lifting weights. 
It may be necessary to seek immediate medical treatment, often surgical treatment, in some cases. For example, the following symptoms may indicate a hernia needs to be treated:
Reducible Hernia 

Irreducible Hernia

Strangulated Hernia
Types Of Hernia:
Hernias are classified into different types based on the area they occur.
Inguinal Hernia

Incisional Hernia

Femoral Hernia

Umbilical Hernia

Hiatal Hernia
Rare Types Of Hernias
Diaphragmatic Hernia

Spigelian Hernia

Obturator Hernia

Epigastric Hernia
When you should see a doctor:
The following cases require a doctor's consultation:
The swelling becomes more painful.

Vomitings 

Swelling increases with time or changes color.
Consult the best hernia treatment doctor in Hyderabad at Premier Hospital for a permanent solution.
Treatment Of Hernia:
The need for hernia treatment mostly relies on the size of the hernia and the intensity of its symptoms. A hernia can be treated in three ways:
Lifestyle changes

Medication

Surgery
Lifestyle Changes:
In many cases, changing one's eating habits can fix symptoms, particularly in the case of Hiatal hernias, but does not completely cure the condition. It is recommended that the individual refrain from eating heavy meals and bending or lying down after eating. The person must maintain a healthy body weight.
Exercises tailored for specific hernias can improve strength in your muscle tissues around the hernia and reduce symptoms. However, incorrectly performed activities can result in increased pressure in the area, causing the hernia to swell. Therefore you need to follow the hernia or physiotherapist's instructions correctly.
Avoid spicy foods to prevent acid reflux or heartburn. Losing weight and avoiding cigarettes are also ways to prevent acid reflux. One can manage hernia symptoms by following these tips.
Surgery:
The aim of surgery is to relieve pain, restore strength to the weak muscle wall, and reposition abdominal organs in their place. There are two ways to accomplish this:
Traditional "Open" Surgery
It is carried out under anesthesia by making a large incision. Once the incision is made, the surgeon pushes back the parts to their place. Sometimes the weak area is reinforced with a mesh or thread, or both, and the incision is sutured or closed with clips or surgical glue.
Laparoscopic Procedure:
This is the most commonly preferred minimally invasive surgical procedure. A laparoscopic procedure involves inserting a thin telescope by making a small incision near the hernia. General anesthesia is used during the operation so that you won't feel any pain. 
A camera is fixed to the laparoscope head to see the internal organs. Next, the hernia is repaired by inserting other necessary tools through the small incisions. If necessary, a synthetic mesh is also used to fix the weak muscle area.    
Compared to open hernia surgery, laparoscopic hernia repair is highly beneficial in terms of recovery. The only drawback is the recurrence rate of a hernia is slightly high with a laparoscopic procedure. However, an experienced laparoscopic surgeon can lower this risk. 
It is possible to treat most of the hernia types. Find an experienced hernia surgeon and discuss the best treatment options that suit you. The doctor will not recommend surgery if your condition does not demand it. However, if you want to know more about hernia treatment, you can make an appointment with our top doctors in Hyderabad for hernia treatment.
The Author :
Premier Hospital
Since the inception of Premier Hospital in 1991 till today, we have grown to unprecedented levels, due to our excellence in medical sciences and healthcare. Premier Hospital is the creation of Dr Mahesh Marda and when it was first established, was only a small, 30-bed hospital facility. Back then, we provided only secondary care to patients, but that certainly has changed in the present landscape.
YOU MIGHT ALSO LIKE
May 17, 2022

May 16, 2022

May 15, 2022

May 12, 2022

May 08, 2022

May 03, 2022

April 25, 2022

April 16, 2022

April 10, 2022
TESTIMONIALS
Hospital is in good condition in a very established area well maintained and in hygienic conditions Staff is friendly and polite very good cooperation Doctor Ayub is very good best
Awsome service by entire hospital staff. Special thanks to Abhinand Sir, Surya Kiran Sir, Chitra Madam. 1.Quick response. 2.Good Hygiene 3.Faster Services 4. Polite Attitude by a
Dr. Rokhsana s/b first trained on attention to detail... first listen the problem clearly and then suggest solution... and mind your voice while talking with patient and their compan
Categories