Gallbladder Stones Causes, Symptoms and Treatment
April 16, 2022
Posted by: Premier Hospitals
90 Views
RSS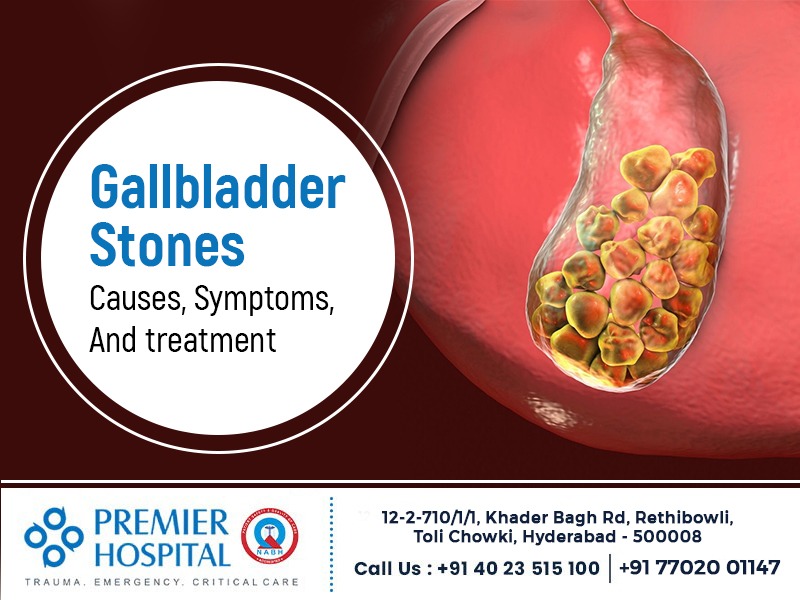 The gallstones, popularly known as gallbladder stones, are thick, hard deposits of digestive fluid that accumulate in the gallbladder. The gallbladder is basically a tiny organ located on the top right side of your abdomen (belly), just beneath the liver. The purpose of the gallbladder is to store and deliver bile, a digestive fluid secreted by the liver. This bile juice is released into the small intestine to aid in the breakdown of fat consumed. 
Gallstones vary in size; they can be roughly formed from the size of a sand grain to as large as a golf ball. For some people, their gallbladder could contain just one gallstone, while for others, there could be more than one.
Gallstones may go undetected because they do not cause discomfort until they clog the bile duct and cause pain. If you are in unbearable pain, get medical attention immediately. However, in some conditions, gallstones do not generate any symptoms which might not require medical attention, based on the doctor's advice and guidance. 
Causes of Gallstones 
Gallstones might be formed when the chemicals like cholesterol, calcium bilirubinate, and calcium carbonate in the gallbladder are out of proportion.
If the gallbladder is not emptied on a regular or appropriate basis, bile can get concentrated, resulting in the formation of gallstones.
Gallstones are classified into two categories.
Cholesterol Gallstones – When there's too much cholesterol in the bile juice, cholesterol gallstones can develop. They are the most common form of gallstone.
Pigment Gallstones: These gallstones arise when the bile contains an excessive amount of bilirubin. They are more prevalent in persons who have liver problems, diseased bile ducts, or sickle cell anemia (blood disorders).
Experts are unsure why some people acquire the chemical imbalance in their gallbladder that leads to gallstones.
On the other hand, Gallstones are more frequent in obese adults, particularly women. According to one research, having a waist circumference of 36 inches or more nearly doubles a woman's odds of acquiring gallstones and needing surgical intervention to eliminate them.
Some other risk factors that cause gallbladder stones include: 
Being pregnant

Hereditary (Gallstones problems running in the family)

Losing a lot of weight recently

The use of oral contraceptives

Sedentary lifestyle

Being treated with high-dose estrogen

The risk of developing gallstones is significantly increased when a gene variant is present

Consuming more fat in your regular diet

Older age (60 years or above)

Taking statins – cholesterol-lowering drugs

Being diabetic
Women are more likely to develop gallstones than men. In addition, men who intentionally lose and gain weight rapidly are also at higher risk of developing gallstones later in life.
Symptoms of Gallstones
Most of the patients with gallstones have no symptoms at all. This is due to the fact that the stones remain in the gallbladder and create no complications.
On the other hand, it can sometimes cause cholecystitis (inflamed gallbladder).
The predominant symptom of gallstones is pain that appears unexpectedly and rapidly worsens. This discomfort is most commonly felt on the right side of the abdomen, immediately below the ribcage, along the shoulder blades.
Some other symptoms include:
Feeling nauseated

Vomitings 

Fever

Sweating 

Restlessness 

Chills or feeling cold

Jaundice 

Appetite loss
You may observe passing stools in clay-color and urine in the dark, tea-color if the severity of gallstones increases. 
Treatment For gallstones
Gallbladder stone treatment means removing the stones using different techniques. The most frequent techniques used to remove gallstones are endoscopic retrograde cholangiopancreatography (ERCP) and laparoscopic surgery for gallstone removal.
Endoscopic Retrograde Cholangiopancreatography (ERCP)
ERCP is a unique method as it involves diagnosing and removing stones from the gallbladder. It can also be used to identify abnormalities associated with the pancreas, bile ducts, and liver. In the ERCP technique, an endoscope is used to remove the gallstones. It's a flexible tube with a light at the tip and comes in the size of a pen. The doctor inserts a flexible tube into your mouth and then guides it into your stomach to reach the small intestine to check for stones that are obstructing the bile ducts.
Laparoscopic Surgery
Laparoscopic gallstone removal is equally safe as endoscopic gallstone removal. The goal of this minimally invasive surgery is to remove stones that have been trapped in the gallbladder. The treatment entails creating a tiny incision and inserting a laparoscope (flexible tube) with a camera and light at the tip into the duct to accurately see and remove the stones. The stones are entirely removed by introducing other surgical tools.
Cholecystectomy
Cholecystectomy is a procedure that involves the surgical removal of the gallbladder. In 90% of the cases, this is done as a laparoscopic procedure. When the gallbladder is inflamed too much, laparoscopic surgery might not be possible. In such cases, an open cholecystectomy is the only option.
One can, however, always regain control over their health. The same applies to people who already have gallstones. Some of the precautionary measures one can take to avoid gallstones are – never avoid or skip meals, maintain an ideal weight, consume a diet rich in fiber, if you are overweight, reduce it and keep your body fit. 
If you are experiencing gallbladder stone problems, then consult our experts at Premier Hospitals, which serves as one of the Best Gallbladder Stone Treatment Hospitals in Hyderabad. Call 040-23515100 or +91-83747 18100 to book a consultation with the best gallbladder stones treatment doctors in Hyderabad.
The Author :
Premier Hospital
Since the inception of Premier Hospital in 1991 till today, we have grown to unprecedented levels, due to our excellence in medical sciences and healthcare. Premier Hospital is the creation of Dr Mahesh Marda and when it was first established, was only a small, 30-bed hospital facility. Back then, we provided only secondary care to patients, but that certainly has changed in the present landscape.
YOU MIGHT ALSO LIKE
May 17, 2022

May 16, 2022

May 15, 2022

May 12, 2022

May 08, 2022

May 03, 2022

April 25, 2022

April 10, 2022

April 09, 2022
TESTIMONIALS
Hospital is in good condition in a very established area well maintained and in hygienic conditions Staff is friendly and polite very good cooperation Doctor Ayub is very good best
Awsome service by entire hospital staff. Special thanks to Abhinand Sir, Surya Kiran Sir, Chitra Madam. 1.Quick response. 2.Good Hygiene 3.Faster Services 4. Polite Attitude by a
Dr. Rokhsana s/b first trained on attention to detail... first listen the problem clearly and then suggest solution... and mind your voice while talking with patient and their compan
Categories