Everything you should know about Ectopic Pregnancy
October 7, 2020
Posted by: Premier Hospitals
1419 Views
RSS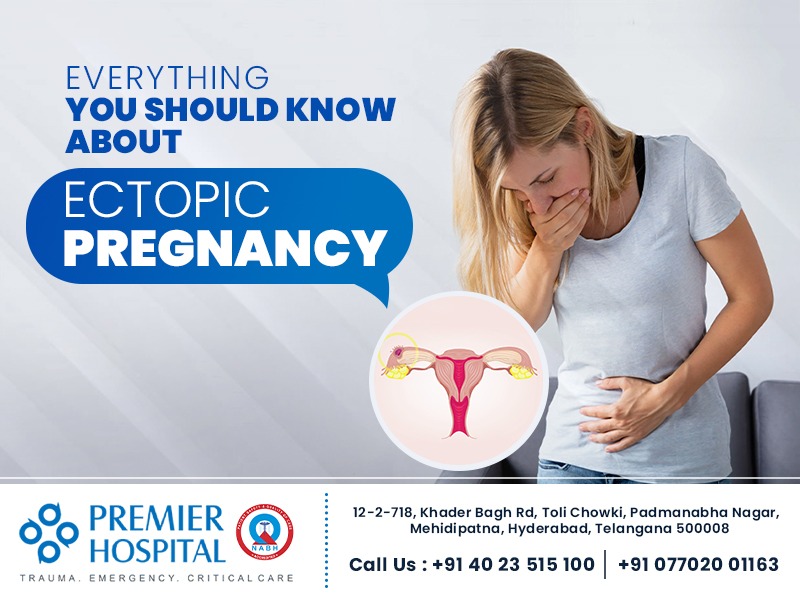 Pregnancy is the most delightful moment for a woman in her life. Pregnancy is not as simple as we think and she should be under the constant vision of a doctor for safe and healthy childbirth. Pregnancy lasts nine months, and of course, in some women, it lasts less than nine months.
Sometimes the joy of pregnancy might get scattered?
Pregnancy is like a rebirth to women considering the pain and stress she bears at the time of delivery. However, women face a lot of problems during pregnancy, and Ectopic Pregnancy is one such thing. This is a medical condition that requires medical attention immediately to avoid unwanted complications related to women's reproductive system. Although Ectopic Pregnancies are very rare they are serious and life-threatening if not treated.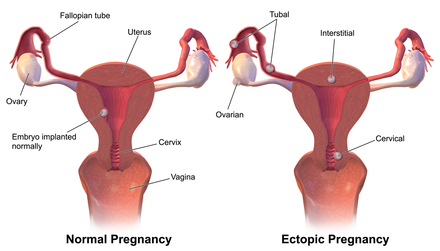 What Is Ectopic Pregnancy?
Naturally, a healthy pregnancy occurs inside the uterus of a woman. The fertilized egg travels from the ovary through the fallopian tube & attaches to the uterine lining. But in case of an ectopic pregnancy, the fertilized egg attaches somewhere, usually in the fallopian tubes. It is also termed "tubal pregnancy."
The ovaries generally release the egg into your fallopian tube, and there the egg stays about 24 hours where it meets the sperm and gets fertilized. The fertilized egg moves into the uterus and there a healthy pregnancy happens in the uterus(womb) of a woman.
However, the fertilized egg stays for 3 or 4 days in the fallopian tube before entering into the uterus. If the fertilized egg doesn't move into the uterus, it attaches to the fallopian tube lining and begins to grow.
So, when the fertilized egg develops in the fallopian tubes or in your cervix, then it is termed as Ectopic Pregnancy. It's a medical emergency because the fallopian tube does not support pregnancy.
Where Can Ectopic Pregnancy Occur?
Ectopic Pregnancy can happen in:
Cervix: If it occurs in cervix, it is called Cervical Pregnancy
Abdomen: If Ectopic Pregnancy occurs in your abdomen, then it is called Abdominal Pregnancy.
Ovary: If the pregnancy happen in your ovary it is called as Ovarian Pregnancy
Fallopian Tubes: If it occurs in your fallopian tubes, then it is called Tubular Pregnancy
What Causes Ectopic Pregnancy?
The possible causes of Ectopic Pregnancy are:
If there is any obstacle in the fallopian tubes, the egg can't travel into the uterus. This obstruction might be due to an infection or inflammation formed in the fallopian tube.
Scar tissue that formed as a result of previous surgeries or any previous infections slows down the movement of the egg in the fallopian.
Endometriosis can also be a major cause of Ectopic Pregnancy.
Any previous surgeries in the pelvic region or the fallopian tubes may also result in ectopic pregnancy.
Congenital disabilities, genetic abnormalities, irregular growth of the fallopian tubes can also cause ectopic pregnancy.
Risk Factors Involving In Ectopic Pregnancy:
Women who meet the below conditions have a high possibility of developing an ectopic pregnancy.
Women having the habit of smoking and drinking alcohol
History of abortions
Women of age around 35 to 44 years
Women taking treatment for infertility and using medicines
Prior surgeries to the pelvic or abdominal area
Pelvic Inflammatory Disease(PID) to the reproductive organs
Using birth control devices like IUD
History of any ectopic pregnancies
Symptoms Of Ectopic Pregnancy
If you observe the following symptoms then you are at risk of Ectopic Pregnancy. The best thing to do is consulting an expert gynaecologist for treatment before it becomes serious.
Severe abdominal or pelvic pain and heavy bleeding from the vagina even when your not under normal periods
Missing periods
Sharp pain in your neck and shoulders region due to internal bleeding
Feeling weak and lightheadedness
Rectal pain, breast tenderness and nausea
Indigestion and other gastrointestinal problems
Never ignore these symptoms, Get a consultation from our best gynaecologist in Hyderabad at Premier Hospital, get the problem diagnosed and get it treated for a healthy pregnancy.
Diagnosis options for ectopic pregnancy:
There are many ways to diagnose an ectopic pregnancy and at Premier Hospital our top gynaecologist in Hyderabad use the following diagnostic procedure:
Pelvic exam: This is performed to find the presence of muscle mass in the abdomen
Ultrasound: An ultrasound to find whether the fetus is growing in your uterus or outside of your uterus.
Measuring hCG levels: A blood test is done to determine your levels of hCG and progesterone since low hCG level indicates the risk of ectopic pregnancy or your type of pregnancy.
Culdocentesis: It is a procedure performed to observe whether internal bleeding is happening in your fallopian tubes. A needle is inserted through the vagina to find the cause of bleeding.
Treatment and Care for Ectopic Pregnancy
Ectopic pregnancy is not safe for mothers. The embryo can not develop to term. Removing the embryo is necessary as soon as possible to preserve the mother's health and future fertility. And the treatment options also change depending on the ectopic pregnancy location and its development.
Medication:
An early diagnosed ectopic pregnancy is often treated through a medication called methotrexate(Rheumatrex). It dissolves existing cells and stops the growth of new cells. Methotrexate is given by injection and diagnosis of ectopic pregnancy should be certain before taking treatment.
Laparoscopy Surgery For Ectopic Pregnancy:
Many surgeons prefer removing the fetus and fixing the internal damage. This is done through laparotomy, a surgical procedure where a small tube with a camera head is inserted through a small incision near the abdomen. Then the surgeon removes the ectopic pregnancy and the tube if required. Before surgery, the doctor explains the problem and treatment procedure.
Experts say that nearly 60% of women can get a healthy pregnancy even after ectopic pregnancy. Early diagnosis and treatment for ectopic pregnancy is the best way for a healthy pregnancy in future.
Ectopic pregnancy can influence a mother physically and emotionally. We at premier Hospitals have the best surgeons and gynaecologists to treat all pregnancy problems. So, never overlook pregnancy problems, contact our expert team of gynaecologists right away.
The Author :
Premier Hospital
Since the inception of Premier Hospital in 1991 till today, we have grown to unprecedented levels, due to our excellence in medical sciences and healthcare. Premier Hospital is the creation of Dr Mahesh Marda and when it was first established, was only a small, 30-bed hospital facility. Back then, we provided only secondary care to patients, but that certainly has changed in the present landscape.
YOU MIGHT ALSO LIKE
May 17, 2022

May 16, 2022

May 15, 2022

May 12, 2022

May 08, 2022

May 03, 2022

April 25, 2022

April 16, 2022

April 10, 2022
TESTIMONIALS
Hospital is in good condition in a very established area well maintained and in hygienic conditions Staff is friendly and polite very good cooperation Doctor Ayub is very good best
Awsome service by entire hospital staff. Special thanks to Abhinand Sir, Surya Kiran Sir, Chitra Madam. 1.Quick response. 2.Good Hygiene 3.Faster Services 4. Polite Attitude by a
Dr. Rokhsana s/b first trained on attention to detail... first listen the problem clearly and then suggest solution... and mind your voice while talking with patient and their compan
Categories