Everything you need to know about Endometriosis
December 23, 2020
Posted by: Premier Hospitals
1028 Views
RSS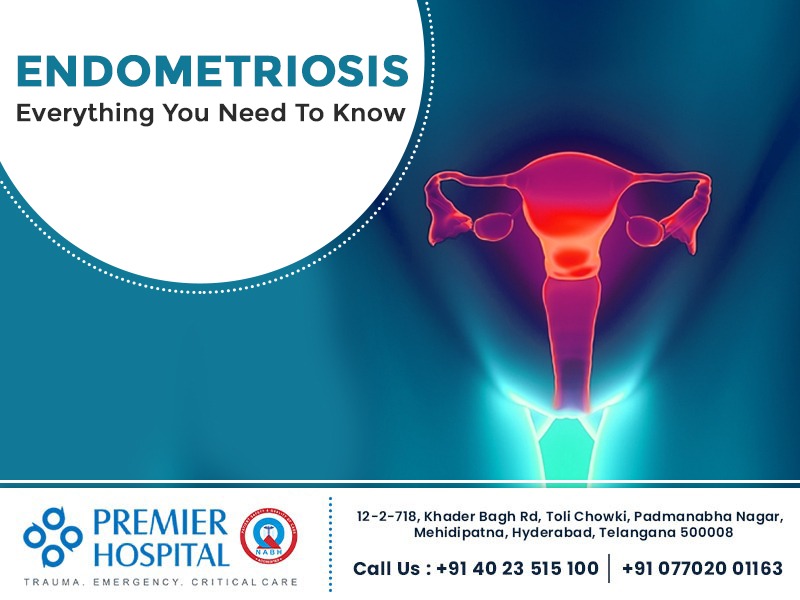 Our body functions are often a mystery. Every muscle pull and a cramp is like a reminder given by your body to the brain that you need to take adequate care of yourself. Every human is bound to get such reminders, whether you are male or female.
However, female bodies are more vocal about it, and endometriosis is one of these painful reminders. It is a painful condition in women where the cells similar to the cells in the endometrium grow outside the uterus. What is the endometrium, you ask? The endometrium is a tissue layer that lines the inside of the uterus and is associated with the bleeding that occurs during the menstrual cycle. In abnormal situations, it develops on the:
ovaries
fallopian tubes
the tissue surrounding the cervix
the tissues that line the pelvis.
In some unusual cases, it might occur anywhere else in the body as well.
Medical surveys state that this condition nearly affects 3 to 10% of women of reproductive age. To diagnose endometriosis, you have to watch for the following symptoms.
Symptoms of Endometriosis
Unusual pelvic pain during the natural menstruation process is an indication that it might be endometriosis. Usually, women experience some pain during periods, but women with endometriosis say that menstrual pain is higher than usual and even increases with time.
Other symptoms of this condition include:
Pain during or after sexual activity
Menorrhagia – heavy periods or metrorrhagia – heavy bleeding between period dates
Bleeding early before the usual period starts
Painful bowel movements
Frequent urination
Dysmenorrhea – Painful periods associated with pelvic pain and cramps that may start early and extend for several days even after
menstruation
Lower back pain
Abdominal pain
People may also experience other symptoms such as tiredness, constipation, bloating, etc., especially during menstruation.
Tests to diagnose endometriosis:
Pelvic examination
Ultrasound
Magnetic resonance imaging (MRI)
Laparoscopy in rare cases
Causes of Endometriosis:
The cause of this painful disorder is often a mystery. However, here are some of the reasons that lead to endometriosis.
Immune system disorder: Your body's immune system fails to detect and destroy the endometrial tissues growing outside the uterus.
Retrograde menstruation: In this condition, the menstrual blood which carries endometrial cells flows back into the pelvic cavity through fallopian tubes instead of flowing out of the body. These endometrial cells might stick over the pelvis walls or to the surface of other pelvic organs. Later they grow into a thick mass of tissues and bleed during every menstrual cycle.
Peritoneal cell transformation: Experts call it "induction theory," where the hormones or immune system promote the transformation of coelomic cells and peritoneal cells (the cells that line your inner side of the abdomen) into endometrial-like cells.
Embryonic cells transformation: Hormones like estrogen might transform embryonic cells (the cells that line your abdomen and pelvis) into endometrial like cells implants during puberty. This transformation may lead to endometriosis.
Scar endometriosis: Endometrial cells may attach to the surgical incision after a hysterectomy or C-section, which may lead to "Scar Endometriosis."
Transport of endometrial cells: the blood vessels or lymphatic system might carry the endometrial cells lining your uterus' walls to other parts of the body.
Risk Factors Involved:
There are specific risk factors that may lead to endometriosis, which include:
Never giving birth to a child increases the risk of developing endometriosis
Early puberty
Menopause at the age between 45-50 years
Short menstrual cycle, i.e., less than 27 days
Menstrual periods that are heavy and lasts more than seven days
High estrogen production in your body
Women with underweight problems are also at risk of endometriosis
Alcohol consumption
Hereditary
Irregular menstrual cycle
Structural deformity of reproductive organs such as uterus, cervix, or vagina
Treatment For Endometriosis:
If endometriosis is left untreated, it can disrupt your life. However, with good treatment, the symptoms of endometriosis can be managed. Medical and surgical treatment options are both available to manage symptoms and any other potential complications. The doctor would initially suggest conservative treatment. If the condition doesn't improve, then they may recommend surgery.
Pain medication: The doctor might suggest taking pain relievers like NSAIDs or ibuprofen, or naproxen sodium to ease painful menstrual cramps. They are not effective in all cases and you might have to move on to other treatment options mentioned below.
Hormone therapy: Taking hormonal supplements can help relieve pain and prevent the progression of endometriosis. Hormone therapy can regulate the monthly hormonal changes in your body that promote the growth of endometrial tissue.
Hormonal contraceptives: Birth control pills, patches, and vaginal rings are the hormonal contraceptives used to control the hormones responsible for building up endometrial tissue every month.
Gonadotropin-releasing hormone (Gn-RH) agonists and antagonists: These GnRH drugs help prevent the production of ovarian-stimulating hormones; it reduces your estrogen levels and prevents menses. This leads to the shrinking of endometrial tissue.
Progestin therapy Various progestin therapies are available to treat endometriosis. They include intrauterine devices with levonorgestrel, contraceptive implant, contraceptive injections, or a progestin pill to hold menstrual periods and the endometrial tissue growth. This therapy might relieve the signs and symptoms of endometriosis.
Conservative surgery Conservative surgery is suggested for women who seek pregnancy or experience severe pain or if the hormonal treatments aren't effective. This surgery aims to remove the mass of endometrial growth without damaging your reproductive organs. It involves laparoscopy, a minimally invasive surgery that helps to diagnose and remove endometrial tissue.
Hysterectomy
It is the last-resort surgery to treat endometriosis suggested when other treatments don't improve the condition.
During a hysterectomy, the surgeon removes visible lesions along with the uterus, cervix, and ovaries as they make estrogen, which stimulates endometrial tissue growth. After a hysterectomy, you cannot become pregnant. So it is usually preferred in women who have completed their family.
Knowing the above risk factors, taking ample care and seeking appropriate help early can help diagnose and treat endometriosis. At Premier Hospitals in Hyderabad, our gynecologists are well-versed to treat endometriosis and educate you about this and other diseases or disturbances related to your menstrual cycle. Early diagnosis and timely treatment for endometriosis can prevent various complications. Call 7702001163 to book an appointment or know more.
The Author :
Premier Hospital
Since the inception of Premier Hospital in 1991 till today, we have grown to unprecedented levels, due to our excellence in medical sciences and healthcare. Premier Hospital is the creation of Dr Mahesh Marda and when it was first established, was only a small, 30-bed hospital facility. Back then, we provided only secondary care to patients, but that certainly has changed in the present landscape.
YOU MIGHT ALSO LIKE
May 17, 2022

May 16, 2022

May 15, 2022

May 12, 2022

May 08, 2022

May 03, 2022

April 25, 2022

April 16, 2022

April 10, 2022
TESTIMONIALS
Hospital is in good condition in a very established area well maintained and in hygienic conditions Staff is friendly and polite very good cooperation Doctor Ayub is very good best
Awsome service by entire hospital staff. Special thanks to Abhinand Sir, Surya Kiran Sir, Chitra Madam. 1.Quick response. 2.Good Hygiene 3.Faster Services 4. Polite Attitude by a
Dr. Rokhsana s/b first trained on attention to detail... first listen the problem clearly and then suggest solution... and mind your voice while talking with patient and their compan
Categories