Everything You Need To Know About Brain Stroke
November 18, 2020
Posted by: Premier Hospitals
858 Views
RSS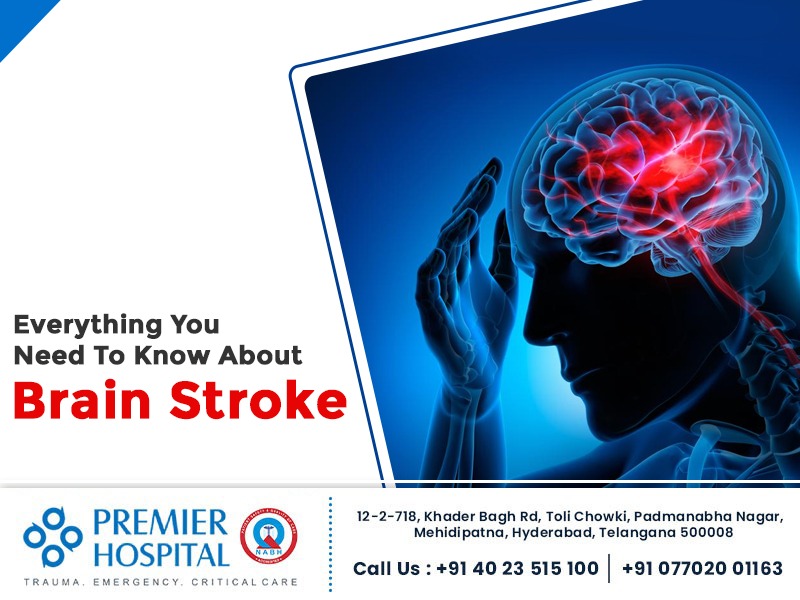 Brain Stroke is a medical condition that happens when your blood vessels supplying the brain get damaged. It is a medical emergency and immediate & proper medical care is necessary. Delay in getting medical help might lead to risk to life and even lifelong disability. If you see anyone with a stroke, the first thing to do is call for help immediately.
What Is a Brain Stroke?
A brain stroke (often termed as a brain equivalent of a heart attack or "brain attack") happens when your blood vessel ruptures or gets blocked and prevents the supply of oxygenated blood and nutrients to your brain. When this happens, your brain suffers from insufficient blood supply and the cells in your brain begin to die. Brian stroke is known medically as a CerebroVascular Accident (CVA).
Did you know that your brain weighs around 2% of your whole body weight but consumes 20% of the oxygen that you breathe daily?
The brain needs more oxygen compared to the rest of the body to function systematically. Your brain is responsible for most body functions such as breathing, digestion, sensations and all motor activities. A severe brain stroke might lead to brain damage with long-lasting disabilities and sometimes, even death.
Types Of Brain Stroke
A brain stroke is one of the major causes of death worldwide. It is classified into three major types as follows:
Ischemic stroke
Hemorrhagic stroke
Transient ischemic attack (TIA)
Ischemic stroke – It accounts for nearly 86% of all brain stroke cases. This is a condition that is caused when a blood clot in the artery prevents the flow of oxygenated blood to your brain. The blockage may affect not only the area that the blood vessel supplies but also the surrounding area of the brain, called the 'Ischemic penumbra'. Hence, these blood clots have to be broken down immediately, preferably within 3 hours, to avoid any long lasting damage to the brain.
Hemorrhagic stroke – it happens when a damaged artery ruptures and leaks blood in your brain. The leaked blood accumulates in a place and creates high pressure, damaging brain cells. The common problems that lead to this condition are high blood pressure and aneurysms or arteriovenous malformations (AVMs). Hemorrhagic stroke is again divided into two different types based on the place it occurs which include Intracerebral haemorrhage and Subarachnoid haemorrhage.
Transient Ischemic Attack (TIA) – It is also called "mini-stroke" because, in this condition, the blood supply is blocked only for a short time i.e., less than 5 minutes. The patient usually has a full recovery but that does not mean that it is a condition to be taken casually. A TIA might be a warning sign for a future stroke. Better treatment can prevent future strokes.
Signs and Symptoms Of Brain Stroke
The symptoms of the brain stroke are noticeable when it damages the part of your brain that controls some of your body parts or functions. The signs & symptoms include:
Speech problems or slurred speech
Communication problems
Paralysis of a part or the entire half of the body
Dizziness
Numbness in your face, arm or leg
Eyesight problems
Severe headache
Inability to walk
Loss of balance or coordination problems
The symptoms differ from person to person. Some people may also experience symptoms like loss of control over bladder or bowel movements, depression or stress and inability to express their emotions. Stroke sometimes may also lead to chronic health problems. Based on the severity, a patient may experience temporary to permanent disabilities.
Diagnosis Of Brain Stroke
A brain stroke can occur all of a sudden. The patient should get medical support within 3 hours of symptoms to avoid further complications. Below are major diagnostic procedures to determine the type of stroke:
Physical examination
Blood tests
MRI scan
CT scan
Cerebral Angiogram
Ultrasound
Echocardiogram
The doctor needs to know the type of stroke to be able to start immediate treatment, hence you can expect some of these investigations to be done if you take someone with stroke to the hospital.
Causes And Risk Factors Of Brain Stroke
There are a number of factors that cause a blocked or a ruptured blood vessel leading to a stroke. Some of these are mentioned below:
Sedentary lifestyle habits like
Smoking and chewing tobacco products
Taking illegal drugs
Being physically inactive
Heavy consumption of alcohol
Also,
High blood pressure
High cholesterol
Heart diseases – faulty heart valves, atrial fibrillation, abnormal heartbeat and arteries that are closed due to fat deposits
Diabetes
Usage of medications such as blood thinners
Increasing age
Gender – men are at more risk of having a brain stroke compared to women
Hereditary predisposition
Obese or overweight people
Aneurysms
You must know your risk factors of stroke, follow the instructions of your doctor and adopt a healthy lifestyle to prevent a stroke.
Treatment For Brain Stroke
A brain stroke is an emergency. It requires prompt medical intervention to restore blood supply to the brain. Hence, a person with a stroke needs to get to the hospital immediately.
In emergencies, the first step is to follow the CPR guidelines, i.e., Airway, Breathing and Circulation, and then blood pressure control. In cases of severe strokes, particularly involving the brainstem, the brain's capacity to control functions of breathing, blood pressure, and heartbeat might be lost making it more dangerous to the life of the patient.
The treatment for stroke depends on the type of stroke.
Treatment For Ischemic Stroke
To treat this condition, doctors should restore the blood supply to your brain. This can be achieved with the help of medication or endovascular procedures.
Drugs which break up the clot need to be given intravenously within 4.5 hours after the symptoms have started. The sooner the treatment, the better the results. Quick treatment improves the chances of survival and also reduces the risk of complications. An IV injection of tPA – tissue plasminogen activator is the standard ischemic stroke treatment. This drug dissolves the blood clot and restores blood flow to the brain.
Emergency endovascular procedures treat ischemic strokes by delivering medication directly inside the blocked blood vessel by inserting a long, thin tube through an artery. The medicine dissolves the clot or the clot is removed from the blood vessel with a stent retriever attached to the catheter.
To decrease the risk of future strokes, carotid endarterectomy(removing the plaque from the artery) or Angioplasty and stents is suggested by the doctor.
Some other minimally invasive procedures for brain stroke are Mechanical thrombectomy, Aneurysm coiling and stenting, Catheter guided thrombolysis, etc.
Treatment For Hemorrhagic Stroke
The goal of hemorrhagic stroke treatment focuses on controlling bleeding and minimizing the pressure in your brain due to accumulation of blood. The treatment options include:
Surgery to drain the leaked blood and relieve pressure on your neurons. It also involves repairing the damaged blood vessel.
Surgical clipping at the base of the aneurysm to stop blood leak.
Coiling or endovascular embolization
Surgical AVM removal
Control of blood pressure
Stereotactic radiosurgery – it is an advanced and successful minimally invasive treatment used to repair the malformations in the blood vessel. The procedure involves focusing multiple beams of radiation on to the clots in the blood vessel.
A brain stroke is definitely a life-changing event. It affects your emotional well-being as well as physical functions. Consult our top neurologists in Hyderabad at Premier Hospitals. Our experts are experienced in treating brain strokes and the health conditions caused by a brain stroke. Our interventional neurologist is also one of the best in Hyderabad.
The Author :
Premier Hospital
Since the inception of Premier Hospital in 1991 till today, we have grown to unprecedented levels, due to our excellence in medical sciences and healthcare. Premier Hospital is the creation of Dr Mahesh Marda and when it was first established, was only a small, 30-bed hospital facility. Back then, we provided only secondary care to patients, but that certainly has changed in the present landscape.
TESTIMONIALS
My child was taken very good care at Premier Hospital when she was in ICU and also in the room. Nurses and other staff members are very courteous towards her and other patients. They
I went to Premier Hospital for emergency dialysis for my father. We had received an amazing response from the entire team of doctors. We had a good stay and good medical care. I woul
I admitted my mom in Premier Hospitals due to a drug reaction. Their caring and hospitality was really wonderful. They treat the patients as their family members. I would like to tha
Categories