Enlarged Heart Causes, Symptoms and Treatment
July 19, 2021
Posted by: Premier Hospitals
718 Views
RSS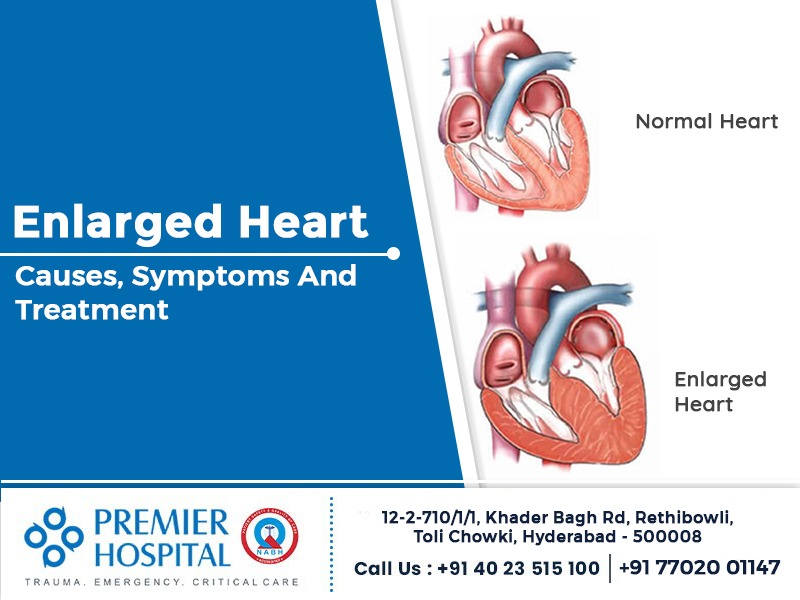 The heart of a human is a muscular organ which is about the size of a closed fist. The enlargement of the heart is not a separate condition. It is a sign of some underlying problem that is making the heart work harder.
An enlarged heart is more likely to occur in older people and sometimes it is also called cardiomegaly.
The underlying problems can be categorised into two types that can cause an enlarged heart: 
Pathological – the problem associated with actual heart muscle disease
Physiological – the result of other conditions that cause the heart to overwork, such as high blood pressure (BP) or thyroid disease. 
If the heart is enlarged, it cannot pump blood efficiently and it may result in congestive heart failure. Over time, it may improve, but the majority of people with this condition might need to take treatment with medications for a long time.
An enlarged heart is a result of heart muscle damage. An enlarged heart can also pump blood normally but up to a certain extent. However, the pumping ability of the heart decreases as the condition progresses.
The most common type of enlarged heart is dilated cardiomyopathy. The heart walls (ventricles) become thin & stretched. It results in an enlarged heart.
The left ventricle becomes thick and enlarges in other conditions like high blood pressure. The thickening (often called hypertrophic cardiomyopathy) can also be acquired.
Causes
The most common cause of weak heart muscles is due to blockages in the blood vessels that affect the blood supply to the heart (coronary artery disease) and high blood pressure. There are some other causes, which include:
Heart infection caused by a virus

Abnormal valves in the heart

During pregnancy, the heart may enlarge at the time of delivery (often called peripartum cardiomyopathy).

A kidney disease that requires dialysis

Drinking alcohol or using cocaine

HIV infection (AIDS)

An excessive amount of iron in the body (hemochromatosis).

Rare diseases such as amyloidosis can affect your heart,

Anemia (lower red blood cell count)

Fluid retention around your heart (pericardial effusion)

Inherited and genetic conditions

Obesity 

Lack of physical exercise
If the cause is not known, the doctor might call it idiopathic dilated cardiomyopathy.
Symptoms
Occasionally, an enlarged heart does not produce any symptoms. You may experience symptoms if the heart cannot pump blood well enough, such as:
Breathing problems like shortness of breath (mainly when active or lying flat on a surface)

Swelling of the legs

Weight gain, especially in the midsection

Feeling tired

Skipped heartbeats or palpitations
Some people may never experience symptoms while others might have breath shortness that gets worse over time.
Treatment for an enlarged heart
Treatment for this condition depends on the underlying cause. If cardiomyopathy or any other heart condition is the cause of your enlarged heart, you may be prescribed to take medications, which include:
Diuretics 

Angiotensin

Angiotensin II receptor blockers (ARBs)

Beta blockers

Anticoagulants 

Anti-arrhythmics 
These medications help to lower blood pressure, reduce the risk of blood clots, lower the pressure in the arteries and heart.
Surgery or other procedures
If medications fail to improve the condition, the doctors may recommend surgery or any other medical procedures to treat the enlarged heart.
Medical devices that regulate your heartbeat
In certain cases of an enlarged heart condition like dilated cardiomyopathy, a pacemaker may be used to sync the contractions of the left and right ventricles. Patients who are at risk of serious arrhythmias may benefit from either an implantable cardioverter-defibrillator (ICD) or drug therapy.
If atrial fibrillation is the main cause of an enlarged heart, then some other procedures are required to regain a regular rhythm or to prevent a fast heart beat.
Heart valve surgery
If heart valve problems are the main cause of an enlarged heart, then the problem is fixed through surgical repair or replacement of the affected valve.
Coronary bypass surgery
Your doctor may recommend coronary artery bypass surgery if your enlarged heart is caused by coronary artery disease.
Left ventricular assist device (LVAD)
Those with heart failure may require this mechanical pump implant to improve the pumping capability of a weakened heart. An LVAD may be implanted as a temporary measure to treat heart failure while you wait for a heart transplant or as a long-term treatment option for heart failure patients and for those who are not eligible for transplants.
Heart transplant
If medications or other surgical procedures can't fix the problem, a heart transplant might be the only option. 
To know more about treatment options for an enlarged heart or having any other heart related problem contact our top heart surgeons in Hyderabad at Premier Hospital. Call +91-83747 18100 to book an appointment. Our Heart Specialists at the Premier are highly skilled and experienced in treating a wide variety of heart problems.
The Author :
Premier Hospital
Since the inception of Premier Hospital in 1991 till today, we have grown to unprecedented levels, due to our excellence in medical sciences and healthcare. Premier Hospital is the creation of Dr Mahesh Marda and when it was first established, was only a small, 30-bed hospital facility. Back then, we provided only secondary care to patients, but that certainly has changed in the present landscape.
YOU MIGHT ALSO LIKE
May 17, 2022

May 16, 2022

May 15, 2022

May 12, 2022

May 08, 2022

May 03, 2022

April 25, 2022

April 16, 2022

April 10, 2022
TESTIMONIALS
Hospital is in good condition in a very established area well maintained and in hygienic conditions Staff is friendly and polite very good cooperation Doctor Ayub is very good best
Awsome service by entire hospital staff. Special thanks to Abhinand Sir, Surya Kiran Sir, Chitra Madam. 1.Quick response. 2.Good Hygiene 3.Faster Services 4. Polite Attitude by a
Dr. Rokhsana s/b first trained on attention to detail... first listen the problem clearly and then suggest solution... and mind your voice while talking with patient and their compan
Categories