Emergency Services In Premier Hospital Are Available 24/7 Even In The Crisis Of COVID19
April 1, 2020
Posted by: Premier Hospitals
1063 Views
RSS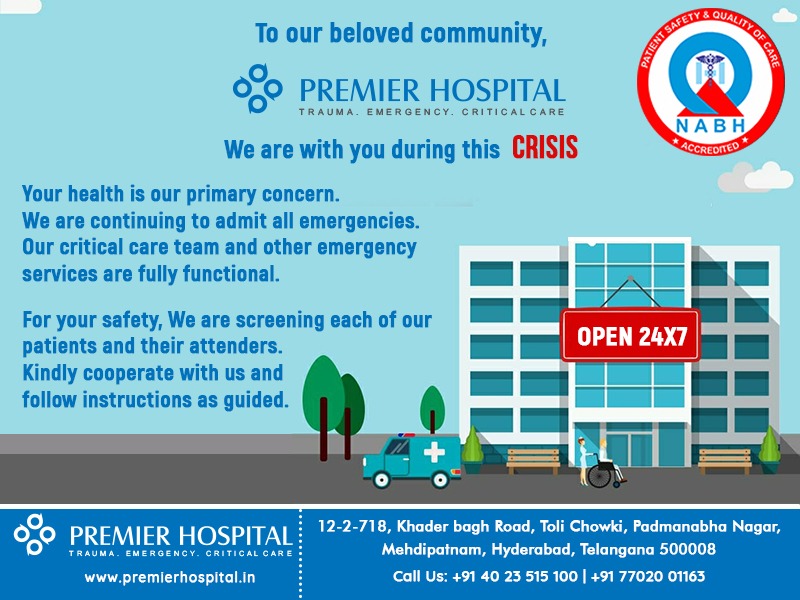 To our beloved community,
Premier Hospital stands with you during this period of the crisis caused by COVID19. Your health remains our primary concern. We are always with you and continuing to admit all the emergency services. Our critical care team and other emergency services are fully functional.
For your safety, we are screening each and every patient and their attenders coming to Premier Hospital. Kindly cooperate with us and follow instructions as guided.
The Author :
Premier Hospital
Since the inception of Premier Hospital in 1991 till today, we have grown to unprecedented levels, due to our excellence in medical sciences and healthcare. Premier Hospital is the creation of Dr Mahesh Marda and when it was first established, was only a small, 30-bed hospital facility. Back then, we provided only secondary care to patients, but that certainly has changed in the present landscape.
TESTIMONIALS
My child was taken very good care at Premier Hospital when she was in ICU and also in the room. Nurses and other staff members are very courteous towards her and other patients. They
I went to Premier Hospital for emergency dialysis for my father. We had received an amazing response from the entire team of doctors. We had a good stay and good medical care. I woul
I admitted my mom in Premier Hospitals due to a drug reaction. Their caring and hospitality was really wonderful. They treat the patients as their family members. I would like to tha
Categories