Different Types of Dental Braces
October 11, 2021
Posted by: Premier Hospitals
337 Views
RSS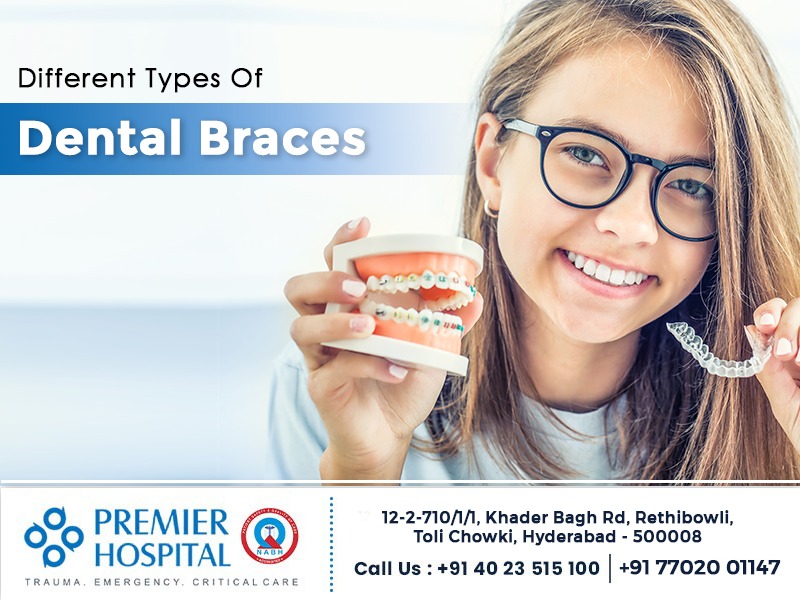 A dental brace is a device that is used to straighten teeth. We all wish to have an attractive smile which is possible with perfectly arranged teeth. However, some people might not have that perfect set of teeth. With the advancement in dental technology, they have introduced dental braces. The teeth are aligned and positioned with the help of these dental braces. Properly arranged teeth last longer and function better.
A dental brace is a wire-based device used by orthodontists to align crowded and crooked teeth (malocclusion) or jaws. People who want to wear dental braces mostly get them in their teenage years. However, braces can also be beneficial for adults. The main purpose of dental braces is to achieve a proper alignment of your teeth and jaws so that you can have an even bite and pleasing smile.
A variety of dental braces are available, from traditional metal braces to Invisalign braces. They are no longer viewed as fear for teens. Braces are one of the most effective ways to achieve permanently aligned teeth.
There are five main types of braces, and each comes with its own set of advantages and disadvantages, which need to be considered before choosing a particular type of brace.
Metal Braces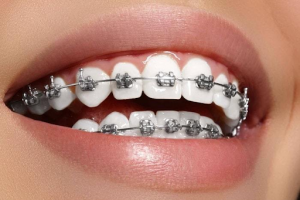 These are also known as "Traditional Dental Braces" and it is a combination of metal brackets and archwires that are used to straighten your teeth. They are manufactured with high-grade stainless steel. In orthodontic treatment, these braces are one of the least expensive options available.
The patient must be extra careful with food intake once the device has been installed. It is recommended not to eat gum and caramel because they may stick to the brackets. Foods that are difficult to eat could result in bracket dislodgement, so the patient should avoid them.
Ceramic Braces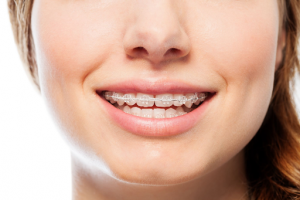 Braces of this type are popular alternatives to metal braces. The main advantage of ceramic braces over the regular type is that they are manufactured with tooth-coloured material, making them more barely noticeable.
As these brackets are tooth coloured, they can easily blend with the teeth and they come in the same size and shape similar to metal brackets. However, the cost of these braces is higher than the traditional metal braces. Ceramic Braces can easily become stained if healthy oral hygiene is not maintained.
Lingual Braces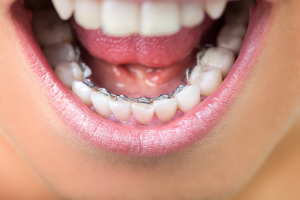 Lingual braces are similar to metal braces. These types of braces can be customized and are mounted lingual side (behind the teeth) so that they are not visible. An experienced and skilled orthodontist can install them with perfection. The lingual braces have the disadvantage of cleaning difficulty and they are quite expensive. Initially, they may seem to be uncomfortable but eventually, patients get used to them. The adjustment period is longer compared to traditional braces.
Invisalign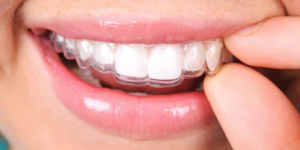 In addition to all of the above, INVISALIGN is the other type of braces which consists of 15-30 custom-made, clear plastic aligners that look like customized mouth guards. The Invisalign braces can be replaced every 2-3 weeks.
Often, patients find them to be the most comfortable. Unfortunately, these types of braces are not suitable for more severe dental problems. Their price is much higher than other types of braces. Usually, these braces require a prolonged treatment period in comparison with other types.
Self-ligating Brace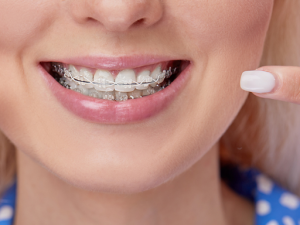 Self-ligating braces have similar qualities to metal and ceramic braces. They are available in two different types of materials metal and ceramic. Braces and wires are used to move the teeth with these treatments as well. The main differentiation between self-ligating and metal or ceramic braces is that doors or clips are used in self-ligating braces to hold the wire in place, instead of rubber ties.
We know that self-ligating braces are easy to adjust and as a result, the appointments are mildly shortened. These braces are more suitable choice for:
People who are intolerant of discomfort

People who have difficulty sitting still in a dental chair for long periods of time

People with developmental disabilities and orthodontic needs
During the process of treatment, the person wearing the dental braces has a key role to play. He should precisely follow the instructions suggested by the orthodontist, particularly during the retention phase. As you enter the final phase of treatment, be more cautious and follow the suggestions as directed or you may lose the benefits you've received from wearing braces.
If you need more detailed information about dental braces or are looking for braces to correct your misaligned teeth, contact Dr Abhinand Potturi, chief consultant, Department of Dental & Maxillofacial Surgery, Premier Hospital, Hyderabad.
The Author :
Premier Hospital
Since the inception of Premier Hospital in 1991 till today, we have grown to unprecedented levels, due to our excellence in medical sciences and healthcare. Premier Hospital is the creation of Dr Mahesh Marda and when it was first established, was only a small, 30-bed hospital facility. Back then, we provided only secondary care to patients, but that certainly has changed in the present landscape.
YOU MIGHT ALSO LIKE
May 17, 2022

May 16, 2022

May 15, 2022

May 12, 2022

May 08, 2022

May 03, 2022

April 25, 2022

April 16, 2022

April 10, 2022
TESTIMONIALS
Hospital is in good condition in a very established area well maintained and in hygienic conditions Staff is friendly and polite very good cooperation Doctor Ayub is very good best
Awsome service by entire hospital staff. Special thanks to Abhinand Sir, Surya Kiran Sir, Chitra Madam. 1.Quick response. 2.Good Hygiene 3.Faster Services 4. Polite Attitude by a
Dr. Rokhsana s/b first trained on attention to detail... first listen the problem clearly and then suggest solution... and mind your voice while talking with patient and their compan
Categories