Dementia Causes, Symptoms and Treatment
April 4, 2021
Posted by: Premier Hospitals
872 Views
RSS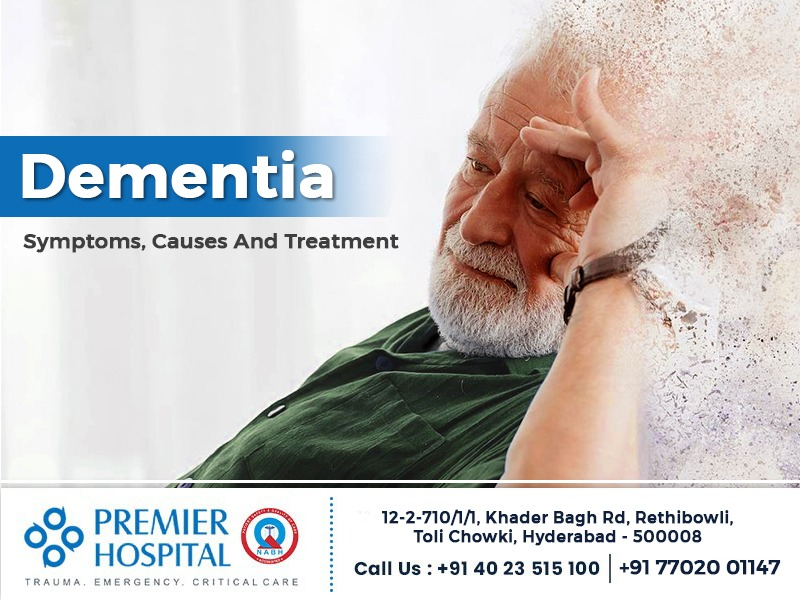 Dementia is not a single disorder; it is a collective term for a group of disorders that lead to a decrease in cognitive function, meaning the ability of a person to remember and respond appropriately to situations around them. It includes a wide range of medical conditions such as Alzheimer's disease and Stroke.
Dementia is defined by a group of symptoms that include memory loss (cognitive decline), inability to think and various other problems associated with the brain that severely interfere with our daily activities. It is an underlying cause of other disorders related to memory that affect behaviour and feelings also.
Nearly 60-80% of Alzheimer's disease cases lead to dementia. Vascular dementia is the second most leading disorder that causes dementia. People who are experiencing brain changes multiple times might have mixed dementia. There are many other health conditions that result in reversible dementia, which include thyroid problems and vitamin deficiencies.
Dementia symptoms 
The symptoms of dementia vary based on the cause; if you notice any of the following symptoms, consult a doctor immediately:
Memory loss – people tend to ask the same questions repeatedly

Communication problems like inability to find words in conversations

Problems with visual and spatial orientation

Loss of reasoning or simple problem-solving skills

inability to handle complex tasks

Problems with planning and organizing

Difficulty with coordination and motor functions

Confusion

Disorientation – for example, getting lost on familiar streets

Misplacing things – for instance, you may forget the location of everyday things like car keys, or wallets etc.

Sudden and unexplained mood changes

Personality changes such as becoming irritable, suspicious or fearful.

Showing less interest or apathy
People might also experience psychological changes like depression, anxiety, hallucinations etc. Many of these conditions are progressive; the symptoms start slowly and get worse with time. If you or anyone you know is having memory problems or any other changes in their behaviour, never ignore to consult a doctor.
Dementia Causes 
Dementia is caused due to the damage of nerve cells and their connections in the brain. This damage alters the functions of nerve cells and their communication with each other. This automatically results in memory problems, behaviour changes, and even your feelings can be affected.
The brain is classified into different regions, and each region is responsible for distinct functions. When cells are damaged in that particular region, the functions of that region get affected. So, depending on the damaged area, every individual with dementia is affected with different symptoms.
Some diseases pretend to look like dementias, which are caused due to medications or vitamin deficiencies. They might be reversible with proper treatment. 
However, certain types of dementias are not reversible, such as:
Alzheimer's disease: It is the most common reason for dementia. In Alzheimer's disease, high levels of protein deposits inside and outside the nerve cells damaging the functions of brain cells and their communication. Eventually, it leads to dementia.
Vascular dementia: Next to Alzheimer's, this is the common type of dementia. It is caused due to damaged blood vessels which supply blood to your brain. Blood vessel problems can damage the brain in many ways. Loss of problem-solving skills reduced thinking, lack of focus and planning are the most common symptoms of this condition. 
Lewy body dementia: It is a neurodegenerative condition caused due to abnormal balloonlike clusters of proteins formed in the brain. This is another type of progressive dementia.
Mixed dementia: Some studies on older people's brains with dementia indicate that two or three types of conditions like Alzheimer's disease, vascular dementia and Lewy body dementia occur at the same time. It is termed as mixed dementia. 
Frontotemporal dementia: This is popularly known as Pick's disease. This is a condition where a group of diseases degenerate the nerve cells and their connections in the brain. It usually affects the frontal and temporal lobes of the brain which are responsible for personality, behaviour and language. 
Huntington's disease: It affects younger people of age 30 to 40 due to genetic mutation that causes dementia. 
Parkinson's disease: People who have Parkinson's disease may develop dementia eventually (Parkinson's disease dementia).
Traumatic brain injury (TBI): Head injury or trauma can also lead to dementia due to physical damage to parts of the brain.
Creutzfeldt-Jakob disease, Posterior cortical atrophy, HIV infection, Normal pressure hydrocephalus and Down's syndrome are some other conditions that can also lead to dementia.
Dementia Treatment
The treatment depends upon the cause of dementia. Reversible dementias can be treated with multivitamins and other drugs but unfortunately, most progressive types of dementia like Alzheimer's don't have a permanent cure. However, the symptoms can be managed effectively in many different ways.
Medication and drug therapy can improve the symptoms of Alzheimer's and other types of dementia. 
Cholinesterase inhibitors which include donepezil, rivastigmine and galantamine and tacrine, can boost the chemical messenger responsible for judgment.
Memantine is a medicine that regulates glutamate (chemical messenger) functions in the brain, such as learning and memory.
Doctors also prescribe other medications to deal with conditions like depression, anxiety, sleeping problems, hallucinations, and agitation.
Several non-drug approaches like Occupational therapy, modifying your living environment, simplifying tasks etc., can help to manage dementia symptoms and other behaviour problems.
Other therapies
Following these techniques might reduce anxiety and provide a relaxed feel in people with dementia.
Listening to peaceful and calm music, often called music therapy

Light exercise

Spending more time with family members

Pet therapy to improve moods and behavioural changes 

Aromatherapy

Massage therapy

Art therapy may help to focus on things better
Over the past years, dementia has gained importance in the scientific community with researchers exploring the impact of various risk factors causing dementia and its prevention. To know more information about different treatment options for dementia, consult our expert doctors at Premier Hospitals in Hyderabad. Our doctors have helped thousands of dementia patients to lead happy lives.
The Author :
Premier Hospital
Since the inception of Premier Hospital in 1991 till today, we have grown to unprecedented levels, due to our excellence in medical sciences and healthcare. Premier Hospital is the creation of Dr Mahesh Marda and when it was first established, was only a small, 30-bed hospital facility. Back then, we provided only secondary care to patients, but that certainly has changed in the present landscape.
YOU MIGHT ALSO LIKE
May 17, 2022

May 16, 2022

May 15, 2022

May 12, 2022

May 08, 2022

May 03, 2022

April 25, 2022

April 16, 2022

April 10, 2022
TESTIMONIALS
Hospital is in good condition in a very established area well maintained and in hygienic conditions Staff is friendly and polite very good cooperation Doctor Ayub is very good best
Awsome service by entire hospital staff. Special thanks to Abhinand Sir, Surya Kiran Sir, Chitra Madam. 1.Quick response. 2.Good Hygiene 3.Faster Services 4. Polite Attitude by a
Dr. Rokhsana s/b first trained on attention to detail... first listen the problem clearly and then suggest solution... and mind your voice while talking with patient and their compan
Categories