Coronavirus (COVID19): How to Protect Yourself & Others
May 22, 2020
Posted by: Premier Hospitals
1395 Views
RSS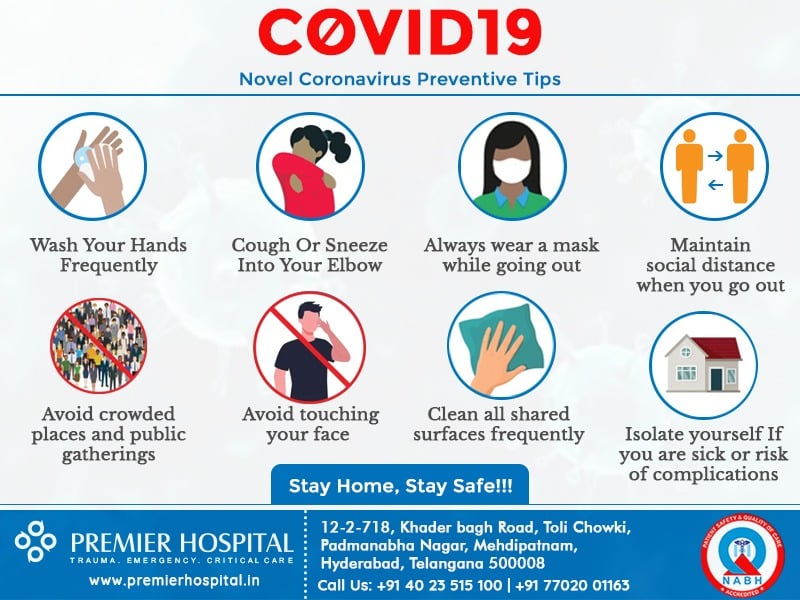 Everyone's life is at stake due to the Novel Coronavirus pandemic. The pandemic might change the world forever because coronavirus has become a world-shattering disease with far-ranging consequences. This much is certain that this disease has shattered many lives, and it continues. Adoption of different preventive measures such as maintaining physical distancing and focusing on infection control practices and much more mentioned in the above infographic can save you and your family from COVID19.
The coronavirus outbreak came to light in December 2019, in Wuhan city, China. Coronavirus (COVID-19) is an infectious disease that is mainly transmitted when an infected person coughs or sneezes and when the generated droplets inhale by others. It can also be transmitted when a person is in physical contact with the infected person.
Most of the people infected with coronavirus might experience mild to moderate respiratory disease and recover with standard treatment. But older adults and those who suffer from cardiovascular disease, respiratory diseases, diabetes, and cancer might develop more severe illness. The best way to stop the pandemic and to slow down transmission is knowing about the COVID19 virus, how it spreads, how to follow preventive measures, and creating awareness in people nearby. Protect yourself and others from COVID19 by washing hands with alcohol-based sanitizers frequently and don't touch your face.
The first case of coronavirus(COVID19) pandemic in India was reported in the month of January 2020. In India, it affected more than one million people, and worldwide it affected more than 5 million people and counting. The death has raised to 3.5 million people nearly all over the world and counting. Since there is no definite medicine found to cure the disease, we have to be aware all the time.
The Author :
Premier Hospital
Since the inception of Premier Hospital in 1991 till today, we have grown to unprecedented levels, due to our excellence in medical sciences and healthcare. Premier Hospital is the creation of Dr Mahesh Marda and when it was first established, was only a small, 30-bed hospital facility. Back then, we provided only secondary care to patients, but that certainly has changed in the present landscape.
YOU MIGHT ALSO LIKE
May 17, 2022

May 16, 2022

May 15, 2022

May 12, 2022

May 08, 2022

May 03, 2022

April 25, 2022

April 16, 2022

April 10, 2022
TESTIMONIALS
Hospital is in good condition in a very established area well maintained and in hygienic conditions Staff is friendly and polite very good cooperation Doctor Ayub is very good best
Awsome service by entire hospital staff. Special thanks to Abhinand Sir, Surya Kiran Sir, Chitra Madam. 1.Quick response. 2.Good Hygiene 3.Faster Services 4. Polite Attitude by a
Dr. Rokhsana s/b first trained on attention to detail... first listen the problem clearly and then suggest solution... and mind your voice while talking with patient and their compan
Categories