"Communities Make The Difference" – World AIDS Day 2019
December 1, 2019
Posted by: Premier Hospitals
1633 Views
RSS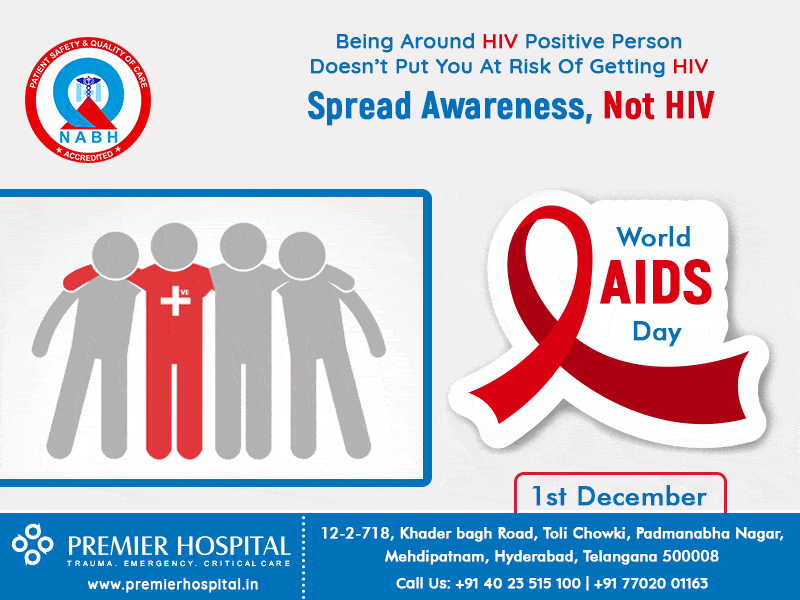 The most disastrous disease facing mankind is AIDS-Acquired immunodeficiency syndrome (AIDS) which is a chronic and potentially life-threatening disease caused by HIV – Human Immunodeficiency Virus.
At the end of 2018, UNAIDS says that nearly 37.9 million people were living with HIV and on avg 1.8 million people getting infected every year. HIV infection and AIDS persists as one of the world's most challenging public health condition. UNAIDS calls out everyone one of us with the theme "Communities make the difference" to reach global targets to eliminate AIDS by 2030.
Communities of people who are living with HIV and health workers of the community should play a vital role in the HIV response. WHO recommend increasing community-based health care campaigns in order to deliver HIV prevention, testing, treatment and care.
The commemoration of World AIDS Day is on 1 December and is observed every year. Since 1988, the day was dedicated to creating awareness about AIDS and the damage it causing to mankind. As a part of social accountability, we, Premier Hospital doing our best to educate people about dangerous AIDS and how it is destroying human health globally.
The Author :
Premier Hospital
Since the inception of Premier Hospital in 1991 till today, we have grown to unprecedented levels, due to our excellence in medical sciences and healthcare. Premier Hospital is the creation of Dr Mahesh Marda and when it was first established, was only a small, 30-bed hospital facility. Back then, we provided only secondary care to patients, but that certainly has changed in the present landscape.
YOU MIGHT ALSO LIKE
May 17, 2022

May 16, 2022

May 15, 2022

May 12, 2022

May 08, 2022

May 03, 2022

April 25, 2022

April 16, 2022

April 10, 2022
TESTIMONIALS
Hospital is in good condition in a very established area well maintained and in hygienic conditions Staff is friendly and polite very good cooperation Doctor Ayub is very good best
Awsome service by entire hospital staff. Special thanks to Abhinand Sir, Surya Kiran Sir, Chitra Madam. 1.Quick response. 2.Good Hygiene 3.Faster Services 4. Polite Attitude by a
Dr. Rokhsana s/b first trained on attention to detail... first listen the problem clearly and then suggest solution... and mind your voice while talking with patient and their compan
Categories