An overview of Prognathism
November 22, 2021
Posted by: Premier Hospitals
351 Views
RSS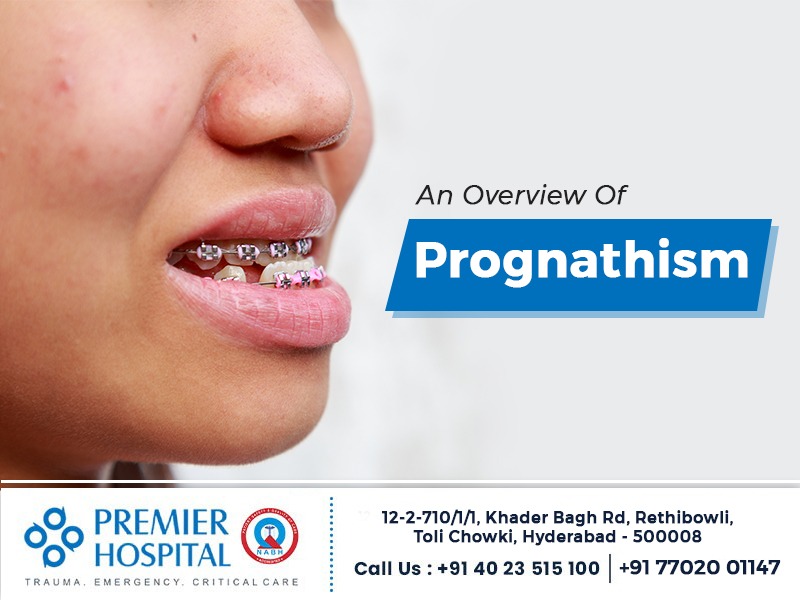 Prognathism refers to a forward extension of the jaw. It is also known as the extended chin or Habsburg jaw. Typically, prognathism is a condition where your lower jaw sticks out more than it should. The condition can be classified into three different types:
Mandibular prognathism: it is when your lower jaw extends

Maxillary prognathism: it is when your upper jaw extends

Bimaxillary prognathism: it is when both your lower and upper jaws extend out
Depending on the jaw affected, prognathism can result in an underbite or overbite. In some cases, prognathism is an indication of an underlying health condition for which you need to get treatment. If you find it difficult to talk, bite, or chew, the signs of jaw protruding, consult a Maxillofacial doctor who is an expert in treating such conditions. 
What causes prognathism?
People with prognathism jaws are sometimes born with them due to genetic problems and not an underlying health condition. There are some other rare conditions that can cause prognathism, including:
Acromegaly – it is a hormonal disorder that occurs when there is too much production of growth hormone in your body. This causes your bones to enlarge, including your jawbones.

Basal cell nevus syndrome is a condition that can cause facial abnormalities, which include prognathism. It is a rare and inherited condition.

Acrodysostosis is also a rare genetic condition that affects your skeletal growth. People with this disorder results in short limbs, a short nose, and a small upper jaw, making your lower jaw appear longer than usual.

Some other genetic disorders like Crouzon Syndrome and Down Syndrome might also result in prognathism.

Misaligned teeth like crooked and spaced teeth can also lead to prognathism.
When should you visit your healthcare provider?
Some people are born with prognathism, which may not cause them any problems. But in some cases, prognathism results in some complications like misaligned teeth which need to be treated.
If prognathism is caused by an underlying health condition, like acrodysostosis, gigantism or acromegaly, then further treatment may be necessary. However, if you observe any of the symptoms of prognathism mentioned below you should visit a doctor. These symptoms vary from person to person and they include:
Extension of the upper or lower jaw (or both)

Based on the type of prognathism it may result in an underbite or an overbite

Having trouble talking

Having trouble chewing and eating

Breathing problems
How can it be treated?
It is not always a problem to have prognathism. In some cases, prognathism does not significantly affect an individual's quality of life.
Even though their face shape might change, they are still able to speak, eat, and breathe as they normally do. Prognathism in many people might be only a cosmetic concern. But in a few cases, prognathism interferes with a person's everyday life. There are several ways to treat prognathism. In case you choose to seek treatment for prognathism, here are some of the options: 
Medical Care — Several disorders affect the biting surfaces of the mouth and cause them to become misaligned. Some of these conditions might result in prognathism. 
In such cases, the doctor will diagnose the underlying health condition and provide treatment. Typically, your doctor will begin with a physical exam. 
Orthognathic Surgery — If you have prognathism, an oral and maxillofacial surgeon can help you to modify the appearance of your jaw structure to improve your facial appearance. An oral and maxillofacial surgeon has the potential to reshape your facial bones.
Dental/Orthodontic Care — If you have prognathism, an orthodontist or dentist will perform orthodontic treatment and help you to reshape your jawline. Your orthodontist may recommend wearing braces before and after the surgery to ensure your teeth are aligned properly. These specialists work closely with oral surgeons in many cases to achieve maximum results. 
The surgeons will perform various diagnostic tests which include skull X-rays (panoramic and cephalometric), X-rays of the lower teeth & lips, and your malformed jaw before preparing any treatment plan.
If you have prognathism and it is affecting your quality of life, consult an oral and maxillofacial surgeon or a dental care provider to know about your condition and available treatment options.
To know more, visit Dr. Abhinand Potturi, one of the best maxillofacial surgeons in Hyderabad. Chief Consultant, Department of Maxillofacial & Reconstructive Surgery,  incharge – Oral Cancer Screening clinics at Premier Hospital, Mehdipatnam, Hyderabad.
He helped hundreds of patients with mandibular prognathism with his skill and advanced treatment procedures.
The Author :
Premier Hospital
Since the inception of Premier Hospital in 1991 till today, we have grown to unprecedented levels, due to our excellence in medical sciences and healthcare. Premier Hospital is the creation of Dr Mahesh Marda and when it was first established, was only a small, 30-bed hospital facility. Back then, we provided only secondary care to patients, but that certainly has changed in the present landscape.
YOU MIGHT ALSO LIKE
May 17, 2022

May 16, 2022

May 15, 2022

May 12, 2022

May 08, 2022

May 03, 2022

April 25, 2022

April 16, 2022

April 10, 2022
TESTIMONIALS
Hospital is in good condition in a very established area well maintained and in hygienic conditions Staff is friendly and polite very good cooperation Doctor Ayub is very good best
Awsome service by entire hospital staff. Special thanks to Abhinand Sir, Surya Kiran Sir, Chitra Madam. 1.Quick response. 2.Good Hygiene 3.Faster Services 4. Polite Attitude by a
Dr. Rokhsana s/b first trained on attention to detail... first listen the problem clearly and then suggest solution... and mind your voice while talking with patient and their compan
Categories