An Overview of Oral Cancer
October 31, 2021
Posted by: Premier Hospitals
305 Views
RSS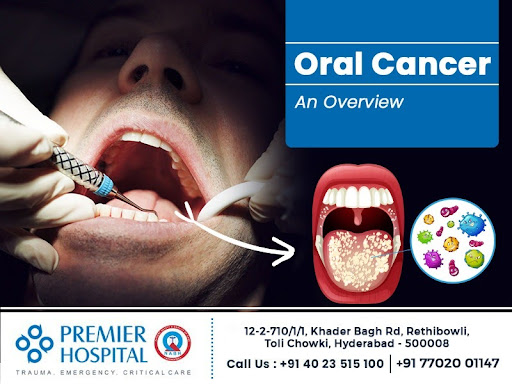 Cancer that develops in the mouth or throat is known as oral cancer. These kinds of cancer are part of a larger category of cancers referred to as head and neck cancers. Mostly cancer is found in the squamous cells of your mouth, tongue, and lips.
Oral cancer is categorized into two types – those that occur in the mouth (oral cavity) (in your lips, inside your cheeks, teeth, gums, the front of your tongue etc.) and those that occur in the oropharynx (mid-region of your throat). It can become life-threatening if not detected and treated as soon as possible.
Who is at risk for oral cancer and who gets it?
Some experts say that men are at higher risk of developing oral cancer compared to women, and aged men (above 50 years) are even at higher risk. However, we have seen a decline in the incidence of cancers of the oral cavity and pharynx from the 1970s to 1990s all over the world, especially in white males and females.
Risk factors that may develop oral cancer include:
Smoking a cigarette, cigar, or pipe makes you six times more susceptible to developing oral cancers compared to non-smokers.

Usage of tobacco products increases the risk of cancer, especially in the cheeks, gums, and lips.

Consumption of excessive alcohol makes you six times more susceptible to developing oral cancers compared to non-drinkers.

Hereditary – family history of oral cancers.

Exposure to ultraviolet rays, excessive sun exposure, particularly at a young age.

Poor nutrition

Poor oral hygiene

Human papillomavirus (HPV) infection
Studies have shown that about 25% of all oral cancer cases are diagnosed in people who have the habit of drinking alcohol occasionally and do not smoke.
 Signs & symptoms of oral cancer
Here are some of the common signs and symptoms one might encounter with oral cancer:
The lips, gums, or other places inside your mouth are swollen/thickened, become rough, crusted, or eroded as a result of any of these conditions.

Patches of different colours appear in the mouth, like velvety white, red, or speckled patches.

Bleeding from the mouth without apparent cause

Loss of feeling, or pain anywhere in your face, mouth, or neck without apparent cause

The presence of sores over the face, neck, or mouth which easily bleed and take weeks to heal

It feels like something has been caught in the back of your throat 

Difficulty chewing or swallowing

Having trouble speaking
Difficulty moving your jaw or tongue

Voice changes, chronic sore throats, or hoarseness

Pain in the ear

A change in the anatomy of your teeth

Loss of weight suddenly
If you observe any of the signs mentioned above, consult an expert doctor immediately and get evaluated.
How is oral cancer treated?
Cancers of the mouth will be treated in different ways depending on their type, location, and at the stage it is diagnosed.
Surgery
The early stages of oral cancer can be treated surgically which involves removing the tumour and cancerous lymph nodes. Sometimes it may also be necessary to remove other tissue surrounding the mouth and neck.
Radiation therapy
Another option is radiation therapy. This procedure involves focusing strong radiation beams on the tumor. The procedure is continued for two to eight weeks based on the tumor. A combination of chemotherapy and radiation therapy is usually used to treat advanced stages.
Chemotherapy
The goal of chemotherapy is to kill cancer cells with drugs. Medications can be given to the patient either orally or via intravenous (IV) lines. Chemotherapy is generally performed as an outpatient procedure, but in the case of advanced stages, some require hospitalization.
Targeted therapy
Another treatment option is targeted therapy, which is effective for treating cancer in the early stages as well as in the advanced stages. Certain drugs in the therapy are used to target and inhibit the growth of cancer cells by binding to specific proteins on them.
Nutrition
In addition to oral cancer treatment, nutrition is also very important. Eating and swallowing often become difficult or painful due to treatments and results in poor appetite and weight loss. Talk to your doctor about your diet.
A nutritionist can assist you in planning a food menu rich in calories, vitamins, and minerals that is easy to swallow and digest so that your body gets what it needs as it heals.
Keep your mouth healthy
The final aspect of cancer treatment is keeping your mouth healthy. Be sure to clean your teeth and gums, as well as keep your mouth moist.
If you are having bad habits like smoking, drinking alcohol or eating poorly, change these habits immediately to reduce the risk of developing oral cancer. Generally, CDC recommends taking two doses of HPV vaccine for 11- to 12-year-old children to prevent cervical and other genital cancers. In addition to preventing cervical and genital cancers, the HPV vaccine may be able to protect against head and neck cancers as well. If you have previously suffered from oral cancer, then you are at an increased risk of the disease coming back, so keep seeing your doctor regularly.
To know more detailed information about oral cancer treatment, consult Dr Abhinand Potturi, Chief consultant, Department of Maxillofacial & Reconstructive Surgery,  incharge – Oral Cancer Screening clinics at Premier Hospital, Mehdipatnam, Hyderabad.
The Author :
Premier Hospital
Since the inception of Premier Hospital in 1991 till today, we have grown to unprecedented levels, due to our excellence in medical sciences and healthcare. Premier Hospital is the creation of Dr Mahesh Marda and when it was first established, was only a small, 30-bed hospital facility. Back then, we provided only secondary care to patients, but that certainly has changed in the present landscape.
YOU MIGHT ALSO LIKE
May 17, 2022

May 16, 2022

May 15, 2022

May 12, 2022

May 08, 2022

May 03, 2022

April 25, 2022

April 16, 2022

April 10, 2022
TESTIMONIALS
Hospital is in good condition in a very established area well maintained and in hygienic conditions Staff is friendly and polite very good cooperation Doctor Ayub is very good best
Awsome service by entire hospital staff. Special thanks to Abhinand Sir, Surya Kiran Sir, Chitra Madam. 1.Quick response. 2.Good Hygiene 3.Faster Services 4. Polite Attitude by a
Dr. Rokhsana s/b first trained on attention to detail... first listen the problem clearly and then suggest solution... and mind your voice while talking with patient and their compan
Categories