An Article On Salt & Hypertension Published In Forbes India By Dr. Mahesh Marda
October 12, 2019
Posted by: Premier Hospitals
2266 Views
RSS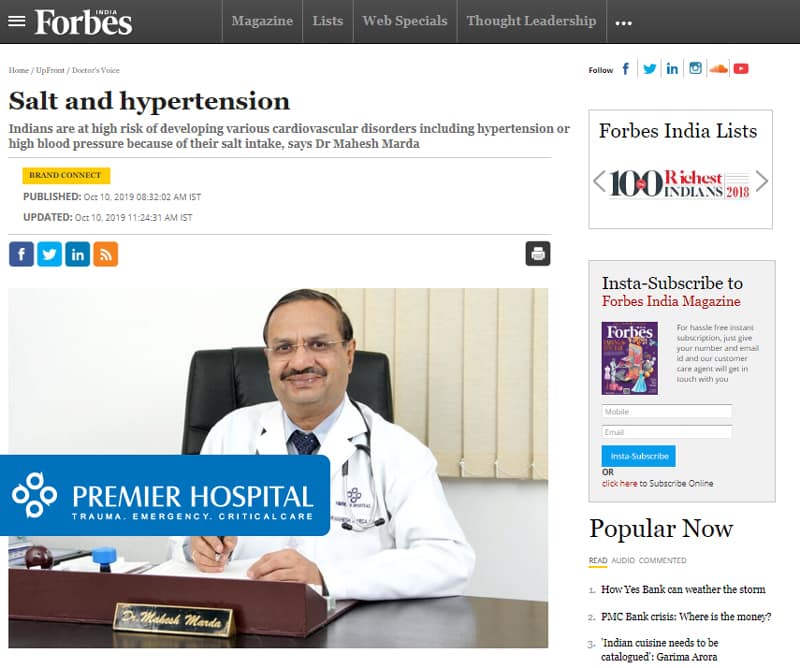 Indians are at high risk of developing various cardiovascular disorders including hypertension or high blood pressure because of their salt intake, says Dr Mahesh Marda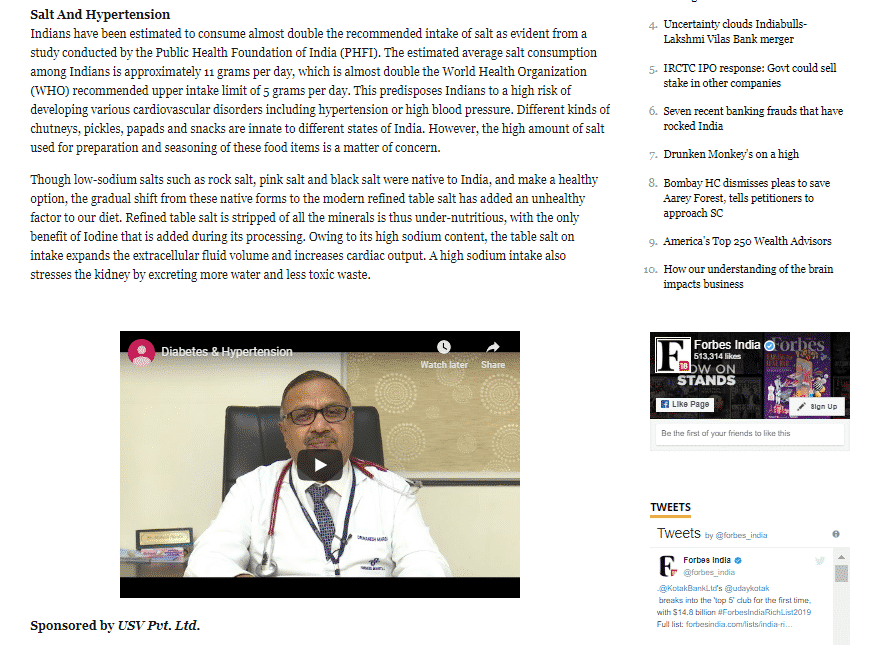 Substantial clinical evidence demonstrates the positive effect of salt intake on blood pressure. 
Opting for low salt and low-sodium food options, limiting the intake of canned and processed foods can help in significantly lowering down the sodium intake. Considering the health benefits to delay or prevent the incidence of hypertension in normotensive people, as well as a positive impact on blood pressure lowering in hypertensive people, the efforts to restrict the salt intake is worthwhile and we should strive to achieve it.
Hypertension: Going Hand In Hand With Diabetes
Reportedly, people with diabetes are about twice as likely to have high blood pressure. On average, every two of three diabetics will have hypertension. In diabetes, an oversupply of sugar and insulin in the body causes inflammation, which then damages and stiffens your artery lining, allowing plaque to build up. This process eventually increases your risk of hypertension, heart attacks and strokes. It is widely believed that someone who has high body fat content, is obese, eats a high-sodium diet or follows a sedentary lifestyle is vulnerable to both these conditions. Diabetes, along with hypertension, can be lethal as they heighten the risk of further complications, including heart attack or a stroke, kidney diseases and visual impairment.
People with diabetes must make conscious efforts to keep their blood pressure levels in control. Making small changes to your lifestyle goes a long way in maintaining your blood pressure and taking control of your life and health. Prevention is the only cure for these complications. It is important to take regular diabetes test and blood pressure check and adopt a healthy and stress-free lifestyle complete with a balanced diet, exercise, yoga and meditation.
The Author :
Premier Hospital
Since the inception of Premier Hospital in 1991 till today, we have grown to unprecedented levels, due to our excellence in medical sciences and healthcare. Premier Hospital is the creation of Dr Mahesh Marda and when it was first established, was only a small, 30-bed hospital facility. Back then, we provided only secondary care to patients, but that certainly has changed in the present landscape.
YOU MIGHT ALSO LIKE
May 17, 2022

May 16, 2022

May 15, 2022

May 12, 2022

May 08, 2022

May 03, 2022

April 25, 2022

April 16, 2022

April 10, 2022
TESTIMONIALS
Hospital is in good condition in a very established area well maintained and in hygienic conditions Staff is friendly and polite very good cooperation Doctor Ayub is very good best
Awsome service by entire hospital staff. Special thanks to Abhinand Sir, Surya Kiran Sir, Chitra Madam. 1.Quick response. 2.Good Hygiene 3.Faster Services 4. Polite Attitude by a
Dr. Rokhsana s/b first trained on attention to detail... first listen the problem clearly and then suggest solution... and mind your voice while talking with patient and their compan
Categories