A Complete Guide To Brain Stroke
June 27, 2020
Posted by: Premier Hospitals
1511 Views
RSS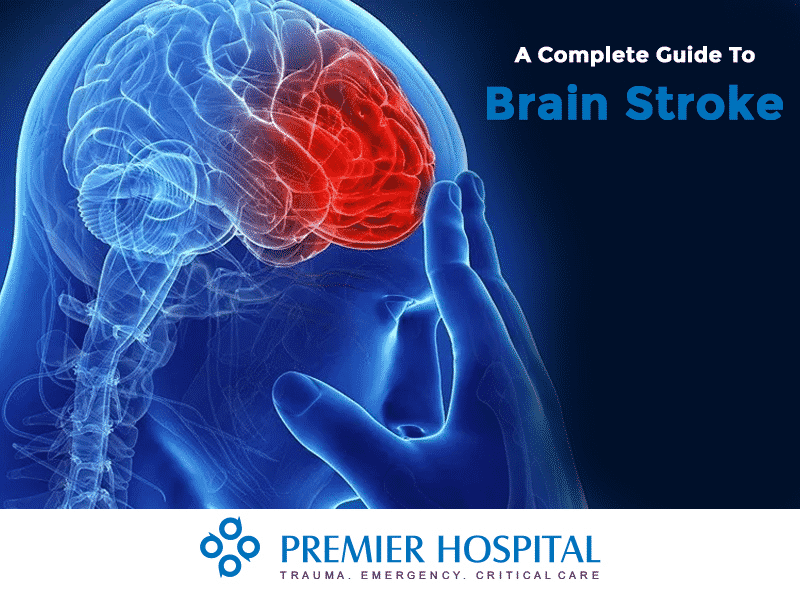 Have you come across anyone who has had a stroke?
Most of us are so busy about their lives that we don't often think about how our brains work as central control over everything we do. Right. At all times, our brain carefully often coordinates our every movement smoothly, thought, and emotion. But like every organ in the body, the brain needs a constant supply of oxygen-rich and nutrient-rich blood.
A stroke occurs when blood vessels in the brain suddenly become blocked or burst. Brain attacks are increasing in India each year and it is the fifth major cause of death in this country. In the long run, a stroke causes more severe damage than any other disease. Nearly three-quarters of all strokes occur in people over 65 years of age, and the risk of stroke more than doubles every ten years after age 55. Nowadays, even among young, middle-aged people, it is more common and fatal.
New treatments are offered, which significantly reduce the damage caused by stroke. However, you must arrive at the hospital within 60 minutes of the symptoms appearing to avoid injury. It's important to know the signs of a stroke so that you can call emergency care. This article provided by Premier Hospital gives information about everything you need to know about brain stroke so that you can take patients on time.
What is Brain stroke?
A stroke is a medical emergency. It resembles a heart attack for the brain. Strokes are sometimes referred to as "brain attacks." A stroke is a sudden disturbance in the constant flow of blood to the brain, which causes loss of neurological function. Disruptions in blood flow can be caused by blockages that lead to more common ischemic strokes, or by bleeding in the brain that causes more fatal hemorrhagic strokes. Strokes often occur with little or no warning, and the results can be devastating.
The proper flow of blood and oxygen to the brain must be restored as soon as possible. Without oxygen and essential nutrients, the affected brain cells are damaged or die within minutes. Once brain cells die, they usually don't regenerate, and devastating damage can occur, sometimes causing physical, cognitive, and mental damage. The severity of a stroke depends on the location of the stroke in the brain and the damage it caused.
Risk factors for stroke are more likely:
High blood pressure is the strongest predictor of stroke; In fact, someone with high blood pressure will likely have a stroke before the age of 60 years
Older age; Although a stroke can occur at any age, the risk doubles every 55 years between 55 and 85 years
Smoking can cause blood clots and high blood pressure
Mini-stroke or TIA
Physical inactivity or obesity
High cholesterol
Heart disease
Medications
Family history of brain stroke
Stroke and heart disease share many risk factors. Over time, getting high cholesterol, high blood pressure, not enough exercise, and being overweight can cause changes in the heart or blood vessels that can cause strokes and other heart events.
Certain conditions, including atrial fibrillation (irregular heartbeat), valve abnormalities, and enlargement of one of the ventricles, can destroy blood clots and block the brain's blood supply.
Stroke Symptoms:
Brain damage can affect the whole body and cause mild to severe damage. This includes paralysis, thinking problems, speech problems, and emotional problems.
Sudden onset of numbness or weakness in the face, arms or legs (mainly affecting one side of the body)
Sudden confusion, difficulty speaking or understanding speech
Sudden vision problems in one or both eyes
Problems walking suddenly, dizziness, balance or coordination problems
Sudden severe headache for no apparent reason
Types of Strokes?
Ischemic stroke: The majority of strokes are Ischemic strokes. They are of two types:

Thrombotic (brain thrombosis): Ischemic stroke can be thrombotic if blood clots form in the arteries in the brain, and the blood supply is disrupted. This type of stroke mainly occurs in patients with high cholesterol and arteriosclerosis and affects the large arteries. Hypertensive patients also experience a thrombotic stroke, but often in smaller arteries, which leads to "lacunar" infarction and affects the deeper parts of the brain where all nerve fibres are connected (internal capsules) before reaching the brain stem and spine.
Embolism (brain embolism): Ischemic stroke can also be an embolism, which means blood clots or cholesterol plaques from anywhere in the body (carotid arteries in the throat, aorta, or heart) move to the brain and block arteries in the brain. These clots are pushed through the bloodstream and settle in the narrower cerebral arteries. The blood supply is interrupted by the brain due to blocked vessels.

Hemorrhagic stroke: Hemorrhagic strokes only constitute 15% of strokes, but are fatal and cause more than 40% of deaths. This happens when a brain aneurysm ruptures or a weak blood vessel bursts and blood enters the brain. This causes brain swelling, increased pressure in the skull, and damage to brain cells. There are two types of hemorrhagic strokes:

Intracerebral haemorrhage: It is the most commonly occurring hemorrhagic stroke. This occurs when the arteries in the brain tear, and the surrounding tissue is flooded with blood.
Subarachnoid haemorrhage: The occurrence of this type of hemorrhagic stroke is less rare. This refers to bleeding in the area between the brain and the thin tissue that covers it.

Transient Ischemic Attack (TIA): TIA is a warning sign of a possible future stroke and is treated as a neurological emergency. Common temporary symptoms include difficulty speaking or understanding others, loss of vision or blurring in one eye, and loss of strength or numbness in the arms or legs. These symptoms usually disappear in less than 10 to 20 minutes and almost always within an hour. Even if all the symptoms disappear, it is very important for anyone who experiences these symptoms to call emergency care and be immediately examined by a qualified doctor.

Transient ischemic attacks (TIAs) are sometimes referred to as "mini-strokes." This is different from the main types of strokes where blood flow to the brain is blocked for no more than 5 minutes.
It is essential to know:
TIA is a medical emergency, just like other strokes.
At first, you cannot know whether the symptoms are from a TIA or a severe stroke.
Like an ischemic stroke, blood clots often cause TIA.
Detecting and treating TIA can reduce the risk of a severe stroke. If you have TIA, your medical team can find the cause and prevent a severe stroke.
Stroke and TIA require emergency treatment. Call emergency care immediately if you feel signs of a stroke or see symptoms in someone around you.
What should you do if you have a stroke?
Since the stroke injures the brain, you might not be able to say that you had a stroke. People around you might not know. Your family, friends, or neighbours may think you are confused. You might not be able to call emergency care by yourself. That's why everyone needs to know the signs of a stroke – and how to act fast. Don't wait for symptoms to improve or worsen. If you feel a stroke or someone you know has had a stroke call immediately emergency care or ambulance. If you choose to seek medical attention, you can avoid the danger of life.
When to see a doctor?
See your doctor immediately if you notice any signs or symptoms of a stroke, even if they fluctuate or disappear. Think "FAST" and do the following:
Face: Ask the person to smile. Did one side of the face droop?
Promise: Ask the person to raise both hands. Does the arm drift downwards?
Speech: Ask the person to speak or repeat a simple sentence. Is the speech unclear or strange?
Time: If you see any of these signs, hurry to the nearest hospital.
Stroke diagnosis:
A person experiencing the above symptoms must be admitted to the hospital within 3 hours after the first appearance of their symptoms.
Doctors perform various physical examinations (medical history, symptoms, blood pressure, etc.), blood tests, CT, MRI, carotid ultrasound (a cardiac ultrasound), and brain angiograms (dyes injected into the blood vessels of the brain making them visible under X-rays) and echocardiogram.
Treatment of a stroke:
Every minute counts. The longer the blood flow to the brain is disrupted, the higher the damage. The most common stroke, ischemic stroke, can be treated with drugs that dissolve blood clots that block blood flow. The choice to start treating a stroke patient is three hours. However, a person must be in the hospital within 60 minutes after a stroke to be examined and treated. Treatment depends on the type of stroke:
Ischemic stroke:
Since a clot usually causes this type, the doctor's priority is to restore blood flow to the brain. For that they use;
Aspirin because it prevents the formation of blood clots.
Injection of intravenous tissue plasminogen activators. This drug dissolves the clot but must be given within 4.5 hours of the onset of symptoms of a stroke.
Medications sent directly to the brain. Doctors send these medicines directly to your brain through a catheter.
Removal of clots mechanically: Your doctor can use a catheter to manoeuvre a small device in your brain, to collapse physically, or to remove the clots. However, recent research shows that this procedure may not be the best choice for most people. To determine this, further research needs to be done.
After a TIA or ischemic episode, your doctor may want to take precautions to prevent other strokes:
Carotid endarterectomy: The doctor removes plaque from the arteries that extend on each side of the neck to your brain (carotid arteries).
Angioplasty and stents: Doctors most often access the carotid arteries through the arteries in the groin and place balloons to expand the narrowed arteries. Stents can then be placed to keep the arteries open.
Hemorrhagic stroke:
The first aspect of treating this stroke is knowing that the person is using blood thinners to overcome their effects. Another drug commonly used is lowering blood pressure to prevent seizures or vasospasm.
After the doctor controls this, the patient must wait until the body absorbs excess blood. A bruise that the body will reabsorb it. However, if there is heavy bleeding, surgery may be needed. If surgery is required, this usually includes:
Surgical restoration of blood vessels.
Surgical clipping: The doctor places a small clam at the base of a damaged blood vessel or aneurysm to stop blood flow.
Coiling: The doctor inserts small roll coils that can be detached into the aneurysm, which blocks blood flow and blood clots.
Surgical removal of AVM: Doctors remove abnormal blood vessels to reduce the risk of another stroke. However, it is not always possible to remove AVM if removed will cause excessive brain function damage or if it is deep in your brain.
Stereotactic radiosurgery: The use of radiation is a less invasive process.
Intracranial bypass
Stroke rehabilitation:
Stroke rehabilitation is when patients are treated to return to normal life as much as possible by getting back and teaching the skills of everyday life. Stroke rehabilitation requires a multidisciplinary team of staff who work with different skills to help patients regain lost function. Some of them are doctors, physiotherapists, occupational therapists, speech therapists, neuropsychologists, and others. Cognitive function can also be affected by stroke. CogniFit offers the possibility to evaluate basic cognitive functions and train them according to patient needs.
Know stroke prevention:
The best treatment for stroke is prevention. You can reduce the risk of stroke by taking steps to improve your health. While a family history of stroke plays a role in your risk, there are many risk factors that you can control.
If you have high blood pressure, work with your doctor to control it. Many people don't realize that they have high blood pressure, which usually doesn't cause symptoms, but is a significant risk factor for heart disease and stroke. Treating high blood pressure is the most important thing you can do to prevent stroke.
If you smoke, stop.
If you have diabetes, learn how to deal with it. Like high blood pressure, diabetes usually doesn't cause symptoms but does increase the chance of stroke.
If you are overweight, maintain a healthy diet and exercise regularly.
Eat right
Exercise
Conclusion:
Time is very important because the longer a stroke is undetected and untreated, the longer the oxygen-rich blood is taken from brain cells, and more brain cells die. If you have these symptoms, you must go to the hospital quickly to start treatment.
If you suspect you have stroke symptoms, you must seek emergency medical care. Clot dissolving drugs can only be given within the first few hours after signs of a stroke appear. Early treatment is one of the most effective ways to reduce the risk of complications and long-term damage.
Prevention is possible regardless of whether you prevent the first stroke or try to avoid the second stroke. Medications can help reduce the risk of blood clots that cause strokes. Work with your doctor to find prevention strategies suitable for you, including medical procedures and lifestyle changes.
Talk to a doctor at Premier hospital about your risk factors for stroke. For more information about stroke prevention and treatment, contact Premier hospital at 077020 01163.
The Author :
Premier Hospital
Since the inception of Premier Hospital in 1991 till today, we have grown to unprecedented levels, due to our excellence in medical sciences and healthcare. Premier Hospital is the creation of Dr Mahesh Marda and when it was first established, was only a small, 30-bed hospital facility. Back then, we provided only secondary care to patients, but that certainly has changed in the present landscape.
YOU MIGHT ALSO LIKE
May 17, 2022

May 16, 2022

May 15, 2022

May 12, 2022

May 08, 2022

May 03, 2022

April 25, 2022

April 16, 2022

April 10, 2022
TESTIMONIALS
Hospital is in good condition in a very established area well maintained and in hygienic conditions Staff is friendly and polite very good cooperation Doctor Ayub is very good best
Awsome service by entire hospital staff. Special thanks to Abhinand Sir, Surya Kiran Sir, Chitra Madam. 1.Quick response. 2.Good Hygiene 3.Faster Services 4. Polite Attitude by a
Dr. Rokhsana s/b first trained on attention to detail... first listen the problem clearly and then suggest solution... and mind your voice while talking with patient and their compan
Categories